A high-profile Ontario New Democrat has publicly called for federal NDP Leader Thomas Mulcair to resign.
DiNovo told The Star that while Mulcair is not entirely to blame for the loss, the party abandoned its principles under his leadership by moving to the centre to try to win power. She pointed to Mulcair's "balanced budget nonsense" as an example.
The Huffington Post Canada has reached out to Mulcair for his reaction. A representative for DiNovo said she is out of the country and unavailable.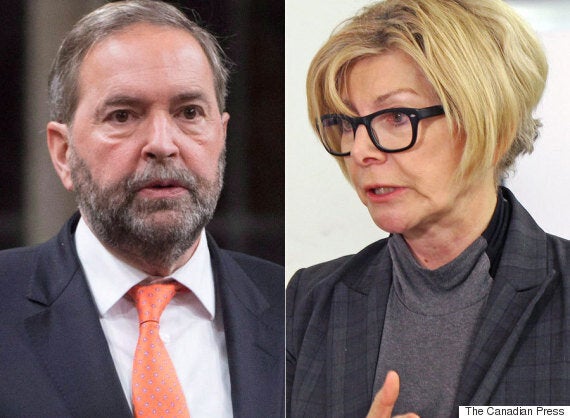 Ontario NDP MPP Cheri DiNovo, right, is calling for federal NDP Leader Thomas Mulcair, left, to step down. (Photo: The Canadian Press)
While not well-known outside of Ontario, DiNovo is popular in Canada's biggest city where the federal NDP was shut out last October and several incumbents were ousted by Liberals. Peggy Nash, who represented DiNovo's riding federally, was defeated, as were former Toronto MPs Craig Scott, Andrew Cash, and Matthew Kellway. Ex-MP and one-time Toronto mayoral candidate Olivia Chow also lost.
A day after the federal election, DiNovo rose in the Ontario legislature to pay tribute to Nash and laud her as a mentor. Nash ran against Mulcair for the NDP leadership in 2012.
DiNovo, first elected in 2006 and recently voted "Toronto's Best MPP" by NOW Magazine, told The Star last month that while her federal cousins had some "soul-searching" to do, changing "the face at the top" wouldn't cure what ails them.
That all appears to have changed.
Mulcair has vowed to lead his party into the 2019 election against Prime Minister Justin Trudeau's Liberals and whoever is elected the new Conservative boss. But first, he must face a leadership review at his party's convention in Edmonton this April.
According to the NDP constitution, if more than 50 per cent of ballots call for a leadership election, one must be held within a year. Political convention, however, suggests leaders need much more than that to quell calls for a leadership challenge.
In November 2015, Mulcair appeared on SiriusXM's "Everything Is Political," where host Evan Solomon asked him what magic number he needed.
"Is it 70 per cent, 80 per cent to stay?" Solomon asked.
Mulcair ducked the question, saying that the party membership has always been there for him.
"I expect them to be there in April when we get together in Edmonton," he said.
Solomon wrote in Maclean's magazine that some anonymous NDP MPs and officials are calling for a change at the top, and one source said Mulcair should resign if he does not receive at least 75 per cent of the vote.
Some defeated NDP incumbents have also told The Huffington Post Canada's Althia Raj they place much of the blame for the election results on Mulcair.
NDP MP: Mulcair deserves to lead party into 2019
But senior NDP MP Nathan Cullen told HuffPost last month that Mulcair should lead his party into the next election.
Cullen, who also ran against Mulcair for NDP leader, lauded him as an "incredibly intelligent, incredibly principled voice that bridges the French and English divide." He said Mulcair did very well during the campaign.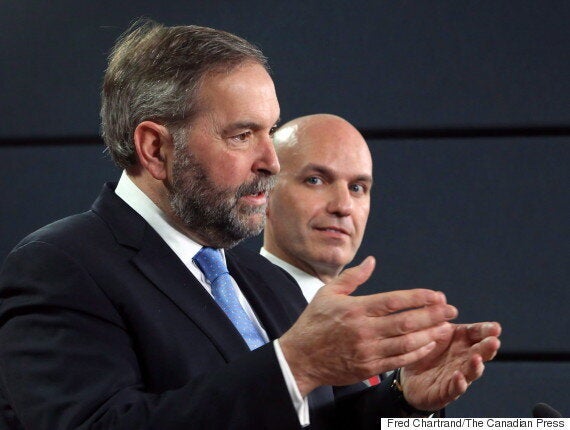 NDP Leader Thomas Mulcair holds a news conference with Nathan Cullen. (Photo: Fred Chartrand/CP)
"It's very much a mistake to throw the baby out with the bathwater, and it also isn't in our party's tradition necessarily," Cullen said. "We tend to stick with people, especially people that we respect. And there is a great deal of respect for Tom within the party."
Though the NDP was considered the front-runner at the start of the campaign in August, the party saw its seat count drop to 44 from 95 after the votes were counted in October.
Since then, Mulcair has pledged to lead a so-called "progressive opposition" that will hold the Trudeau government to account.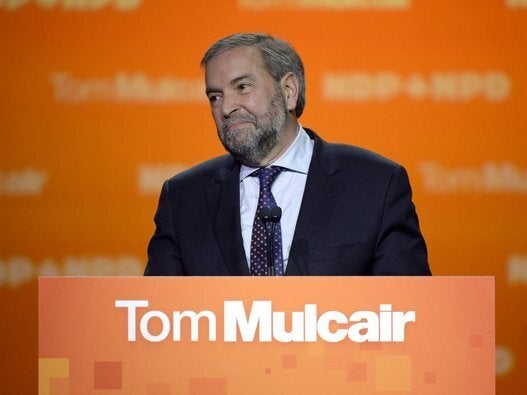 Key NDP MPs Defeated In 2015 Election