The Conservatives continued to hammer NDP Leader Thomas Mulcair Friday, suggesting he is pitting the Prairies against Ontario and Eastern Canada.
Mulcair told CBC Radio last week he believes Alberta's oilsands are artificially inflating the Canadian dollar and hollowing out the manufacturing sector in Ontario, Quebec and New Brunswick.
"It's by definition the Dutch disease," Mulcair said, referring to how a natural gas find in the Netherlands led to manufacturing declines in the 1960s.
"The Canadian dollar is being held artificially high, which is fine if you are going to Walt Disney World, not so good if you want to sell your manufactured product, because the American client, most of the time, can no longer afford to buy it," he said on the CBC program "The House."
Mulcair went on to say that Conservatives are responsible for the loss of 500,000 good-paying manufacturing jobs in the last six years because the oilsands were not being developed in an environmentally conscious way and that industry should be forced to pay "now" for the pollution it's causing.
Flaherty accused Mulcair of not understanding how the oilsands affect Canada's economy.
"What we see in Canada is a sharing of the wealth,'' Flaherty said at a news conference in Toronto.
''When we have a strong resource sector, as we do in Western Canada and in Newfoundland and Labrador, then we see manufacturers all across the country — including Ontario — profit from that."
In the House of Commons, Ontario MP Larry Miller called the NPD the "no development party" and said its leader is "attacking the economic success of the Prairie provinces."
Saskatchewan MP Ed Komarnicki said Mulcair is "trying to pit Canadians against one another instead of supporting sectors of the economy that create good high-paying jobs."
Alberta MP Blaine Clakins accused the NPD leader of calling an important resource sector "a disease."
Green Party Leader Elizabeth May, who came to Mulcair's defence in chamber, said Conservative MPs were distorting a well-known term in economic literature for political gain.
NDP MP Peter Julian declined to tell The Huffington Post Canada that his leader should have chosen different words. "When we talk about the Dutch disease, everyone knows what that means," he insisted.
"[Mulcair] raised reality," Julian, the NDP's critic for Energy and Natural Resources said. "The Canadian economy is unhealthy."
"When we lose manufacturing jobs in B.C., when we lose manufacturing jobs in Alberta, we lose manufacturing jobs in other parts of the country, that should be a real concern," Julian said. "When we see that those jobs are replaced with … jobs that are paying us $10,000 a year less on average than the jobs we have lost, that is something that everyone should be concerned about."
The Conservative attack doesn't worry Julian.
"Every week the Conservatives are going to try to shoot back at us, every week," he said. "The facts are on our side."
Manufacturing is contributing less and less to GDP on both sides of the border and the Americans don't export any oil, Carleton University's Ian Lee told HuffPost. It not only takes less people to produce the same goods today than in years past, but Canada is facing increased pressure due to globalization and cheap goods from abroad, Lee said.
Although Lee suspects the NDP is trying to court southern Ontario voters who have lost their jobs in the manufacturing sector, he believes the move is a risky strategy for a party that needs to grow its Western base.
"If he tries to appeal to [his base] by coming out with policies that are critical of the oilsands, he risks alienating Western Canada like the Liberal Party did in 1981, 82 and 83," Lee said.
"The Libearl Party is [still] essentially shut out of Western Canada and that is because of the National Energy Program. And so if Mulcair is trying to broaden the base of the NDP, this is not the way to do it."
With files from The Canadian Press.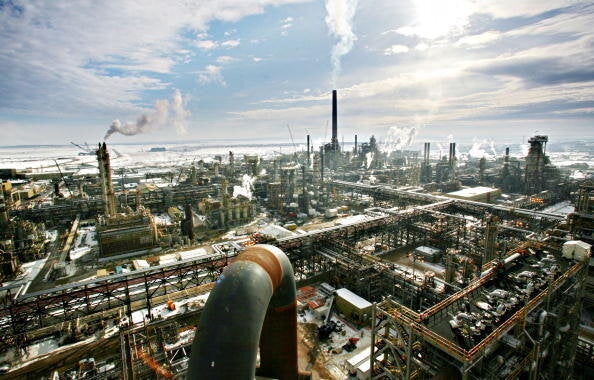 The Oil Sands and Canada's Environment