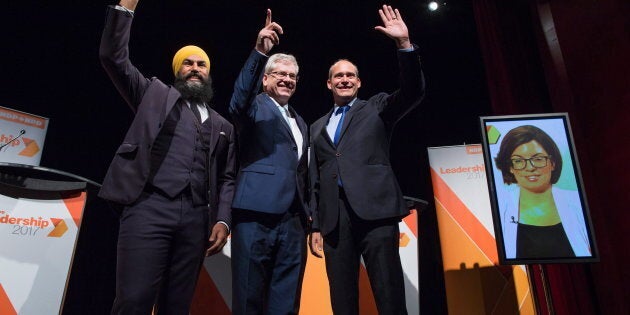 The outgoing leader of the federal New Democrats thinks his successor should "ideally" have a seat in Parliament — a remark seemingly directed at leadership hopeful Jagmeet Singh.
Thomas Mulcair was asked by reporters Monday to weigh in on the last stretch of his party's leadership contest, which features Ontario MPP Singh and three sitting MPs: Ontario's Charlie Angus, Manitoba's Niki Ashton and Quebec's Guy Caron.
Singh, a perceived front-runner, has already hinted that if elected leader he will not seek a seat in the House of Commons until the 2019 election. He has also ducked questions about whether he will run federally if he does not win the leadership race, telling Angus at a recent debate: "I will not lose."
It'll be a heck of a lot better to have that person crossing swords on a daily basis with the prime minister.
Mulcair did not mention Singh by name in his remarks Monday but suggested he wouldn't be pleased if the next NDP leader isn't directly taking on Prime Minister Justin Trudeau in the House.
"I think it's important to have a seat in the House of Commons if we're leading a political party," Mulcair said. "I think that ideally, you know, you should be there."
Mulcair, who served in the Quebec legislature before making the jump to federal politics, referenced how he became former NDP leader Jack Layton's Quebec lieutenant in 2007 before he held a seat in the Commons.
When a byelection was called that year in the Montreal riding of Outremont, an "ultimate Liberal stronghold," Mulcair said there was a "lot of trepidation" among Quebec organizers about him running.
"But Jack said, 'Look, we can't back down from taking the first opportunity to put you in there,'" Mulcair said.
"I'll let the only person who's not in the House yet decide... what he does if there's ever an election, but I think that if we're going to have somebody leading the party after I'm gone, it'll be a heck of a lot better to have that person crossing swords on a daily basis with the prime minister."
Singh's game plan would actually be reminiscent of the one used by Layton, who was a Toronto city councillor when he won the NDP leadership in 2003. He did not pursue a federal seat until the 2004 election.
Singh has said he would spend the two years ahead of the next election campaigning across the country.
Angus, also seen as a top contender, has frequently argued during debates that New Democrats need a leader in the House this fall to challenge the Liberals on a range of issues, including NAFTA negotiations.
As Parliament returned from summer break Monday, Angus again took an oblique swipe at Singh's future plans.
"I was surprised that Jagmeet said he didn't think he needed to be in Parliament until 2019," Angus told The Canadian Press. "That's his choice... my focus is Parliament, what we are going to do there and building the ground from that."
Angus, first elected in 2004, suggested the cut and thrust of Parliament is good preparation for the next election, noting new Conservative Leader Andrew Scheer is testing different messages in the House.
"You have to be able to have that back and forth between the leaders,'' he said. "They have to be able to confront each other. It is also a training ground. Parliament is where you try out and you see how you stand up to a sitting prime minister and I'm looking forward to that.''
New Democrats began voting for a new leader Monday. HuffPost Canada is hosting a Toronto debate featuring all four NDP leadership candidates on Sept. 27.
First ballot results will be announced Oct. 1.
With files from The Canadian Press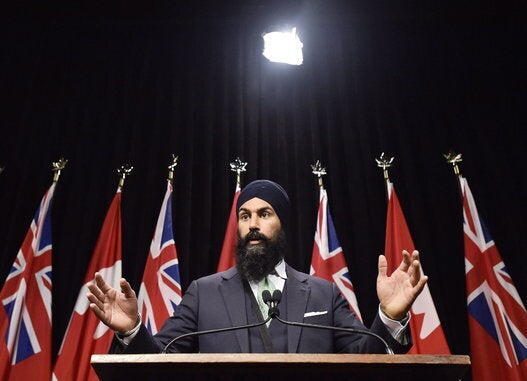 NDP Leadership Race 2017: Candidates