Thomas Mulcair is hoping for a re-match against Justin Trudeau in four years but is keeping quiet about the magic number he'll need to stay on as NDP leader.
Mulcair appeared on SiriusXM's "Everything Is Political" this week, where he discussed the Syrian refugee crisis, Paris terror attacks, and his party's return to third-place status after the election last month.
Mulcair will face a leadership review at his party's convention in Edmonton this April. According to the NDP constitution, if more than 50 per cent of ballots call for a leadership election, one must be held within a year.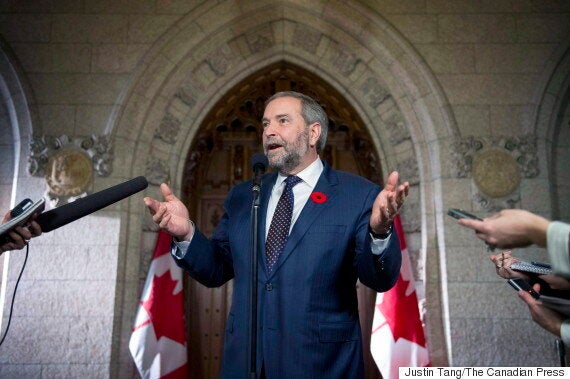 NDP Leader Tom Mulcair speaks to reporters in the foyer on Parliament Hill. (Photo: Justin Tang/CP)
While 50 per cent may be the bare minimum an NDP leader needs to fight another day, convention dictates that party chiefs aim for much higher support as an expression of confidence.
In 1981, former Progressive Conservative leader Joe Clark called a leadership election after receiving the support of 66.9 per cent — or two-thirds — of Tory delegates. Clark would end up losing the leadership to Brian Mulroney two years later.
Despite results last month that saw Trudeau's Liberals scoop up enough of the so-called "change vote" to win a majority government, Mulcair told host Evan Solomon he intends to stay on.
"I've got very strong support in the party but you're right, we are the New Democratic Party," he said. "Any leader in our party serves at the will of its membership."
Solomon asked him, point blank, what number he needs.
"Is it 70 per cent, 80 per cent to stay?" he asked.
"Oh my goodness, the party membership has always been there for me and I expect them to be there in April when we get together in Edmonton," he said.
"I am the leader of the party. All responsibility is always on my shoulders. I've always been that way in life."
When asked what went wrong for New Democrats, who once seemed poised to form government for the first time federally, Mulcair didn't pass the buck.
"I am the leader of the party," he said. "All responsibility is always on my shoulders. I've always been that way in life."
Solomon later wrote in Maclean's magazine that some unnamed NDP MPs and officials are calling for a new leader, and one source said Mulcair should step down if he does not receive at least 75 per cent of the vote in a few months.
Other magic numbers in recent years
Mulcair's provincial cousin faced a similar challenge.
In 2014, Ontario NDP Leader Andrea Horwath triggered the collapse of Liberal Kathleen Wynne's minority government by refusing to support her spring budget.
Horwath was accused of tacking too far right in the provincial campaign that followed, alienating typical NDP voters. Thirty-four current and former New Democrats even released an open letter criticizing Horwath for "running to the right of the Liberals" to win Conservative votes.
Wynne's Liberals ended up winning a stunning majority government.
But a few months later, Horwath received 76.9 per cent support at her party's convention, good enough to stay on. It was even one percentage point higher than she got at a leadership review in 2012.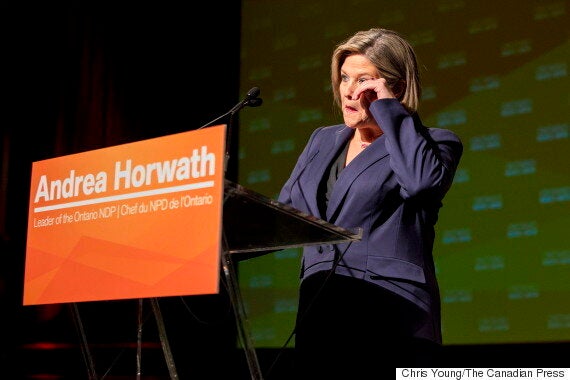 Ontario NDP Leader Andrea Horwath delivers a speech at the party's convention in November 2014. (Photo: Chris Young/CP)
In 2008, then-Ontario Progressive Conservative leader John Tory surprised many by opting to stay on as leader after receiving 67 per cent support in a review. He gave up the reins a year later after losing his bid for a seat in a byelection.
With files from The Canadian Press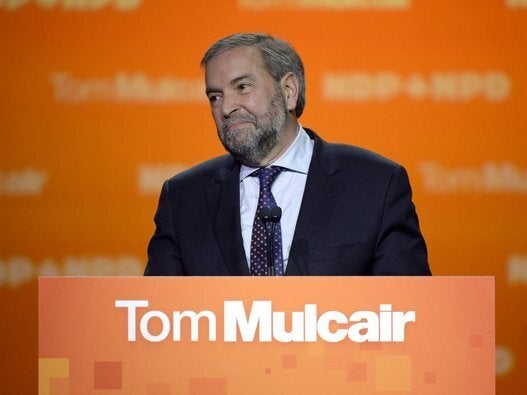 Key NDP MPs Defeated In 2015 Election