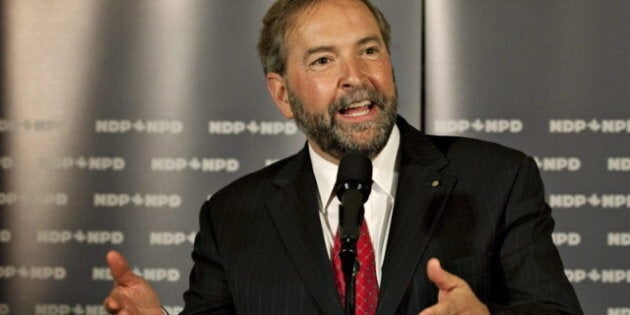 UPDATE: Speaking to reporters Monday morning, NDP House leader Thomas Mulcair repeated what he told Huffington Post Canada about the institutional disadvantage he faces in Quebec, but added that he would like the party to help fix the unbalance.

"We are disadvantaged, it's not a complaint, it is a simple observation," the NDP leadership hopeful said.

"The party should look at the possibility of having a membership drive in Quebec in a non-partisan way and not sectoral way. This wouldn't be about one candidate over another but it would compensate the mathematical fact that Quebec is the only province that does not have provincial wing of the NDP. And perhaps it would be a question of putting some resources aside so that the party could seek out memberships," Mulcair said.
Quebec NDP MP Thomas Mulcair is trying to decide whether he can overcome a large institutional disadvantage and mount a successful leadership campaign, he confirmed to The Huffington Post.
Mulcair, an MP for the Montreal-area riding Outremont since 2007, said he spent the past weekend speaking with "well-known and strong supporters" from across the country, from British Columbia to Newfoundland, who offered their support and encouraged him to run.
But despite having the support of the "vast majority" of the NDP's 59-member Quebec caucus, Mulcair said he is still consulting and gauging support from different regions.
"It's not something that you can jump at without serious consideration," he told The HuffPost about joining the race.
"One thing that is often overlooked in the rest of Canada is the fact that Quebec is the only province that doesn't have a provincial NDP. The concrete result of that, is that in a place like British Columbia where there was a leadership race recently and where tens of thousands of membership cards in the provincial NDP were sold, those provincial memberships become an eligible vote in the federal race."
Mulcair also note that the large numbers of provincial elections this fall will also swell membership numbers as the NDP holds nomination battles in ridings across the country.
These factors pose an uphill challenge for Mulcair, who was the NDP's lone MP in Quebec until the party's electoral breakthrough in May. While some of his colleagues may enjoy name recognition in their own NDP membership-rich provinces or have strong links to party officials in different regions where the NDP has enjoyed strong labour support and political success, Mulcair has a much lower profile in the rest of the country and enjoys no such benefit.
"We have no such institutional advantage in Quebec, there is no provincial NDP here in the province. There is a federalist tent and a sovereigntist tent that accommodates both left and right with interesting results but it is a very different set-up. So the simple fact of the matter is that of the 80,000 or 90,000 existing (NDP membership) cards… less than 2,000 (come) from Quebec," Mulcair said.
"In other words, 1,600 or so, and that's less than two per cent so that is something that also has to be considered," he added.
Still, the NDP MP suggested he wants to step in the race. He's just not sure the numbers are there.
"It is something that I'm going to do in the best interest for the party and what I think the party can do for all of Canada," he said.
The NDP's historical gains in Quebec — which saw the collapse of the Bloc Quebecois and propelled the party to the status of official opposition —were the result of five years of relentless work pounding the pavement, Mulcair said.
"Jack (Layton) and I worked shoulder to shoulder non-stop for years to achieve that result in Quebec and I would love to bring that sort of energy and drive across Canada, campaign, and produce the first NDP government in Canada. And that is exactly, if I do decide to take a run at the leadership, it will be for one purpose and one purpose only, to form an NDP government."
Mulcair said he plans to make a decision in the coming weeks about whether he'll jump in the race — after more cross-Canada consultations and a frank discussion with his wife of more than 35 years, Catherine, and his two adult sons.
"I'm very honoured by the level of support and encouragement that I have received from across Canada and it is all going to be part of the consideration as I come to a decision," he said.
In the meantime, the former lawyer and civil servant is questioning whether the party's current leadership front-runner, Brian Topp, should be allowed to remain party president while he organizes his leadership bid.
NDP interim leader Nycole Turmel told her caucus last week that leadership hopefuls would have to resign from their critic duties and relinquish the public spotlight that comes with top parliamentary positions last week.
For Mulcair, that means he'd have to give up his role as NDP house leader. Topp, however, can remain NDP president, one party official told The Huffington Post, because there are no rules against it.
Mulcair said the leadership race will pose challenges but the parliamentary caucus planned to work as a team and be respectful of one another as the contest unfolds — characteristics drilled in them by the late leader Jack Layton.
Still, the NDP MP suggested, the rules should be fair across the board.
"Right now, Brian Topp is still the president of the party even though he said he wants to take a run at the leadership," Mulcair said. "He will also have to take a close hard look at whether it is his personal interest or the party interest that are going to be at the table at any given time. And he's going to have to look at that carefully, as we all will."
"It will be important that the party avoid any appearance of possible conflict and I'm sure that is something that is in Mr. Topp's thinking right now," Mulcair added.
Topp's spokesman Jim Rutkowski told the Huffington Post Sunday that Topp would resign as early as this week.
"He does intend to that (resign from the NDP presidency) when he files his papers in the coming days," Rutkowki said.
Topp and another Quebec NDP Romeo Saganash, who was elected in the riding of Abitibi-Baie-James-Nunavik-Eeyou on May 2, are the only two officially declared candidates to replace Layton, who died Aug. 22 from cancer.
NDP members will elect their new leader on March 24, 2012, at a convention in Toronto.