Three remarkable events from the past year stand out from my perspective as the head of an international development agency. All made headlines at the time, but those headlines merely touched the surface of the events' profound ramifications as we look forward to 2014.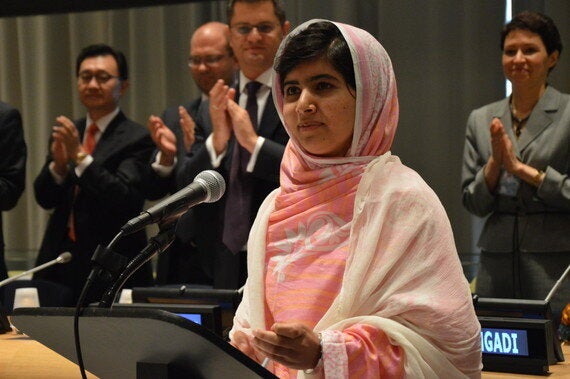 Malala Yousafzai's 16th Birthday
The celebration, Malala Day, took place at the United Nations where she stood at the General Assembly podium in July and addressed 500 youth delegates in an unprecedented display of international youth power. Nine months after surviving a Taliban assassination attempt, Malala spoke bravely about every child's right to at least nine years of education. She is showing tremendous valour in fighting injustice in the world, and with grace and eloquence, even though she remains under a Taliban death sentence.
Malala has demonstrated forcibly that she will not be silenced in her struggle to achieve educational equality for the world's 65 million girls, now absent from primary and secondary schools. She understands that meaningful strides toward economic prosperity and political stability in many developing nations hinge on unleashing girls' potential.
Malala's UN speech marked her transition from girl-child victim to an articulate, outspoken and independent advocate for social justice. Her fortitude stands out, but it is also symptomatic of a positive trend that I see worldwide. Youth, especially girls and young women, increasingly are standing up for their rights and telling their families, elders and governments that they will no longer be silent in the face of injustice.
I look forward to what Malala will be doing as a 17-year-old, when she turns 21, or even 25. I am confident that she will inspire other young people, especially girls, to step up to podiums large and small to demand what is rightfully theirs.
For me, the year's second momentous event was an aspect of Typhoon Haiyan that still confounds observers and has ominous future implications for the world and not just humanitarian relief organizations. I visited the Philippines last month shortly after the disaster and was shocked beyond words by the destruction and human tragedy. The scene was so horrific, it outstripped our capacity for verbal description.
It was the worst kind of devastation I have ever seen in my nearly three decades of experience with disasters -- and that's including the 2004 Asian Tsunami and 2010 Haiti earthquake. This "super typhoon" was indeed a "perfect storm," the combustible product of two nearly unprecedented natural disasters rolled into one -- 350-kilometre-per-hour winds, three times that of a "normal" typhoon -- and 20-foot-high tsunami-like waves.
One local Philippines teacher told me how she lay in terror for one hour on an attic beam in what remained of her concrete house, watching a "washing machine of lumber and bricks" swirl beneath her. Even now, having just come back from there, I am left only with these kinds of images and stories as a way to possibly describe just what this typhoon really was.
It matters not whether the cause was man-made climate change or a natural climatic cycle, Haiyan scarily represents a new extreme-weather phenomenon that I fear will threaten the globe more frequently in the future.
The reality is that we lack the vocabulary to portray and even warn about these newer and more frequent types of natural disasters. If there was some way to explain exactly what was coming, it's likely more lives could have been spared. But no one, no early warning system, could have predicted such an extreme disaster. To have called Haiyan a typhoon would have misled people into complacency. Indeed, Filipinos regularly experience tropical storms or "typhoons," but never with Haiyan's ferocity.
The flipside of this, though, is that many lives were saved because post-tsunami, humanitarian and development organizations have been working with communities and even young children in schools, to plan and locate escape routes and safe buildings in the event of certain disasters. Even with little or no warning, children and adults alike in the Philippines at least knew where to go and how best to get there. Haiyan is a lesson to all of us that we need to get even better at these kinds of disaster risk-reduction strategies, even as we grapple with ways to categorize and protect people from disasters that defy traditional descriptions and understanding.
For me, Mandela's passing marks not only the end of an extraordinary existence, but also the end of an era of larger-than-life leaders -- he is truly a person of the ages.
Mandela's lifetime spanned African history from colonialism to independence with its accompanying struggles to achieve stable democracies. Throughout his existence, Mandela was a stabilizing influence. He represented the best of humanity, even under the worst conditions, and the possibility of social progress through goodwill and understanding. His legacy includes economic and political growth in South Africa and other nations, but also school enrollment at rates that could not have before been imagined.
But Mandela leaves an even greater legacy. He set the bar high for African leadership. Political leaders on that continent who fall too far short of that benchmark will no longer be credible to the people they aspire to govern. Many Africans will no longer tolerate bad and ineffective leaders and, in this way, Mandela's death is an iconic historic moment full of promise.
Despite my worries that natural disasters may impede social and economic progress in the developing world, I am left at year's end with tremendous optimism for the future. My hopes for 2014 are inspired by, among other things, Mandela's example and Malala's courage.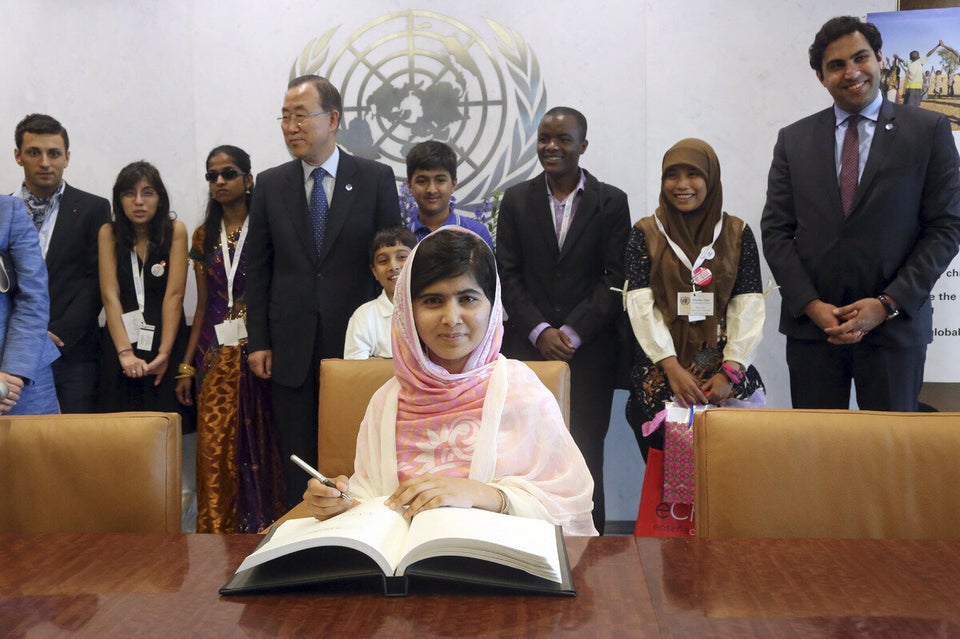 Malala Takes The UN By Storm