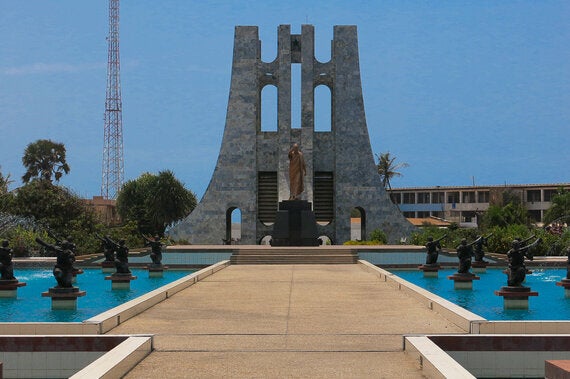 Tucked above the Gulf of Guinea along the infamous Gold Coast, Ghana's capital of Accra is everything you imagine a major West African city to be -- steamy, chaotic, colourful and steeped in history, much of it involving the region's tragic legacy of slavery. Here is how to get the most of out this fascinating city of three million and its environs over 72 steamy hours.
Day One: Coffins, culture and cuisine
Check into the Labadi Beach Hotel, a five-star oceanfront oasis amid Accra's sticky hot mayhem. Popular among expats and travellers for its spacious pool, superb Sunday buffet and newly-refurbished spa, the Labadi Beach is the perfect palm-fringed, beachside retreat.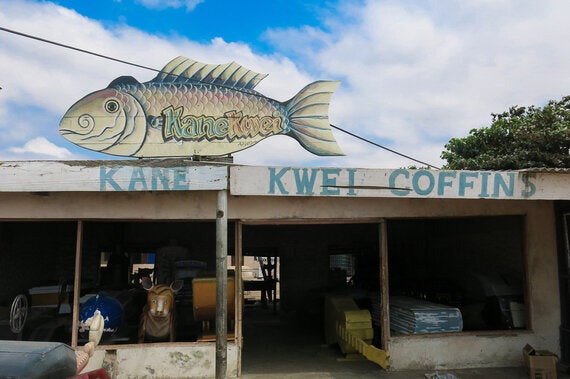 Head out after breakfast for a sightseeing city tour of Accra. First, visit the famous fantasy casket makers in Teshie-Nungua, craftsmen who have achieved worldwide acclaim for designing some of the most fantastic containers imaginable for the dearly departed. Fishermen are launched into the hereafter in large wooden caskets in the shape of a fish, bus drivers in replicas of their vehicles and carpenters enter eternity in masterfully shaped hammers.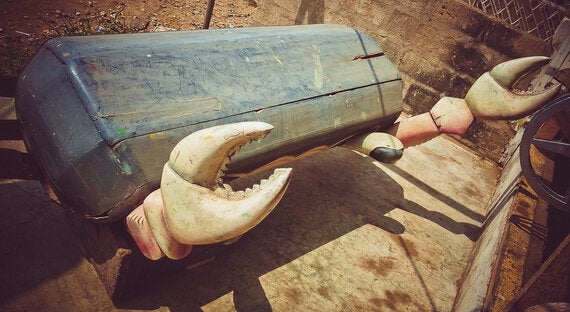 After picking out your customized coffin, drive through the administrative and economic districts of Accra, a 138-year-old city with a blend of colonial and modern architecture. First, visit the W. E. B. Du Bois Center for Pan African Culture, where the transplanted African American civil rights activist and 'Father of Pan-Africanism once lived and worked. Then, take in Independence Square, a huge Soviet influenced space designed for huge events and military marches. Finally, pay your respects to Ghana's first president at the Kwame Nkrumah Memorial Park.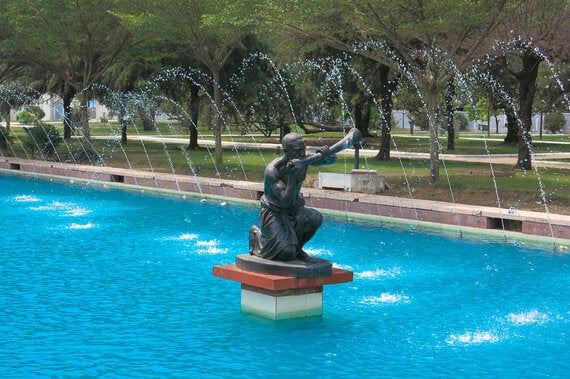 Constructed on the site of a British colonial polo field, it was where Nkrumah declared independence in 1957. An on-site museum contains many of the personal items of Ghana's founding father, who is buried with his wife in a nearby mausoleum.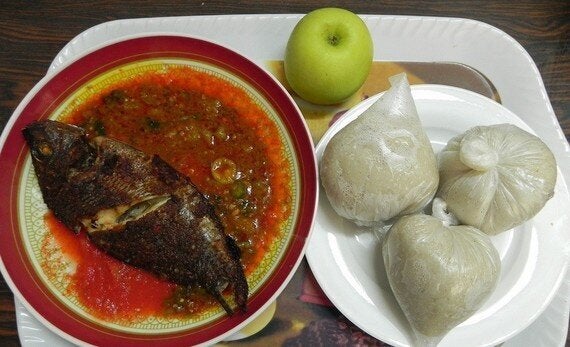 Official site seeing complete, escape from the ever oppressive heat to nosh at one of Accra's top lunch spots, the Chop Bar, which serves authentic Ghanaian cuisine like ampese, fufu, banku and konkonte in a modern atmosphere. Then explore Accra's boisterous and local markets, like the famous Makola market where you can apply your best bargaining skills while shopping for West African art and brilliantly hued Kente cloth fabrics. Wrap up your afternoon with a visit to the seaside Centre for National Culture, where you can find incredible deals (if you are prepared to haggle) on carvings, drums, sculptures, rugs, baskets, bags and antiques.
Day 2: Torgorme village visit
After a leisurely breakfast, depart Accra at 10:00 a.m. for a scenic drive to this beautiful village located on the lower course of the Volta River. Once there, you're invited to pay a courtesy call on the paramount chief and elders, accompanied by traditional drumming and dancing.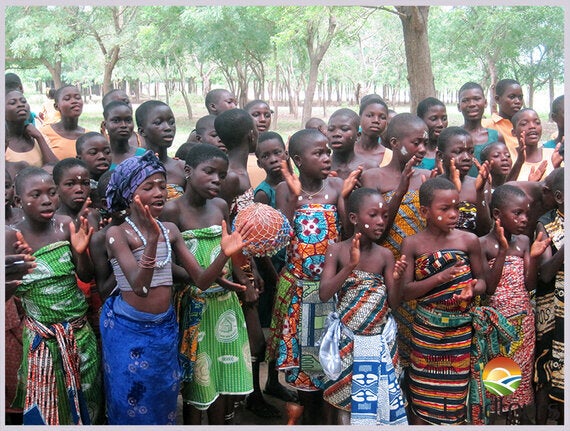 You can also participate in a naming ceremony, where you will be given a traditional African name. Other activities on offer include a demonstration of pottery making (the main occupation of the women in the village) and fishing along the Volta River. You can also watch a demonstration of traditional kente weaving. Kente is a type of silk and cotton fabric made of interwoven cloth strips that has long been emblematic of West African culture and traditions. Finally, you can visit a local school and interact with teachers and their students.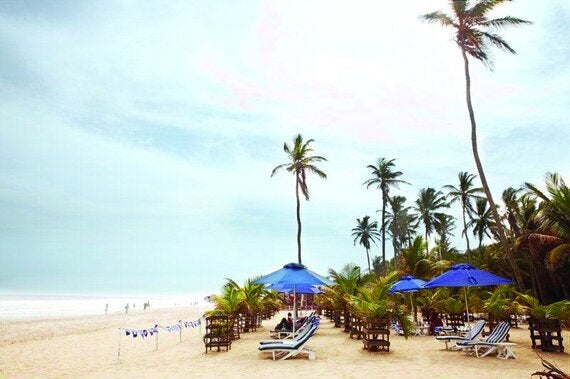 Return to the capital for some serious sun and sand relaxation time at Labadi Beach, also called La Pleasure Beach, the busiest beach in Ghana. Take a sandy horseback ride, catch a reggae or drumming jam session, or simply relax to the sound of Atlantic surf.
Day 3: Kakum National Park and Elmina Castle
Depart early for a drive through the historic Denkyira Kingdom to Kakum National Park, one of West Africa's surviving tropical rainforests.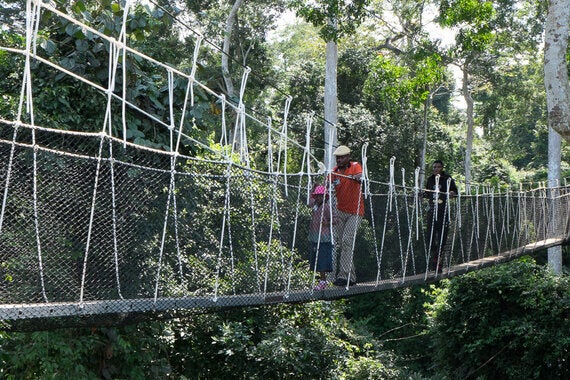 Extending over 360 square kilometres, Kakum is home to over 40 large mammals and 400 bird species, as well as many types of butterflies. Its most popular attraction is the Canopy walkway consisting of seven bridges hanging 100 feet above the forest floor. Take a nature walk through this forest to discover the wide variety of exotic floral species and the medicinal value they offer, then take the high road along the canopy walkway.
On the way back to Accra, visit infamous Elmina Castle, built by the Portuguese in 1482.
Recognized as a UNESCO World Heritage Site, this massive stone fort was the first European structure built in Sub-Saharan Africa.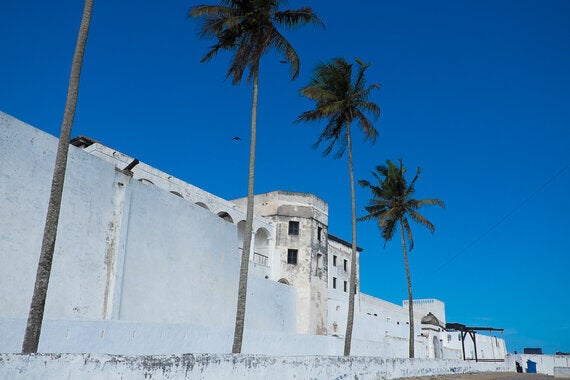 Try to absorb the horrors that slaves held captive here once endured before exiting through Elmina's infamous 'Door of No Return'. Then admire the colorful harbor nestled just below the castle, full of pirogues preparing to go to sea.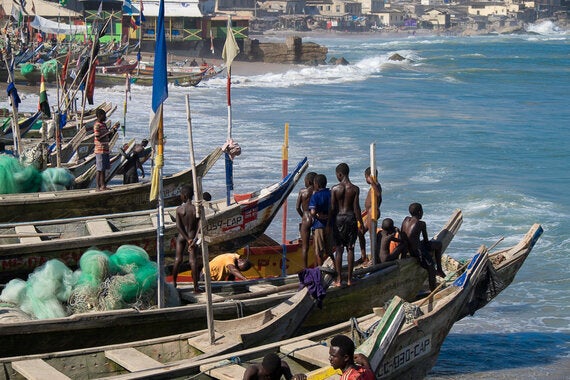 After returning to the capital, dine at Maquis Tante Marie in the affluent Labone district that features cuisine from all over West Africa. Try the waakye -- beans and rice served with grilled meat, shito pepper sauce and salad. Then sit back and savour the nocturnal sights and sounds of one of Africa's most vibrant cities.
Land Tours Ghana can arrange single and multi-day tours of Accra and the surrounding region.
Follow HuffPost Canada Blogs on Facebook