A tornado touched down northeast of Calgary on Friday, shortly before a warning was issued for the region by Environment Canada.
Ryan T. recorded a video of the funnel cloud just after 5 p.m. MT that he shared on Twitter. (watch his video above).
The tornado touched down near Three Hills, Alta., which is about 130 kilometres northeast of Calgary.
Environment Canada posted an alert on its website, saying that a thunderstorm had produced a tornado near Wimborne that was moving east at 50 km/h towards Morrin and Rowley. The tornado warning has since been downgraded to a severe thunderstorm watch for Kneehill County.
The agency warned that large hail, strong wind gusts and torrential rainfall are possible. "Remember, when thunder roars, go indoors!" the warning read.
Brittanny Cawiezel, who works at the Trochu Golf and Country Club, says she heard a barn roof got ripped off and a few trees were down.
She says she hasn't heard any reports of injuries or major damage.
"It was right over the clubhouse, it was freaky," Cawiezel said.
"It started to hail a little, and the wind really picked up, but that's expected with a tornado."
With a file from The Canadian Press.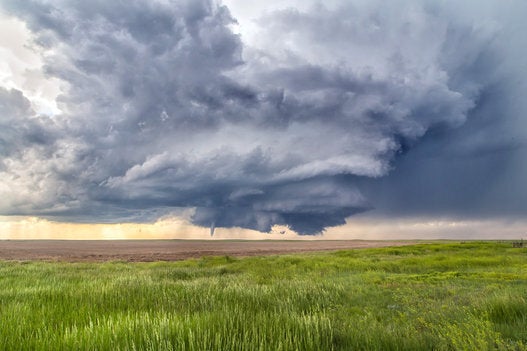 Tornado Storm Chaser