On Wednesday at 4:30pm EST, Governor General David Johnston will take a seat in the Senate and begin reading the Speech from the Throne to officially open the second session of Canada's 41st Parliament.
The Throne Speech, carefully crafted by Prime Minister Stephen Harper, will set the federal government's course for the second half of its majority mandate, setting the scene for the October 2015 election.
Although general in their promises and approach, Throne Speeches are important nevertheless as the government highlights the issues it will focus on and moves away from topics that are no longer important.
By December 2011, just seven months after Prime Minister Harper won his majority mandate, 92 per cent of his election promises had already been fulfilled or were at least tabled in the form of bills in the House of Commons.
So this Throne Speech is about going beyond fulfilling what was already promised, and embarking upon new ventures to reduces taxes on families, strengthen Canada's national defence, and continue to keep Canada's economy one of the best and strongest in the world. It's also about getting back on top of portfolios gone astray -- those that should have been carefully organized and managed but somehow got out of control.
To achieve these objectives, these are the top 10 policies that need to be addressed in Wednesday's Throne Speech:
1. The Senate. It's on Canadians' minds, and not in a good way. Canadians couldn't care less about the Senate's official role as the chamber of "sober second thought" when they're constantly reading headlines about hundreds of thousands of dollars of taxpayers' money being misused and abused. Referring questions on term limits to the Supreme Court is a good start, but don't wait for their response to do something. The NDP have already been clear in what they would do with the Senate - abolish it - and the Liberals have responded in typical Justin Trudeau fashion - err, uh, maybe, uh, ask us in 2015. Regain control of the issue by making promises that can be implemented before the Supreme Court comes back with their answer. (Responsible Minister: Pierre Poilievre, Minister of State for Democratic Reform)
2. Canada's veterans. They're natural conservative voters, and they're not happy. Hatred and resentment of the New Veterans' Charter (passed unanimously in 2006 by all federal parties) is not going away. The Veterans Ombudsman's report highlights that the Charter has "urgent shortcomings" that need to be addressed. Not just so Prime Minister Harper can have his government re-elected in 2015, but because it's the right thing to do. Veterans Affairs Minister Julian Fantino has agreed to revisit the Charter, which needs to be done immediately and through consultations with current and former veterans. (Responsible Minister: Julian Fantino)
3. Taxes. Pocketbook issues are always at the forefront for average Canadian families, and although Prime Minister Harper has reduced or eliminated over 150 taxes since 2006, Canadians still want to know their government is always finding new ways of reducing their tax bills. That includes eliminating loopholes in the tax code, and it should also include a thorough review of groups claiming charitable status while clearly engaging in prohibited political activities.
It also includes expanding income splitting to common law and married couples of any age, not just married couples and their retirement pensions. (Responsible Ministers: Jim Flaherty, Minister of Finance and Kerry-Lynne Findlay, Minister of National Revenue)
Blog continues below slideshow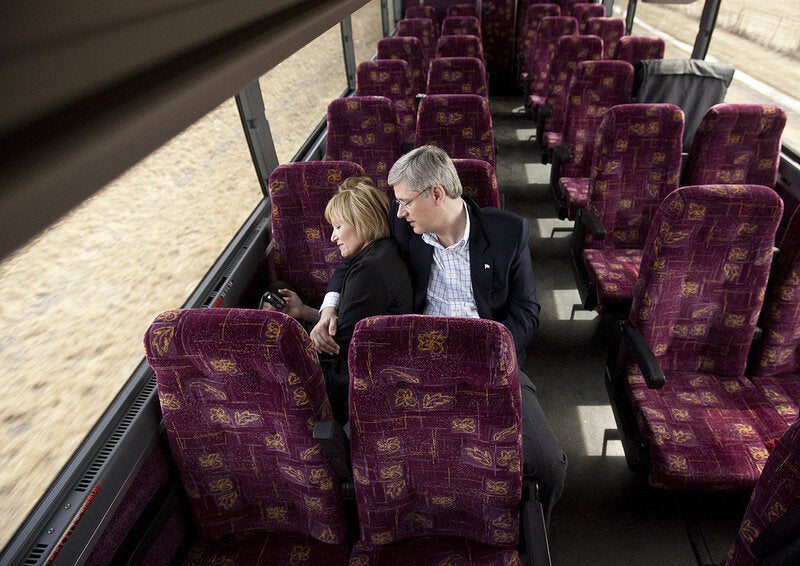 Memorable Stephen Harper Pictures
4. The CBC. Every budget, every Throne Speech, commentators expect the CBC to be privatized - yanked away from their spot at the trough and forced to either become a better business or cease to exist. And every year those commentators are disappointed. This year is no different, so let's end the wait already. $1.1 Billion, or $32 from every Canadian, is thrown into the mysterious black hole known as the CBC. Gone are the days when Canada's federal government needed to own a state broadcaster for any useful purpose. Now it's as if the federal government is paying for a $1.1 billion Opposition party. Get the government out of the broadcasting business, and send every Canadian a cheque for $32 instead. (Responsible Minister: Shelly Glover, Minister of Canadian Heritage)
5. Jobs & the Economy. Prime Minister Harper's economic policies have created over one million net new jobs since July 2009, most of them full-time, high-paying jobs. Data released earlier this week from Statistics Canada showed another 11,900 net new jobs were created in September; the unemployment rate was at its lowest level since December 2008; and the student unemployment rate dropped 1.2 per cent. Canadians need to know these accomplishments, which have made Canada the envy of the world, will continue with further enhancements and benefits. (Responsible Minister: Jason Kenney, Minister of Employment and Social Development)
6. The Procurement System. The amount of hoops to jump through on any procurement program is mind-boggling. Government departments need to compile enormous lists of documents, statements of work, statements of requirements, etc. and bidding organizations also need to jump through dozens of hoops before they can ever actually begin work or provide something to the government, no matter how simple. This isn't just a defence procurement problem, although the issue there is clearly the most visible since it directly relates to Canada's national defence. Start there, and expand outward to the less-visible, less-important procurement issues. (Responsible Ministers: Rob Nicholson, Minister of National Defence; Diane Finley, Minister of Public Works and Government Services)
7. Aboriginal Affairs. Idle No More is gone for now, but only until the next aboriginal community decides to buy a $70,000 zamboni in a supposed time of "crisis" or another aboriginal leader goes on a liquid-only-sometimes diet and calls it a hunger strike. Aboriginals have long demanded change, accountability, democracy, and less government interference in their affairs. So give it to them. Repeal the Indian Act. Get rid of reserves and any subsidies that pay people to stay on reserves, jobless and in incredibly poor living conditions. Encourage democratic elections in the same form as city council elections, but do not interfere when claims of corruption inevitably arise - let them handle it themselves. Continue to improve the First Nations Financial Accountability Act. (Responsible Minister: Bernard Valcourt, Minister of Aboriginal Affairs)
8. Deficit elimination and debt reduction. A key promise made by Prime Minister Harper's government has been to eliminate the deficit by 2015-2016 and thereafter return to reducing Canada's debt. Canada seems to be on track, but more should be done to accelerate the return to balanced budgets (see policy #4). Once we're there, balanced budget legislation should make balanced budgets the law except for perhaps a few very minor, exceptional circumstances. Canadians need to balance their books - our government should also be required to. (Responsible Minister: Jim Flaherty, Minister of Finance)
9. Put consumers first. When Canadians heard Verizon was coming to Canada, the Big Three cell phone companies banded together against Verizon's entry into the Canadian market. The federal government stood up for consumers and said it would not ban Verizon's entry into Canadian markets. Although news of Verizon's entry into Canada was false, the federal government promised to keep the wireless industry competitive for consumers' sake. What policies will this promise entail?
While we're on a consumers' first agenda, end supply management. Getting rid of this dated regime would save the average milk-drinking family $300 a year; and save the economy $28 billion in dairy production alone. (Responsible Minister: James Moore, Minister of Industry)
10. Update Access to Information Laws. A recent series of panel discussions hosted at the University of Ottawa during the 2013 Right to Know Week highlighted the pressing need to update Canada's access to information and privacy laws. Why? Here's an easy example: I asked a department (I won't name which one) for a table of their annual budgets since 1980. I thought this was straightforward, and would result in a simple spreadsheet that listed 2013: $this much; 2012: $this much; and so on.
But no. This department responded that they are not required to "create new documents" since apparently never before had they bothered to tabulate their annual budgets for historical record. But they could locate all of the budgets and send them to me - for the cost of me paying the salary of one full-time staff member for 35 hours, the estimated time it would take to collate 33 years of budget documents. This is just unacceptable when all I was asking for was information that was publicly available.
The desperate requirement for ATI reforms was also highlighted when most of my questions to Elections Canada regarding their robocalls investigation went unanswered for "privacy reasons." (Apparently asking why contracts were in the weird amount of $78,444.35 was too personal.)
Open government and open data are fundamental principles every government needs to adhere to. In today's electronic age, not having basic, public information available and accessible is simply unacceptable. (Responsible Minister: Tony Clement, President of the Treasury Board)
If Wednesday's Throne Speech touches even slightly on each of these issues, Prime Minister Harper will have perfectly set the stage to retain his majority government in October 2015.
Watch the Throne Speech live on Wednesday, October 16, 2013 at 4:30pm EST
Take part in the Throne Speech Discussion by using #SFT13 on Twitter