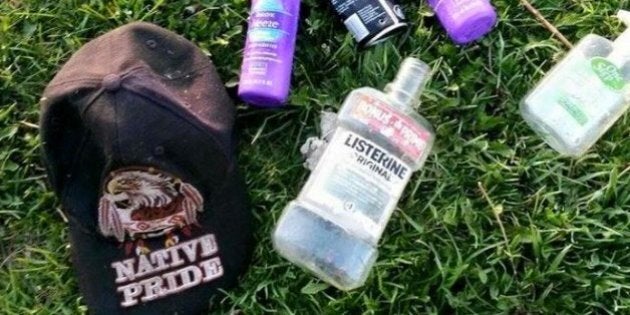 Thunder Bay Police are investigating a series of Facebook pages that have been widely criticized as racist and offensive to First Nations.
Police say they were alerted by city officials about a Facebook page called "Thunder Bay Dirty." The page posts photos mainly of aboriginal people on the streets.
"The remarks are derogatory and extremely offensive," the Thunder Bay Police said in a statement.
"As a community, we cannot tolerate the use of social media to express extreme racism."
But police say it's unclear whether anyone will be charged in connection to the Facebook pages.
This comes after a wave of Facebook pages targeting First Nations people in Thunder Bay have cropped up, and police believe they were created by Thunder Bay residents. Photos featuring First Nations people are captioned with comments like "Garbage can is full at TD bank on Memorial Ave."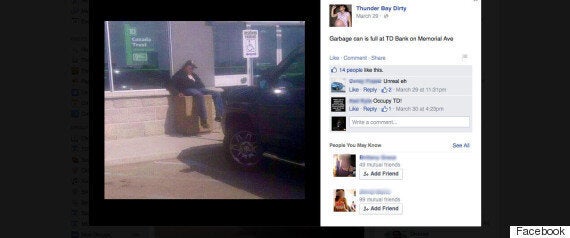 In one picture an aboriginal man sits in a hospital waiting room. The creator of the Thunder Bay Dirty page writes that someone told him that the man has just attacked a nurse.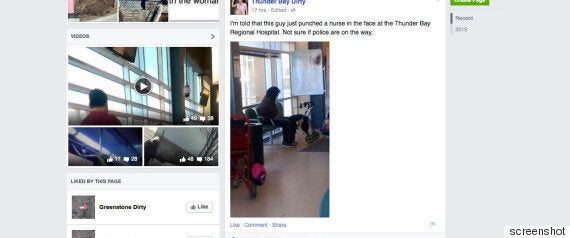 One Facebook user writes, "All of us see the 'people' who are getting drunk and causing trouble… who is it? Natives is it not? Am I wrong?
"Why is when people talk about how their city where they were born and raised is now flooded, infected, taken over by this dilemma we are called racist?"
Another user comments on the same post "You guys are horrible! What if that was you or a relative? Obviously he's sick and people like you posting pictures of his most vulnerable times, you should be ashamed!"
Another photo is captioned, "Trying to send a message but she's too stupid to spell."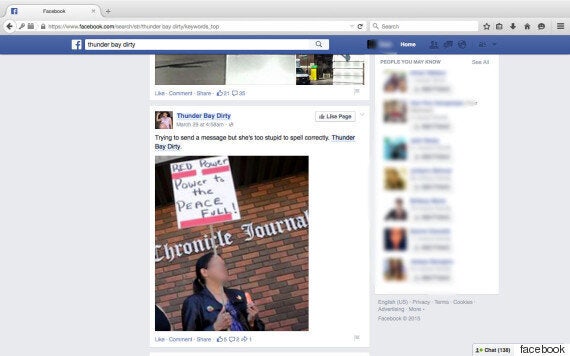 In this photo from Thunder Bay Dirty someone explained that the man was unresponsive so they tried to shout at him to wake him up and poked him with a stick before calling paramedics. One user commented, "Next time poke him with something sharp...or a bullet."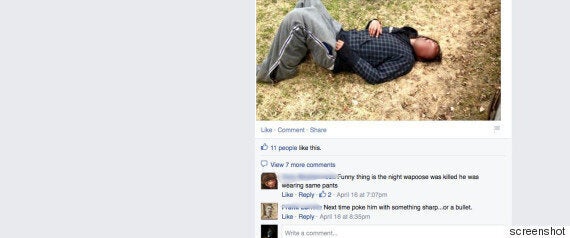 Former Fort William First Nations chief Georjann Morriseau told The Huffington Post Canada that while there is a substance abuse issue in Thunder Bay, she is afraid that the page is exploitative.
"Whether it's homelessness, substance abuse or alcoholism they are exploiting these social issues that these human beings are dealing with," said Morriseau.
"They're [putting] them in a light that is almost as if they deserve to be in this position and that all First Nations people are like this. Showing them as a burden to society and [asking] 'why should we help them?'"
The city acts as a hub for surrounding communities, including several northern reserves. People in more remote areas travel to Thunder Bay for resources and services that aren't offered in their hometowns including health care, Morrisseau explained.
"Whether you are First Nations or not, mental health issues and addiction issues are relatively the same. We just have a larger population that are impacted and a lot of that has to do with history," said Morrisseau.
"This is just the tip of the iceberg, you have a right to an opinion but you also have a right to be responsible for that opinion."
Morriseau said that the page does not provide people with enough information about the root cause of social issues like alcoholism, and that it simply causes people to become hateful towards the less fortunate.
"It's hard for a lot of these people who use social media to humanize what their actions do," said Morrisseau.
"It's easy to say things behind a computer screen because there is no emotion attached to it. We have to humanize what racism does to people and social media does not do that."
HuffPost Canada interviewed the creator of the "Thunder Bay Dirty" Facebook page via a series of online messages.
He said he wants to remain anonymous due to threats he had received through social media since launching the page in late March. The page has gained more than 4,000 followers and another 8,000 users have been actively watching since the page was launched, he said.
"I've had to shock people to get their attention," he said. "If this page was deemed racist by Facebook, it would have been shut down."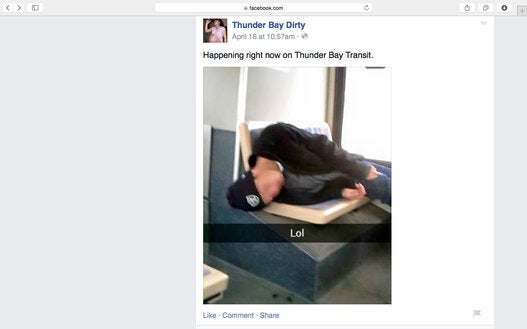 Pictures from 'Thunder Bay Dirty' Facebook Page
Facebook describes hate speech as content that directly attacks people based on their race, ethnicity, national origin, religious beliefs, sexual orientation, gender and serious disability or disease.
Facebook Canada would not comment on whether the page violates their community standards. According to Facebook's policy, the company removes content "that appears to purposefully target private individuals with the intention of degrading or shaming them."
The page's creator says Facebook has removed some of the posts on his page, but the page itself remains up.
"Some photos were removed by Facebook. Others were removed by myself. Sometimes, I get messages from relatives of the person and I make the decision to remove," he said.
He pointed to a photo he had posted of a group of children playing on the side of a highway.
"The mother of one of the kids had no idea that her child was left alone like that. She was in shock and thanked me for letting her know. I removed the picture."
He said many of the photos featured on the page are sent to him. He said he has been contacted by people across Ontario who have been asking for advice on how to start their own "Dirty" pages.
"I'm equal opportunity here. Send me pics of any race passed out drunk in the streets. I will post them," he said.
"As it happens, Thunder Bay has a large aboriginal population, higher than the national average, and they do account for a large number of these posts."
There are around 22,000 aboriginal people living in Thunder Bay, which has a total population of more than 110,000 people.
Thunder Bay Mayor Keith Hobbs told The Huffington Post Canada that the Thunder Bay Dirty page does not reflect the beliefs of the community and that the city is doing whatever it can to tackle its social issues.
"This is a racist group, I liken them to the Neo-Nazi unit and the KKK, people like that that have no tolerance for other races," said Hobbs.
"The police are doing an investigation and if people want to behave like that, I'm telling them to move to another city," said Hobbs.
Thunder Bay Police spokesman Chris Adams explained to HuffPost Canada that police services everywhere are still trying to catch up with the complexities and challenges of Internet-related crime.
"There are a couple of areas that police can look at regarding posts on social media. Harassment, threats, criminal defamation or hate crime have to be considered," said Adams.
"What is free speech versus a criminal act or versus a civil matter? We'll have more to say once the investigation is concluded."
According to section 319 of the criminal code of Canada a hate crime is everyone who, by communicating statements in any public space, incites hatred against any identifiable group where such incitement is likely to lead to a breach of peace.
Another page was created in response to Thunder Bay Dirty called Take Down Thunder Bay Dirty. The administrator of that page declined an interview, and also said they preferred to remain anonymous due to threats they received through Facebook.
Hobbs said the city will be meeting with neighbouring Fort William First Nation and all stakeholders on May 20 to deal with the issue "head on."