Thunder Bay's two local TV stations are in such financial trouble that they are running on life insurance money from a recently deceased station owner, station management told Canada's broadcast regulator this week.
The CRTC is holding public hearings into the future of local TV in Canada, and local broadcasters are taking the opportunity to bring attention to their growing financial problems.
Thunder Bay's two local stations — CTV affiliate CKPR and Global affiliate CHFD — are both owned by Thunder Bay Electronics, also known as Dougall Media. The company's vice-president and general manager, Don Caron, says the stations may have to shut down by Sept. 1, Global News reports.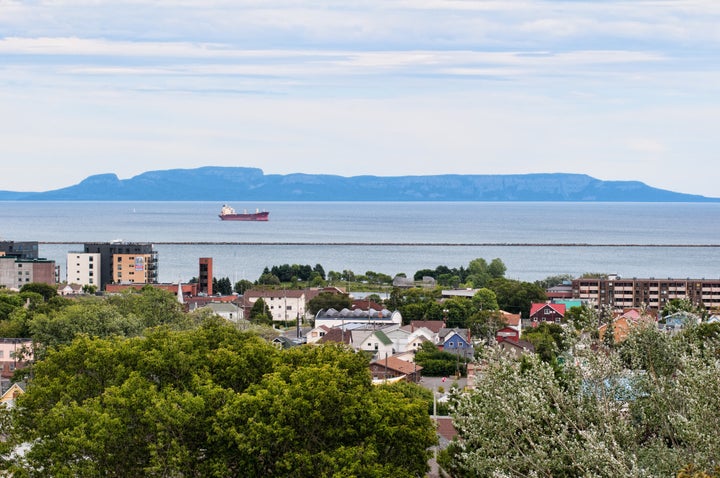 A view of central Thunder Bay. (Getty Images)
"The reason we are still in business and still operating is the fact that we unfortunately had a general manager and a owner who passed away in the last year and the company had fairly significant life policies on them," Caron said, as quoted at The Chronicle Journal. He was referring to Fraser Dougall, who passed away last August.
Caron said the possible shutdown of the Thunder Bay stations would "blacken Northern Ontario," noting the area the stations serve is larger than France.
"I'm not doing that as a threat," Caron added. "I'm just telling you the realities of the financial scenario we face at this point."
Thunder Bay's local affiliates aren't the only ones facing financial problems as traditional broadcast TV jostles with new media for audience attention.
Private local stations have seen revenue decline by 25 per cent since 2010, the report said.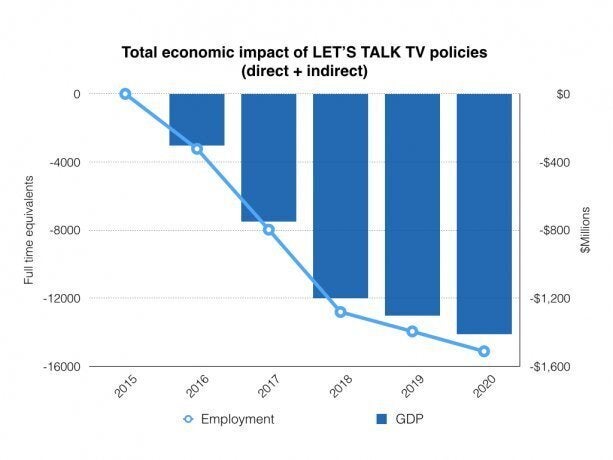 Changes to Canadian TV distribution rules will cost a cumulative total of more than 15,000 jobs, and will reduce GDP by a total of $1.4 billion by 2020, a report prepared for Friends of Canadian Broadcasting predicts. (Chart: Nordicity)
Broadcasters are also concerned about the CRTC's changes to cable and satellite TV rules. Starting this year, TV providers will have to unbundle specialty channels and offer them on a pay-per-channel basis, among other things.
But the CRTC's new rules, designed to be consumer-friendly, have raised concerns in the industry. Media unions and guilds issued a report earlier this month warning the changes could lead to 15,000 direct and indirect job losses in Canada, draining $1.4 billion out of the economy.