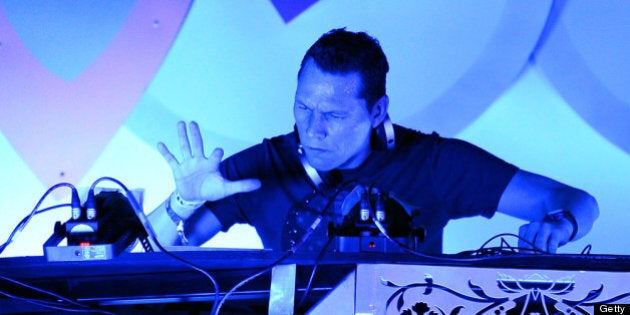 During Electric Daisy Carnival in Las Vegas, EDM superstar Tiësto had the great thrill of meeting electronic music pioneer Giorgio Moroder, who has been in the news lately for his collaboration with Daft Punk on their acclaimed new album, "Random Access Memories."
"He's one of my youth heroes," Tiësto says of Moroder, in a Dutch accent unaffected by well over a decade of DJ globetrotting, over the phone from a hotel room in Washington State. "He's such a talented producer and to meet him, yeah, it's one of those things, like, so cool. He comes to my show and he stayed the whole set actually; I played for three hours and he was there for three hours. He's in his seventies and still rocking strong. We did shots together and it was fun to hang out together. I was honoured that he came actually."
In Moroder's Facebook photo of the two men downing the aforementioned shots, Moroder can be seen sporting earplugs, which suggests it may have been a little too loud to have a good chat or plan some kind of project together.
"We didn't have much conversation but we exchanged numbers after the set.," Tiësto admits. "We are going to sit together soon in L.A. or Vegas and we're really going to talk. We need to have a conversation but something will happen. I mean, he did a collaboration with Daft Punk, so why not with me?" he chuckles.
Indeed, why not Tiësto? What's so special about Daft Punk? Everyone is still talking about their new record but Tiësto isn't really feeling it.
"It got so much attention because it's so different and it's an attitude album," he says. "It's cool to like Daft Punk. Even if you're not into the song, as soon as you hear ["Get Lucky'"], you see all the cool people go, 'Oh yeah, this is cool, that's my song,' and they don't really even enjoy it.
"I'm destroying them now," Tiësto catches himself. "Sorry Daft Punk."
Tiësto goes on to say that he really likes the band's old stuff, like the "Homework" LP or solo productions by Thomas Bangalter on the Roulé label, where he says Banglater "made some amazing tunes."
"But the 'Tron' soundtrack wasn't that great and this is not great, either," he argues. "But because it's Daft Punk and they're supposed to be cool and they had the amazing pyramid at Coachella a couple of years ago and the helmets — they're fucking cool. But the music doesn't deliver on the hype so much."
When asked to elaborate on his comment that cool people pretend to like Daft Punk, Tiësto says he's observed this firsthand at a party. "Get Lucky" came on and these girls got excited and started dancing to it so he approached them.
"I said, 'Lemme ask you a question; do you really like this song?' And they went quiet and were like, 'Uh…it's all right, it's all right,'" he laughs. "That's what I mean. Because it's Daft Punk and we want to believe the hype; we are cool people so we have to think this is cool."
Tiësto just released a new mix album called "Club Life 3: Stockholm" and has been hitting the road for shows, including sets at Toronto's Digital Dreams Festival on June 30, Ottawa's Escapade Festival on July 1, and Festival d'été de Québec in Québec City on July 11.