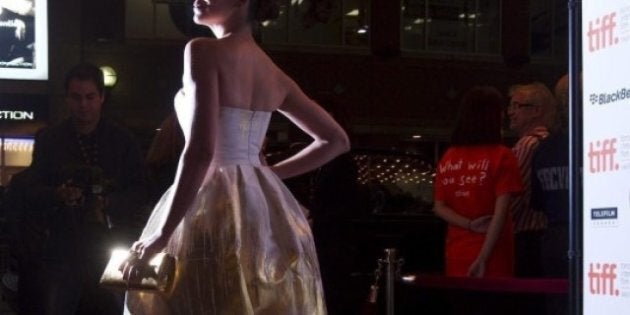 They're often spotted at swank restaurants and sometimes shopping spots like Holts. And of course, there are the movie premieres, like those happening at Roy Thomson Hall, Ryerson Theatre and the TIFF Bell Lightbox.
But the best place to spot celebs during the Toronto International Film Festival –- when they're kicking back and relaxing a bit -– is at one of TIFF's hottest events. Here's a sneak peek at some of the parties where you may get a chance to catch a glimpse of stars like George Clooney, Evan Rachel Wood, Ryan Gosling, Olivia Wilde or Emily Blunt (among many others).
Where: TIFF Bell Lightbox, Reitman Square, 350 King Street West
Why: This pop-up event by the famous Miami beach club brand has always been a hot spot for celebs who want to relax pre- and post-film screening. The lounge packs a powerful swag bag punch, too, with products like Canada Goose, Guess?, Nespresso and Guerlain on offer.
Where: David Pecaut Square
When : September 9, 10 p.m.
Why: The signature Artists for Peace and Justice (APJ) event never fails to impress or draw its share of A-list celebrities, largely because its board is made up of people like Paul Haggis, Ben Stiller, Maria Bello, Olivia Wilde, Charlize Theron, Penelope Cruz and Javier Bardem. The event aims to generate awareness and financial support for youth education, health and dignity initiatives in Haiti, and for youth initiatives in Canada through TIFF's Learning Programmes.
Where: Four Seasons Hotel, 21 Avenue Road
When: September 9, 6:30 p.m.
Why: ONEXONE Ambassador Matt Damon always delivers with this annual TIFF bash, which raises funds to support, preserve and improve the lives of children around the world. This year's event features a special performance by Harry Connick Jr. There's also an A-list celeb poker showdown planned.
AOL/Alliance/Sony "The Ides of March" Premiere Bash
Where: South of Temperance, 20 Adelaide Street West
When: September 9, 9 p.m.
Why: Not to toot our own horn here (AOL is HuffPost's parent company), but if there's any event you're guaranteed to see celebs at, it may be this one – it's the after-party for one of TIFF's hottest flicks, The Ides of March, starring George Clooney, Philip Seymour Hoffman and Ryan Gosling. The event will also include a performance by a three-time award-winning Grammy singer (we were sworn to secrecy on who the performer is).
George Stroumboulopoulos Tonight's The Hazelton Takeover
Where: The Hazelton Hotel, ONE Restaurant, 116 Yorkville Avenue
When: September 9, 11:05 p.m.
Why: This event was one of the largest draws of TIFF 2010 -– it was the place to spot Canadian celebs as well as of-the-moment actors like Jon Hamm. Because it's invite-only, you'll likely also see some Canadian athletes, musicians and television commentators if you hang around the area -- Steve Nash, K'naan and David Suzuki all dropped by last year.
Where: Goodnight Bar, the alley beside 431 Richmond Street West
When: September 9 and 10, 11 p.m.
Why: Since it opened in 2010, Goodnight has been the secret hiding spot of celebs shooting films in town, including Robert Pattinson, Jessica Biel, Paul Giamatti, Drake and Harvey Weinstein. For this year's fest, the bar's owners have teamed up with Gansevoort Hotel Group to throw a speakeasy-esque go-all-night bash.
Where: The Ritz Carlton, 181 Wellington Street West
When: September 10, 7 to 9 p.m.
Why: Not only is this bash taking place at the brand-new Ritz Carlton hotel (where many an A-lister will be staying during TIFF), it also commemorates HELLO! Canada's 5th anniversary. A few of the notable names (so far!) who will walk the carpet include: Josh Lucas, Juliette Lewis, Dustin Milligan and Norman Jewison.
Where: Carlu, 444 Yonge Street, 7th Floor
When: September 11, 6:30 p.m.
Why: This event will be hosted by comedian Kathy Griffin, includes a performance by John Legend and honours the late Elizabeth Taylor. Add to that the event support amfAR, The Foundation for AIDS Research, and Dignitas International and you can bet any A-lister in town will be attending this gala.
Where: Mod Club, 722 College St.
Why: Not every celeb wants to get gussied up for galas, which is where the Festival Music House comes in, offering laidback and intimate performances by K'NAAN (September 12), Sam Roberts Band (September 13) and Arkells (September 14). Other acts set to perform include The Sheepdogs, Lights, Hannah Georgas, Hey Rosetta! and The Midway State.