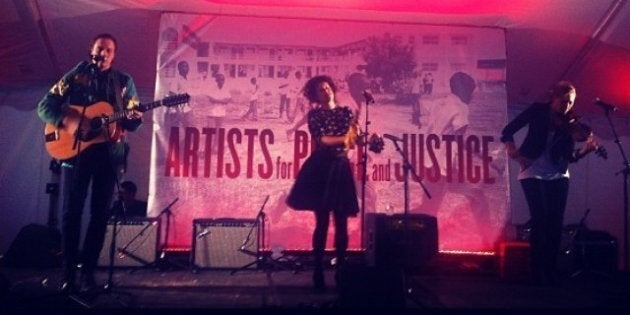 Members of Arcade Fire brought the house -- or at least the garden party tent -- down with both their music and their message at the Artists For Peace and Justice luncheon at the University of Toronto president's estate over the weekend.
As the headliners for Saturday's 3rd annual fundraiser in support of the Artists for Peace and Justice charity - which is currently focused on aid and education for the children of Hait -- Win Butler, Regine Chassagne and Marika Anthony-Shaw from Arcade Fire started their short acoustic set by playing right in the middle of the A-list crowd before taking the stage.
"The last time we played in a tent was in Port-Au-Prince," Butler told the enthralled audience who paid $1,250 per ticket and included the likes of Jude Law, Ian Somerhalder, Alexander Skarsgard and Alison Mosshart of The Kills and APJ founder, Oscar-winning Canadian director Paul Haggis.
"This is a lot fancier tent," he added, before the trio launched into a stripped-down version of "Haiti."
Before playing one final song, a rousing singalong of "Wake Up," Butler also took a moment to praise the charity for the brand new school they've built in Haiti, and their belief in the Haitian people.
"A lot of times in Haiti, they get a lot of hand-me-downs. If you walk around Port-Au-Prince, there's a lot of all the shitty t-shirts no one wanted anymore and all of the garbage they don't want anymore finds its way to Haiti. But this is a brand new fucking school with the best teachers and they're actually trying to do something of quality and provide these kids with an education. Not just a shitty whatever education, an incredible education.
And the reason why this is a good investment is that these kids here are the ones who are going to solve Haiti's problems," he said, acknowledging a pair of young Haitian guests in the front row. "They know what needs to be done and they're going to have the tools and the education to be able to actually transform Haiti and that's a really important, exciting thing."
Folk rapper K'Naan was more soft-spoken during his earlier set, but he delivered an impassioned performance that included a new song, "The Seed," which discusses his Somalian roots and his journey from being conceived in a refugee camp to where he is now. He also made a fan in Skargard. Best known as Eric the vampire in HBO's True Blood, the giant Swede bounced his head along to the music the entire time.
Canadian music power couple Raine Maida of Our Lady Peace and Chantal Kreviazuk had the unenviable task of opening the show and trying to quiet down the excitable and chatty crowd, but Kreviazuk handled the situation with guts and grace.
"I want to say to you, respectfully, we're here to show you images and get you to think about all of these kids in Haiti. Because we're born into our luck, are we not?" said the singer/songwriter.
Her comments drew applause as the duo started to play a cover of Joe Strummer's "Johnny Appleseed."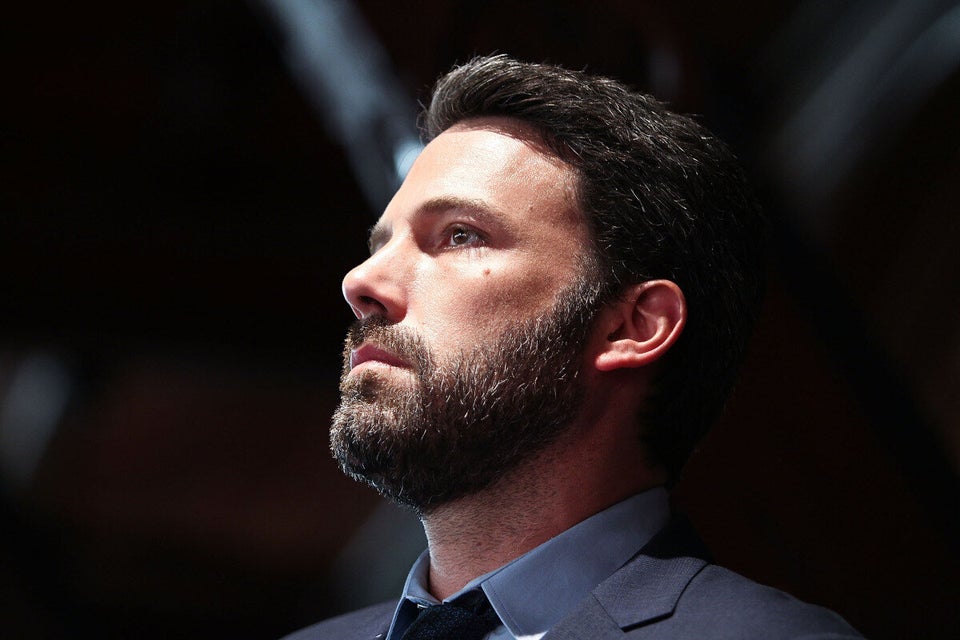 Toronto Film Festival 2012: Attending Celebs