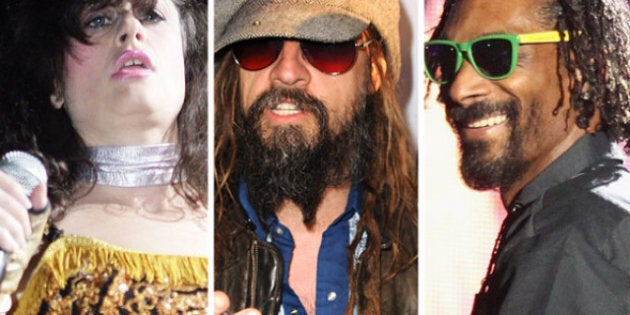 Documentary films featuring Snoop Dogg and 30 Seconds to Mars, the latest Rob Zombie horror flick The Lords of Salem and a Peaches musical have all been added to the 2012 edition of the Toronto International Film Festival, TIFF announced earlier today.
After last year's rock-heavy list of films, which included documentaries about Pearl Jam, U2, Paul McCartney and Neil Young, TIFF 2012 promises to be a more musically eclectic affair. Alternative, hip-hop, electroclash, and disco will all be well-represented this year thanks to a selection of of docs, experimental films and even a good old-fashioned horror flick.
This year's TIFF Docs selections include the world premieres of Reincarnated, a film about Snoop Dogg recording in Jamaica, and Artifact, which follows 30 Seconds to Mars and their polarizing singer, Jared Leto, as they face legal battles with EMI and record the album This is War. The disco era will be explored in The Secret Disco Revolution, which features interviews with the Village People, Gloria Gaynor and Kool and the Gang. Musical luminaries will also be appearing as experts in Iceberg Slim: Portrait of a Pimp (featuring Henry Rollins, Ice-T, Quincy Jones and Snoop Dogg) and How to Make Money Selling Drugs (with interviews from 50 Cent, Eminem and Rick Ross).
Over in the Vanguard programme, dedicated to "international works that defy convention and ride on the pulse of cutting-edge cinema," British music artist Ben Drew, a.k.a. Plan B, makes his directorial debut the crime thriller with the awkwardly capitalized iLL Manors. He also composed the UK chart-topping soundtrack for the film. And Peaches Does Herself, an "anti-jukebox musical" written and directed by the electroclash luminary, will be making its world premiere. The film stars Peaches as Peaches, a woman who makes sexually forthright music (after being inspired by a 65-year-old stripper), falls in love with a she-male, gets her heart broken and embarks on a path of self-discovery.
Finally, horror rocker and horror director Rob Zombie promises to scare the pants off of everyone with the world premiere of The Lords of Salem in the popular and metal-friendly Midnight Madness program. The film tells the story of a radio station DJ named Heidi who receives a mysterious record containing mysterious sounds that might be linked to Salem's dark past.
The 2012 edition of TIFF runs from September 6-16. More films will be announced in the coming weeks.
Popular in the Community