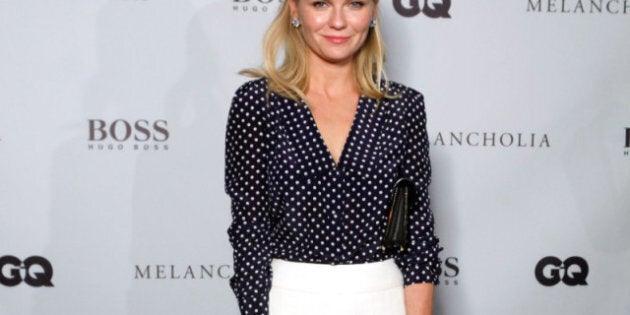 Both women agree that this season, classic looks can be played up with simple and colourful additions.
The Big Trend: Casual And Laid-Back
Stephanie: This year we are seeing a more laid-back red carpet look. We've seen Alexander McQueen blazers, nothing really over the top, just well put together outfits with cool detailing like fedoras. And the shoes, we have seen great shoes: nothing that's glam-overkill which is really nice.
Erin: Kirsten Dunst is also doing it really well with her hair really loose or pulled back and an easy blouse with stunning skirts. I think this year is definitely polished and its a nice break for everyone who probably just came from Venice. It's not gowns every night, so it's a nice way to be stylish and casual.
Bright Bold Colours And Neutrals
Stephanie: We are definitely seeing a lot of cobalt blue, bright yellows and poppy reds -- tons of saturated colours. But at the same time there are a lot of white, blacks and neutrals, but done in a different ways. Adding metallic colours, beading and lace, we've seen a lot of this. Megan Fox wore a red dress and Salma Hayek also had a lot of gold one night.
Check out our gallery of TIFF style tips from The Coveteur girls on how you can incorporate celeb trends into your own style:
All About The Maxis And The Shoes
Stephanie: The maxi skirt or the maxi dress are both good to work with. You can also have a nice blouse and tuck it in a maxi skirt for the office or add nice heels with a crop top and wear it at night.
Erin: I always think about shopping on a budget. Not all of us are celebrities. Aldo Shoes is a good way to get shoes for the look you want but at really reasonable prices. Shoes are so important this season and there is so much you can do with them. Add bold colours to update a look or leopard print ones like Megan Fox did. Shoes are also getting higher and higher. Everyone wants that classic pump or pointy toed sleek and sexy heels, you can also add these to your personal look.
TIFF Celebrity Fashion Favourites
Stephanie: "Keira Knightley has amazing neutrals but she is also using prints and colour. "
Erin: "This year everyone is talking about Ryan Gosling. He had a khaki suit with Prada shoes, I think everyone just has the hots for him."
Stephanie: We were both saying there are some trends with men this year. Ryan Golsing's khaki suit and George Clooney in navy. Great ways for men to try this at home is to add colour with ties or switching up your suit colours from classic black.