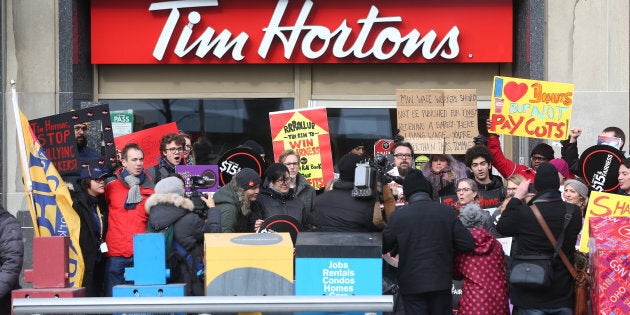 Tim Hortons customers may not be rushing to change coffee shops anytime soon, but they're not feeling great about the chain either, according to a new study.
Canadians are also more likely to say that the prices — and the quality of food, coffee, and service — have worsened in recent years.
Watch: The companies Canadians admire the most. Story continues below.
Opinion varied across provinces, with the Ontarians the likeliest to say their view of Tim Hortons has gotten worse, compared to 24 per cent of Quebecers.
The study compared the drop in favourability to Starbucks, which showed that a majority of Canadians (80 per cent) haven't changed their views of the chain. More Canadians also said the quality of service has improved at Starbucks (25 per cent) compared to Tim Hortons (13 per cent).
Still resonates as Canadian brand
That being said, a resounding majority of Canadians (91 per cent) say they do buy Tim Hortons products, with 33 per cent stopping in weekly, and 29 per cent monthly.
Most Canadians also still see Tim Hortons as part of their national identity, but are divided as to how big that part is. About a third (32 per cent) see it as an important part, 38 per cent see it as a small part, and 38 per cent say it has nothing to do with Canadian culture.
The survey was conducted online on the Angus Reid Forum from Feb. 28-March 2 among a randomized sample of 1,501 Canadian adults. For comparison purposes, probability samples of this size would carry a margin of error of +/- 2.5 percentage points, 19 times out of 20.
Popular in the Community