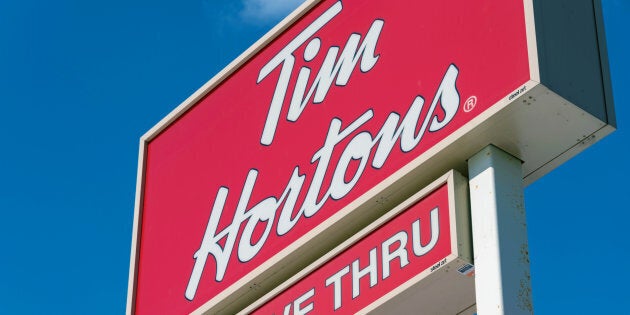 Have we finally reached peak Tim Hortons?
Restaurant Brands International (RBI), the parent company of Tim Hortons, Burger King and Popeye's Chicken, surprised analysts Monday morning with stronger-than-expected earnings for the fourth quarter.
But the numbers also show a weak performance for its Tim Hortons brand, with sales at existing locations essentially flatlining over the past year.
Earlier: Demonstrators chant "don't be mean" at Toronto Tim Hortons
Comparable sales at Tim Hortons stores — meaning at locations that have been open for more than a year — rose by a paltry 0.1 per cent in the fourth quarter of 2017, according to the company's earnings statement. For all of 2017, they fell 0.1 per cent.
And those earnings numbers don't yet reflect the controversy that engulfed Tim Hortons last month in the wake of Ontario's minimum wage hike to $14 per hour.
That drew a sharp rebuke from Ontario Premier Kathleen Wynne, who called the moves "a clear act of bullying." It also drew a response from Tim Hortons head office, which sought to distance itself from the franchisees in question, calling their moves "reckless" and "completely unacceptable."
It won't be clear until RBI releases its next earnings in three months'time whether the minimum wage controversy hurt the company's bottom line.
Tim Hortons vs. franchisees
But the weak performance in 2017 came amid a growing conflict between head office and many Tim Hortons franchisees, who say the company has unfairly offloaded additional costs on to them.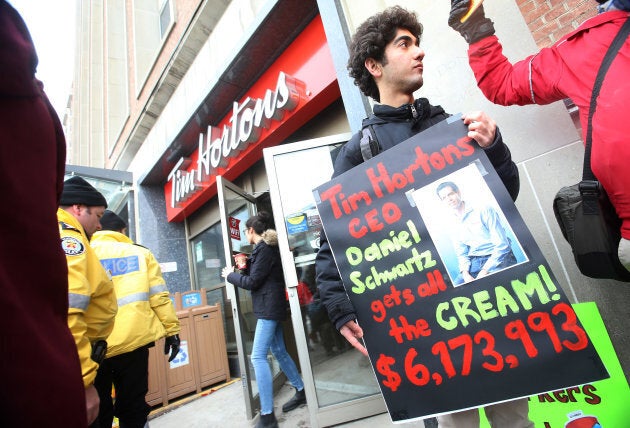 All the same, the problems at Tim Hortons didn't hold back earnings at the parent company in the fourth quarter. RBI reported a profit of US$395 million in the final three months of 2017, more than tripling its profit from the US$118.4 million it earned in the same period a year earlier.
That's due in part to the company's aggressive expansion in recent years, including its purchase of the Popeye's Chicken chain last year. Though Tim Hortons sales are flatlining at existing locations, RBI highlighted the company's international expansion.
"We launched our mobile app and our espresso based beverage platform in Canada and the U.S. and also opened our first restaurants in Asia, Europe and Latin America," CEO Daniel Schwartz said in a statement.
— With a file from The Canadian Press