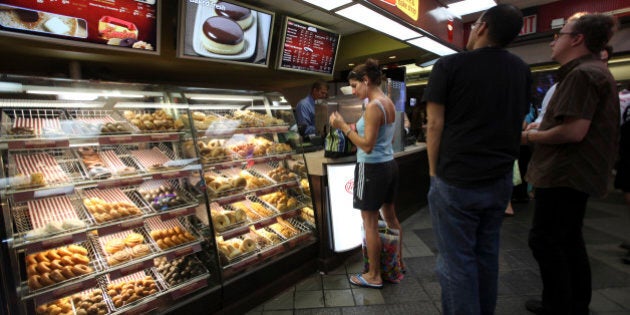 According to the same press release that announced the change, 24 items will be disappearing from Tim Hortons menus as soon as the supply runs out. Among them are favourites like the Timbit Dutchie and gingerbread cookies — yes, all the gingerbread cookies.
While we have our suspicions about how long this gingerbread-less existence will last once the holidays come along, we are hoping that the revisions will make room for some new items on the menu. We don't have our hopes quite as high as the Jason Priestly, but we are thinking Timmies might be able to do something rather great with the cronut trend.
As of now, the official word is that the changes will make room for more beverage options, including the Tim Hortons line of K-cups and T-discs for single serve coffee machines.
Take a look at the discontinued items Tim Hortons has revealed to the public so far. As of now, there are five specific discounted treats, while the remaining 19 items include seasonal cookies and one-off smiley face cookies. And let us know, what would you like to see on the menu instead?
Popular in the Community