More than a dozen Tim Hortons locations across Ontario were being targeted for protest on Wednesday, amid a controversy over how the coffee chain has responded to Ontario's minimum wage hike.
The Ontario Federation of Labour (OFL) and the Fight for $15 and Fairness Campaign announced plans for protests at 15 Tim Hortons locations across the province, including nine in Toronto, "to demand that the corporation not roll back workers' wages and benefits."
The move comes in the wake of reports that Tim Hortons franchisees in Cobourg, Ont., who happened to be the children of chain co-founder Ron Joyce, had cancelled paid breaks for employees, and started requiring them to pay for a portion of their health and dental benefits.
That came as Ontario's minimum wage jumped to $14 per hour on Jan. 1, from $11.60 beforehand. The minimum wage is scheduled to rise again to $15 in 2019.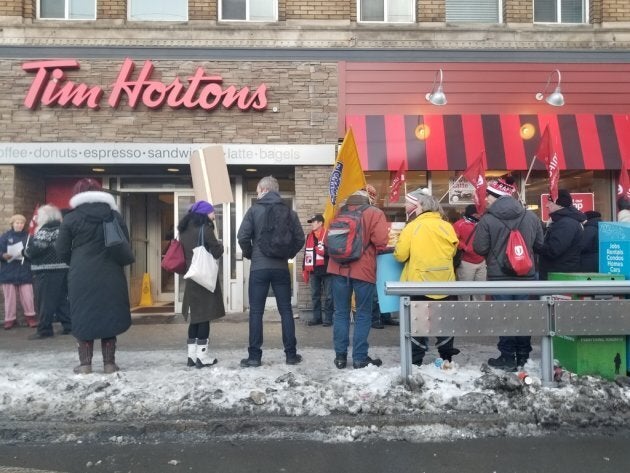 The chain's head office sought to distance itself from its franchisees' actions, calling the franchisees' actions "reckless" and "completely unacceptable."
But the OFL laid the blame squarely at the feet of head office.
"This is outrageous coming from a hugely profitable multinational company," the group said in a statement issued Tuesday.
"The Tim Hortons corporation dictates virtually every detail of the franchise-owner's business practice. It even stipulates the required net worth (at least $1.5 million) of any potential franchise owner. ... It's clear the parent corporation has the power to fully restore workers' wages, benefits, and working conditions."
Watch: Ontario the undisputed champion of minimum wage
And Tim Hortons franchises are by no means the only businesses facing criticism for their reaction to the minimum wage hike. A hotline set up by the Ottawa District Labour Council received complaints about several dozen businesses within the first three days it was operational.
The council says some of these complaints even alleged that some employers had failed to pay the new higher wage.
The province's labour ministry says it is investigating allegations of businesses breaking the new labour law.
Labour Minister Kevin Flynn noted, however, that the vast majority of businesses are complying with the new minimum wage.