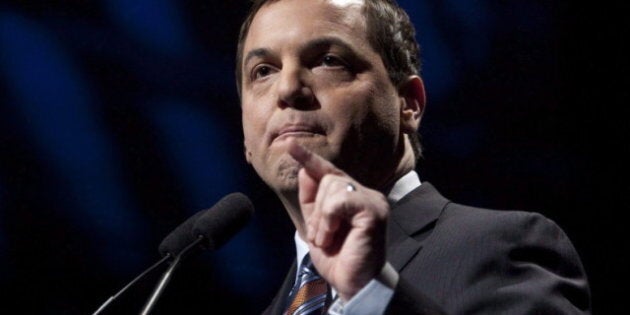 With less than three months to go before the Ontario vote, Tim Hudak's Progressive Conservatives hold a double-digit lead over the governing Liberals, with solid support among older voters living outside of Toronto and a competitive race between the two parties in and around the city.
"It's Hudak's to lose," pollster John Wright, senior vice president of Ipsos, told PostMedia. Compared to Ipsos-Reid's last poll conducted in late May and early June, the gap between the PCs and the Liberals has widened by five points, with Hudak's team picking up two points and the Liberals dropping three.
The New Democrats have gained two points since the last poll, while the Greens are down one point to five per cent support.
The Progressive Conservatives lead among both men and women, and also have the advantage among voters over the age of 35. The Liberals lead among Ontarians aged 18 to 34, but this demographic also happens to be the one least likely to cast a ballot on Election Day.
The GTA is hotly contested between the Liberals and PCs, with Dalton McGuinty's party leading 39 per cent to 37 per cent lead over the Tories, well within the poll's margin of error.
In other parts of the province, the PCs enjoy anywhere from 43 to 52 per cent support, leading in central, eastern, southwestern, and northern Ontario. The main source of the party's growth has come in the southwestern and northern parts of the province.
The New Democrats are running second to the Tories in central and northern Ontario, where they enjoy 30 per cent support and the best hope of winning seats.
The Liberals would be reduced to 24 seats from 70, and form the Official Opposition. But even that outcome might be in doubt, as the New Democrats are projected to take 18 seats with the results of this poll, a gain of eight over their current haul of MPPs.
The Progressive Conservatives would win the majority of seats in eastern Ontario, the GTA, and central and southern Ontario, while the New Democrats would win the lion's share of seats in the north. The Liberals would win roughly half of their seats in the GTA, with a smattering of victories in the rest of the province.
Of course, a comeback is not out of the question — a campaign can turn on a single event. But this poll suggests the Liberals have a long hill to climb and that McGuinty's days as premier may be numbered.
The telephone poll conducted by Ipsos-Reid surveyed 802 Ontarians between June 7 and July 7, and has a margin of error of +/- 3.5 per cent, 19 times out of 20.
Éric Grenier taps The Pulse of federal and regional politics for Huffington Post Canada readers on Tuesdays and Fridays. Grenier is the author of ThreeHundredEight.com, covering Canadian politics, polls and electoral projections.