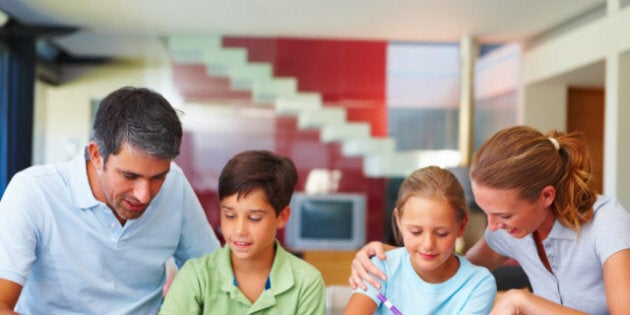 Back-to-school is around the corner and many parents can find it hard to get back into a fall routine. Scratch out swimming and afternoon play-dates at the park, and say hello to after-school activities and getting kids ready for class.
With all of these changes, parents should look for new ways to manage their time, says Nadine Silverthorne, the managing editor of Todaysparent.com. She offers some key tips to prioritize your tasks and your family's schedule without burning out.
Figure Out Your Priorities
"I think the two most important areas are organization and routine," Silverthorne says "In my house we use Google Docs and Calendar to divide up the back to school organization workload. Make a spreadsheet of all you need to purchase and prepare, just like you would for a workback at the office. Then set key date reminders in a shared Google Calendar, or similar app, so that each parent has a clear understanding of what needs to get done (and by whom).
"As for routine, we all start out the summer with the best of intentions, but those longer days and desire to let our kids have fun tend to push bedtimes later and later. Start back to a stricter schedule one to two weeks before school starts, to make mornings easier."
"We are WAY too hard on ourselves as parents these days," Silverthorne says. "Your kids aren't going to remember that they didn't get that new backpack until the second week of school (when it was on sale!), or that you forgot to put a treat or special note in their lunchbox. At the end of the day, they're going to remember feeling loved. Concentrate on making sure they know that. Everything else is just gravy."
Stay Active With Your Kids
"Not every activity has to be scheduled." If you work, try walking to school or home together once or twice a week," Silverthorne recommends. Research group activities like family yoga or other organized sports. Our school has a drop-in on Friday nights where parents and kids can play together, free-form in the gym. If your school or community doesn't have this kind of program, figure out how you can start one with a few like-minded parents. It's easier than you think and many hands make light work as they say."
Stay Away From Common Mistakes
"Speaking from experience, the biggest time management mistakes parents make are taking on too much and not knowing when to say no. We want to do it all, but it's often just not possible," Silverthorne says. "Limit your children's extracurricular activities, or group them all on the same day. We spend our Saturday mornings at the local community centre shuffling between karate, ballet and swimming, but then it's done, I feel like a good mom, and I'm not stressed about getting people somewhere the rest of the week.
"Similarly, if you have signed up for parent council and coaching the little league team while managing a full-time workload, you probably need to cut something. Your most important job is being present as a parent (mentally and emotionally, moreso than physically), so don't overload yourself with so much that you push yourself to the edge. Be happy, be healthy and enjoy your kids for the wonderful people they are. Don't forget to give yourself a pat on the back from time to time. And if they happen to end up dancing Swan Lake on a stage, or winning a Gold Medal in 2028, give yourself an extra pat."
For more tips on managing you and your family's schedule, WATCH: