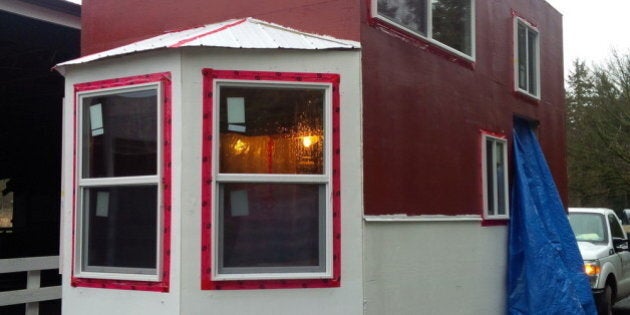 A B.C. landscaper has found a way to avoid a big mortgage and still live in the house of her dreams: she built it herself.
Kayla Feenstra, 30, is putting the finishing touches to her tiny house in Abbotsford, a city not far from Vancouver.
Nicknamed "Jack in a Box," her custom-designed abode cost $15,000, took two months to construct, and sits on a trailer bed so she can easily move it if she wants.
"I didn't own any land, and I didn't want to build a house and then have to leave it behind, so then I thought about putting on wheels," Feenstra told The Huffington Post B.C. over the phone.
The self-employed Feenstra had always toyed with the idea of designing her own home, but it didn't become a real goal until an offer to buy a traditional house fell through in 2012. The day before the deal closed, she was asked to provide a bigger down payment, which she couldn't afford.
"I started thinking, do I really want a $300,000 mortgage? Do I really want to have roommates? How much space do I really need?" she said. "I realized I didn't actually need very much, I just needed some place to call home and I was really, really done with renting."
Feenstra, who grew up building log homes with her father, designed her tiny house with an 80 sq. ft. loft bedroom, kitchen, compost toilet, and bathroom with shower. It has three solar panels, a stove, a fridge, and low-voltage LED lights, as well as electric wiring in case she wants to hook up to a house or RV park for power.
She said people are surprised by "just how spacious it is. People walk inside and go, 'Oh my goodness, it's huge.' When you walk in the door there's an 11-foot cathedral ceiling."
That ceiling is necessary because Feenstra is 6'2" and lives in the house with her 100-lb. dog, Scotch, and a cat named Jinx.
Story continues after slideshow: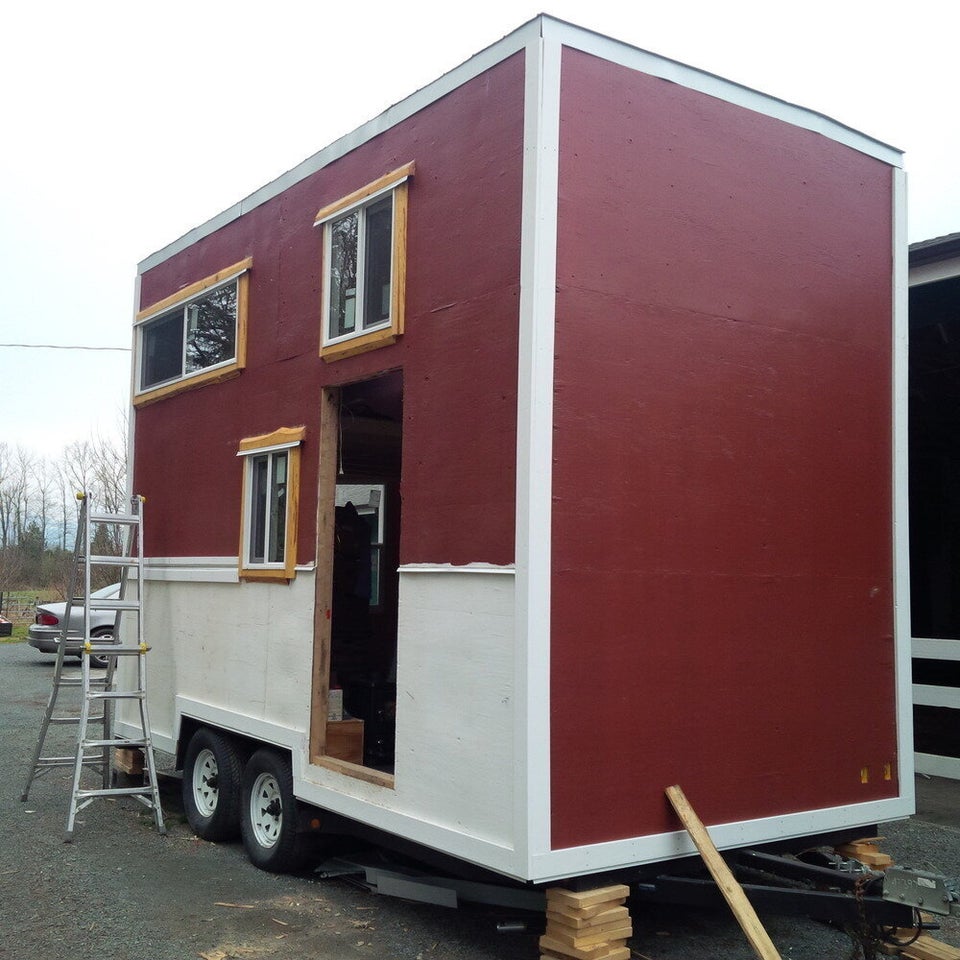 Tiny Home On Wheels In Abbotsford, B.C.
While solar panels were the biggest expense — "but broken down over the 10-year warranty, it's $20 per month" — Feenstra collected a lot of building material for free from backyards, sheds, and garages "because people have a lot of stuff."
Sourcing custom items and researching legal requirements were some of the biggest challenges, said Feenstra. A traditional-sized fireplace would heat up her home in two seconds and "blow it out of the water," so she had to track down one used for boats that was two feet high and one foot wide.
And because the tiny house is within road restrictions for a mobile home, Feenstra doesn't need a construction permit.
Far from using her home as a "lesson," Feenstra said it's just about "making life work the way you want it to." When she was 19, Feenstra suffered a bad back injury that required surgery. However, the operation came with a 50 per cent chance of paralysis.
"I didn't like those odds. So once the pain was under control, I worked on healing myself — slowly — with exercises. I spent a year working on getting my mobility back," Feenstra told HuffPost B.C. "I think what we put our minds to, we can do."
For now, the Jack in a Box is parked on a farm in Abbotsford. Feenstra said she's been offered a few other locations in return for her labour.
Several people have also offered to invest or buy tiny houses from her if she decides to turn it into a business.