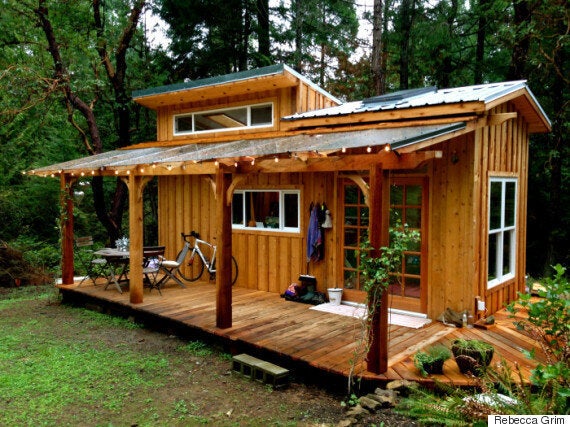 Quirky Salt Spring Island is home to Rebecca Grim and her tiny house she affectionately calls "Keva." It's short for kevala, a Hindu-related word that can mean pure, whole, absolute, simple, and peaceful.
Grim's 232 sq.-ft. home is all of those things. Built on a 22 x 8.5 foot trailer for easy mobility, the tiny West Coast cottage currently sits on a property owned by Grim's friends.
They charge her an equally tiny amount of rent at $300 a month to cover things like Wi-Fi, hydro and parking.
".. the less space you have, the less stuff you put in to fill it. It's getting back to what you really need."
"It's a simple way of living and it seems that the less space you have, the less stuff you put in to fill it. It's getting back to what you really need," Grim, 27, said in an interview with The Huffington Post B.C.
"There are some things I have a lot of. Like I have a lot of tea cups and mugs and clothes, but there are some things I have just one of and it makes that one thing a lot more special I would think."
The yoga instructor's real estate plans never involved a tiny house, but when she realized the escalating prices in B.C. were not realistic for the kind of space she could afford, she decided to design her own. What started out as doodles turned into real plans.
Grim teamed up with carpenter Rudy Hexter and started construction on the trailer in November 2014. After six months of hard work and $50,000, the Keva tiny house was born.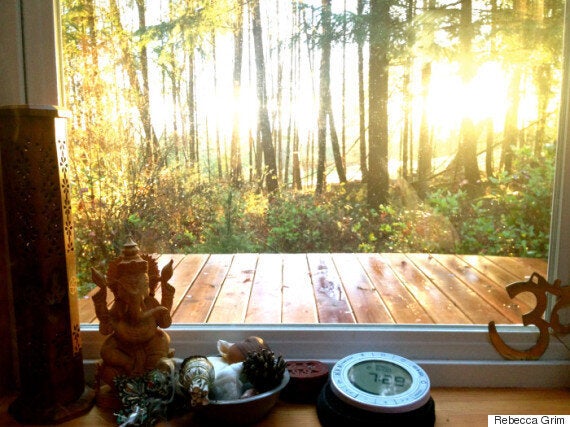 The building's small stature may not scream "party house" but Grim said you'll be surprised how much company the Keva can handle thanks to a removable covered porch.
"I don't have a lot of people over all the time, but when I do, there can be at least 10 people in the living room area in a circle, so it's pretty good. Also, I think at one point we had about 30 people on the deck one summer night."
If you're invited to one of Grim's summer soirées or group yoga sessions, be warned — there's no indoor toilet. Grim uses an outhouse in the forest, but she does have an indoor tub and shower that can be heated.
"The winters don't get too cold on Salt Spring and it's really enjoyable to go outside first thing when you wake up and then right before you go to bed. I brush my teeth outside as well. It's just really nice to be connected with the outside environment."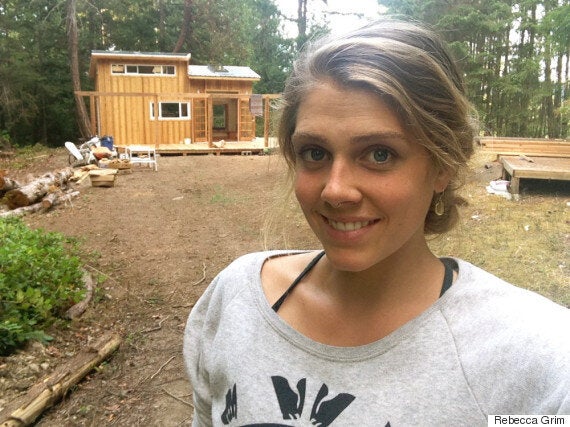 Grim plans to live tiny and (indoor) toilet-free for another five years or so. Within that stretch, she plans to travel — a freedom she credits to her tiny home.
"One of the reasons I built the tiny house was so I could do exactly that. To travel for a certain amount of time, like six months to a year, and then come back and still have my home," said Grim, who is originally from Burlington, Ont.
"Every night, I see shooting stars before I go to sleep. It's pretty great."
Grim and Hexter are playing with the idea of helping others create their own tiny homes, especially for young people trying to crack the housing market.
"We're really interested and keen because it is a lifestyle that we really would like to support. It's a way for young people to own their own home when they're 20–something, and I think that in this day and age that is not really available to a lot of us. It would be nice to be able to support that."
Until then, Grim says she will enjoy every last centimetre of her enchanting woodland cottage, especially her favourite spot.
"I love my bed and I love the skylight above my bed. Looking at the stars at night and then allowing the light to come in the morning is really beautiful. Every night, I see shooting stars before I go to sleep. It's pretty great."
Get a tour of Grim's tiny home: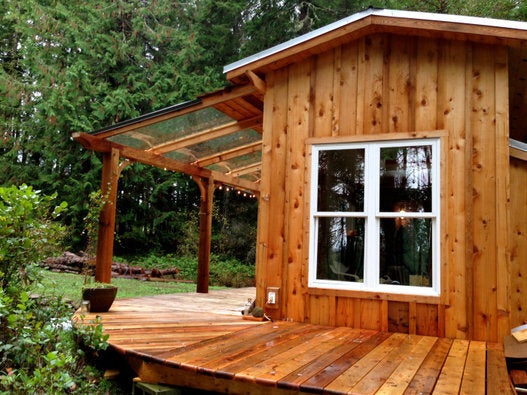 Tiny House On Salt Spring Island, B.C.