Like many British Columbians, Geoff de Ruiter searched for years for property that he both loved and could afford. But there was one more consideration: it had to work for a tiny home.
De Ruiter found it on Pender Island — a half acre boasting 100-year-old cedars and firs. He then spent the next year designing and building a treehouse with 165 sq.-ft. of living space. Total cost: $35,000 for the land, and $8,000 for his home.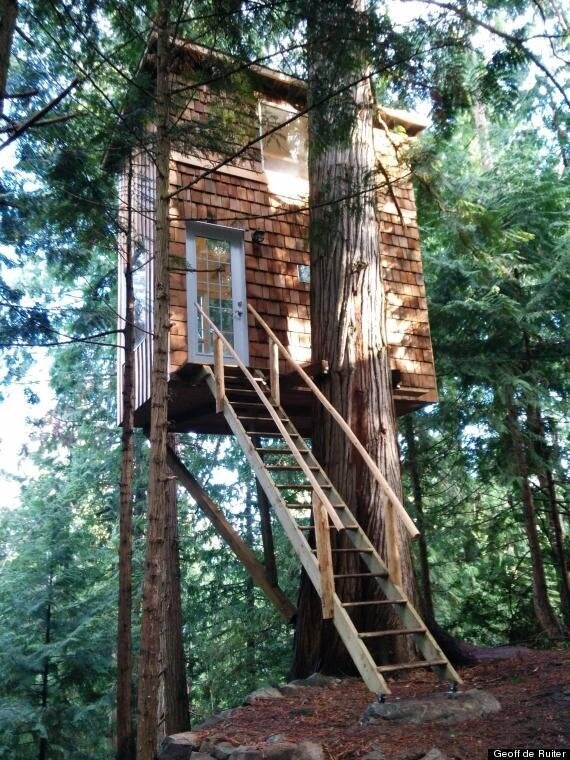 "One of the original reasonings for this was place stability. So if everything goes wrong in my life, all I have to do is basically pay my property taxes and I own everything outright," de Ruiter told The Huffington Post B.C. in an interview.
"Stability to me is also sustainability. Because it means we are not needing to forever chase resources."
De Ruiter, 31, combined treehouse designs with tiny house living solutions to create his home, which he named Raven Loft after all the birds that live in the area.
"One of the nice things about being there is listening to them talk to each other," he said.
He built the walls on the platform and then tilted them up, with a lot of help from his friends. Raising everything up to tree level was the most difficult part of construction.
"That was an extremely stressful moment that pushed my mental and physical comfort harder than I had, because of the danger that was involved," he said. "If I had a $100,000, I could have hired a company to come in with a crane. I could have built the whole treehouse on the ground [and] they could have just picked it up and put it on."
With that crucial section out of the way, de Ruiter used professional treehouse bolts that hold 4,000 pounds each, as well as guide wires, to attach the structure to the trees.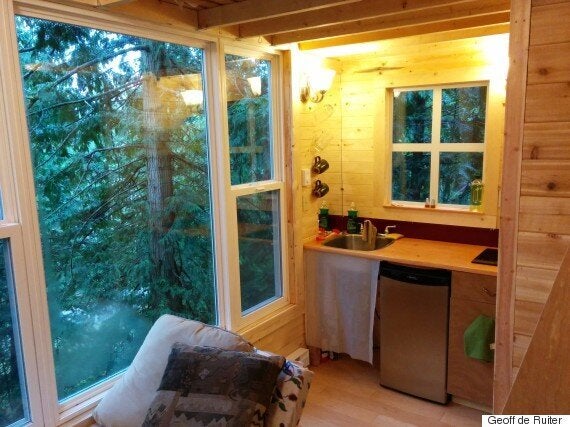 Lots of recycled materials went into the house, including stair railings made from wood found on the property, and hardwood floors from the non-profit Habitat For Humanity.
But de Ruiter says none of it would work without his incredibly supportive neighbours, who supply him with a single power cord that runs his mini fridge, two 100 watt bulbs, and a small baseboard electric heater. For that, he pays $20 per month, which is actually more than he consumes.
"Altogether I've got about 1,000 watts of heat from a whole bunch of different sources [so] that everything can be run at the same time and not break any triggers, or break any power switches or anything."
He points out that six simple tea light candles help heat up the home.
The bathroom is a composting toilet, and he takes showers at the downtown marina/pub, about a 15-minute walk away.
Story continues after slideshow: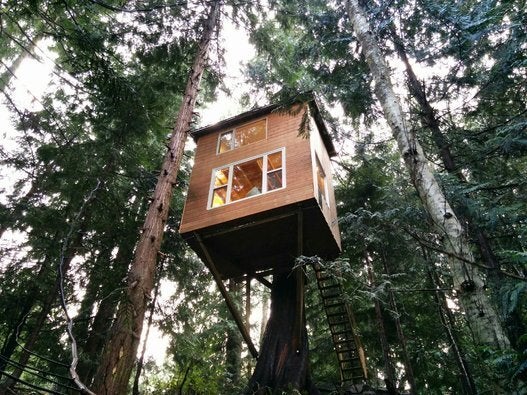 Pender Island Tiny House Treehouse
De Ruiter is a PhD candidate at the University of Northern British Columbia in Prince George, but does his work (focusing on bio energy and carbon management) by distance.
He believes tiny homes are an affordable solution to costly urban living in cities such as Vancouver. Instead of a laneway house, someone could build a tiny home in their backyard for a fraction of the cost to rent or sell.
He also thinks that the option can also build stronger communities.
"I think it needs to be legitimized by municipalities and cities. When you live in a tiny house, you have to live outside of it more. And that means enjoying your community more," de Ruiter said.
"If you have a 3,000-4,000 sq.-ft. house, you have no reason to go anywhere. You can have a pool, you can have a hot tub, you can have your own home theatre system. But when you live in a tiny space you really have to live outside of it more. I think that's great because that means people will get together."


Popular in the Community