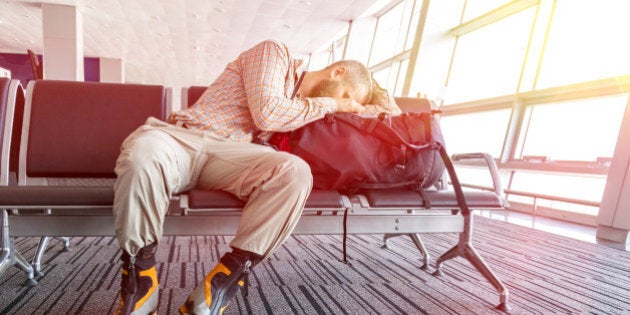 Surprisingly, many long-term travellers long for their "trip of a lifetime" but inevitably find themselves achingly homesick. Travelling for weeks and months on end is incredible, but also relentless. Even simple tasks seem insurmountable when you don't know the language.
Homesickness is often inevitable.
Travel frequently includes what Fight Club called "single-serving friends." People we know briefly, then poof, they're gone. This breeds strange isolation and loneliness. It's not like being in a lonely mountain camp, with no humans for miles.
It's the opposite. We're saturated in life, surrounded by meaningful moments -- but they belong to other people. We're a spectator to other lives -- both as we travel, and through the social media looking-glass with loved ones at home.
Travelling is like being suspended above a world that doesn't need us to function. We're irrelevant. Despite how amazing travel is, that isolated irrelevance can gnaw at us.
So it's important to remember everything ends, even travel. Few ever experience these prolonged journeys. Don't let homesickness or isolation spoil your adventure.
Family Photos Can Be a Trigger
Yes, you love your family, but if seeing their photos cause heartbreak while so far from home, that's bad. Don't make them your device's wallpaper or lock-screen image.
Instead, choose an amazing travel photo that reminds you how incredible your experience is. I use a photo of Portuguese beach that blew my mind. I felt blessed to be there and swore I wouldn't blow it. Nine months later, it's still my lockscreen and I'm still travelling.
Take at least one much-loved item for needy moments. I have three. One is my trusty plush sasquatch, Quaatchi. When the Paris attacks happened last November, Quatchi was soaked with my tears. Second, my dead mother's passport, which travels in my backpack. She's having the adventures she always wanted. Third is a wallet-sized photo of my young parents when their lives were ahead of them. I know everywhere I go is another bragging moment for Dad with his Bingo buddies.
Comfort Food for the Soul
Remember: You have NOTHING to prove. Tired of the local cuisine? Will another bowl of pho in Vietnam make you scream? It's okay to cop out with fast food or Italian. If it makes you feel closer to home, do it. Ignore people who mock you for eating a hamburger in Mexico or Chinese in Croatia. Why should comfort foods only be allowed at home? I recently ate a whole pack of Kraft Mac & Cheese I spotted while shopping in Mexico. Eating it felt like a HUG.
Culture Transports You Home
Big cities often have English-language movies with subtitles in your host country's language. This means "foreign" scenes subtitled in the English version are changed to the host language, but you'll live. For example, The Martian's Chinese scientist scene was titled in English at home, but in Zagreb, the Chinese was Croatian so that scene was lost on me. Oh well.
Seeing live music can also be a great way to break the funk.
Love music? Make an email account to receive mailing lists of bands you love. Maybe you'll catch Florence + The Machine in Dusseldorf, or Foo Fighters in France. Who knows? It's amazing how music transcends language and culture, though. Experience that!
When you really don't want to be alone, find a well-regarded hostel for a few nights. Some sites rate hostels for "party factor" and community. Look for social ones with common areas for mingling. Don't bring your book or wear headphones. Be open to engagement. If you've got travel flexibility, maybe you'll connect with travel friends for a bit. Or maybe three days in a hostel reminds you why you travel alone. It goes both ways.
Let friends and family know you're homesick. Ask for encouragement. Don't be embarrassed. You'd be surprised how many can relate -- even people who've never been away more than a month.
If you're in a particularly rough stretch, make video-chat dates with people you love. Plan ahead for video calls nightly for a few days. Gives you something to anticipate, breaking up the monotony of all-by-myselfness.
Often, when I'm in the dumps, just wandering reminds me how lucky I am. I'll aimlessly stroll and discover unexpected delights, then settle in a café and write. Being in that moment of gratitude while travelling can end a funk. If that fails, there's always chocolate.
It sounds counterintuitive, but sometimes anticipating The Next Chapter can lift you. Research, possibility, unexpected chances - they're powerful experiences. Go with it. Go down the travel rabbithole. Go ask Alice how it worked out for her. Be like Alice.
You could just be burned out. Guess what? It's okay to take downtime in a safe, unspectacular city for nothingness. Hole up with easy meals, Netflix, and bedhead. Recharge. Apologize to no one. Chill, Winston. There's more travel ahead. You need a break. Maybe your brain needs to process all the awesome you've seen, file it away, so you can cram in more awesome. Okay then! Make space for more awesome!
"Once in a Lifetime" Usually is Once
Long-term travel is a rare opportunity. You may never do it again. Life intervenes. Whatever plans you have for the future, they're no guarantees. Don't let homesickness win.
Stop, Netflix, read, or sleep for days, if recharging is needed. But don't give up. See it through. Change locations if you hate it. Do everything to embrace this chance.
Homesickness is okay. Awesome will return. The world'll be outside your door again tomorrow.
Follow HuffPost Canada Blogs on Facebook
Popular in the Community