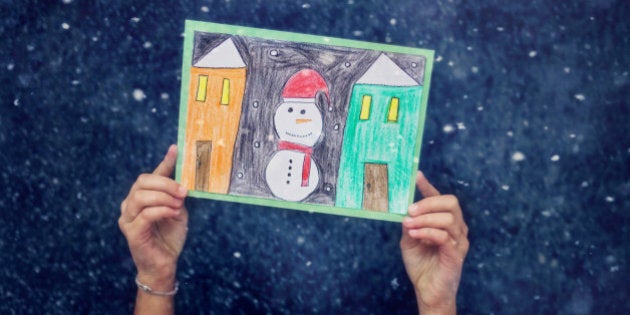 Christmas was likely a holiday that you adored as a child. You can smile and rattle off some treasured family traditions. Even if it was something strange and simple, like stealing the Christmas tree from the Christmas Eve church service because your Dad was a holiday Scrooge and you hadn't put up a tree that year (true story).
Then you became an adult and the glistening anticipation dulls. You wonder if you will ever enjoy Christmas the same way you did when you were little. And maybe now you have kids! Now you can re-live all that festive wonderment and special Christmas magic along with them.
But have you ever packed up all the wrapping paper, filled the fridge with leftovers, put the kids to bed (again) and thought to yourself, 'that was not the relaxing holiday I wanted it to be'.
Christmas can be such a source of stress. Especially for moms. From budgeting, to gift lists, to baking, to travelling with kids, there are endless opportunities for anxiety to set in and take over your holiday.
This Christmas I hope we can all let go of the striving and the stressing. Each holiday we blur through in a frenzy is another year we miss watching our young kids savour the magic of the holiday.
Here are five tips on ways you can have a simpler Christmas
1. Be realistic about expectations - The spotless house, perfect decor, gourmet meals, tree bustling with gifts, matching outfits, well-behaved children, happy family gatherings. This list is too long, choose your priorities. Let the dishes pile up so you can enjoy watching 'Elf' again. Sip on rum and eggnog while your kids hang all Christmas ornaments in all the wrong places. Have hot dogs one night because you spent all day in the snow. Don't try to be everything to everyone, just focus on the Christmas memories you want to make.
2. Pace yourself - Let your Christmas decor and traditions grow along with your family. Slowly introduce new things each year. You don't have to have to buy an aisle of Target and have your entire Pinterest board set to life this Christmas. Choose a few things/'pins' to bring in, then leave the rest for the next years.
3. Let go of 'perfect' - Whatever you do this Christmas, your goal shouldn't be perfection, it should be enjoyment. Besides, nobody ever had any fun chasing perfection anyways. Maybe your appy will be cream cheese on crackers instead of that paleo pate on yam chips. Maybe your floors will be dirty for that open house. It is better to just do things than to not do them at all because they don't meet our criteria of 'perfection'.
4. Plan ahead - This is the time to make lists, start with a brain dump and get everything you need to do on paper. Take inventory of your pantries, stock up on extra garbage bags, do some online shopping, wrap things as they come. Each little thing you do in the days leading up to Christmas will leave more room in your day to revel in the days of Christmas.
5. Don't over schedule - The Christmas you plan is up to you. You decide what foods to make, gifts to buy, which events to add to your calendar. You set the schedule of the holiday. This year don't try and do it all, say no to the OK stuff and yes to the great stuff. P.S. YOU get to decide what the great stuff is.
Let this be the year you reclaim the holiday, and make it simple, on purpose.
For more tips on having a simpler Christmas visit Simple on Purpose - a website dedicated to modern family meets simpler living, spiked with honesty and ladynerd chat.