Wes Prang is a devout Christian who has given everything to his faith. Despite living on only $339 a month, Prang often used to give money to his church. He did this because he was told that it would make him a "good Christian."
It nearly ruined his life.
"I didn't have a job, I was diagnosed as disabled and I was living on unemployment," he said. "I had a monthly income of $339 a month, but I was tithing and I continued to tithe when my rent went up but my cheque did not."
GRAPHIC: WHICH RELIGIOUS GROUPS TITHE?
Today, Christians give an average of 2.43 per cent of their income. Evangelicals are among the most generous, donating an average of four per cent. Conservative Christians, like Baptists, are also more likely to tithe than Catholics.
Statistics from the United States and Canada suggest that only a small minority of Christians tithe the full 10 per cent. For those who do, the pressure to give, combined with the inability to pay the full amount, has led to a crisis of faith and feelings of guilt and shame for some. Others say they feel like "bad Christians" for not tithing.
Prang, an American from Olympia, Wash., had been a member of his conservative Baptist church since he was five years old. He began tithing in his early 20s because his pastor stressed that tithing every Sunday was essential to salvation.
"We were taught that we should not burden the church with financial troubles, but somehow it was okay for the church to go into debt and insist that we give more to bail them out," he said.
"I've heard 'Give 'til it hurts!' more than once."
He said parishioners at his church were explicitly instructed to tithe even though they couldn't afford it.
"That is awful and just ridiculous. That's legalistic, that's controlling and it's not of God," she said.
"That wouldn't be consistent with what we teach about generous, faithful and joyful giving."
She said tithing, while mandatory at her church, should not be done if the parishioner feels "bitter" or "angry" about it.
"Tithing is a way of being very practical in our expression of putting God first," Hanna said. "I heard a man say once, 'Well I tip the waiter 15 per cent, how can I give God any less?'"
In most churches, tithing is a voluntary practice, although it is still strongly encouraged.
For some devout Christians, donating to the church should be a no-brainer since the Bible instructs followers to "obey God" and bring "the tithe to the storehouse."
"Tithing is mandatory whether it's a recession or not — it shouldn't matter," said Angela Tang, an Anglican Episcopalian from a missionary family. "I believe that I should give 10 per cent back to God because everything I got came from him anyway.
"I believe that tithing should be observed because the Bible says so."
Meagan Gillmore, a self-proclaimed Jesus-following Baptist from Brantford, Ont., tithes regularly even though her main source of income is from the Ontario Disability Support she receives for being legally blind.
"Scripture tells us to be obedient — Jesus Christ is very clear about that when he said, 'If you love me, you will do as I say."
Gillmore admitted that there are "a lot of things" she cannot afford because of tithing, but that she is disciplining herself to make it a lifelong habit. Like many Christians, Gillmore makes sacrifices to be able to afford the tithe.
"You need to be generous because God has given you something that doesn't just belong to you. You need to tithe."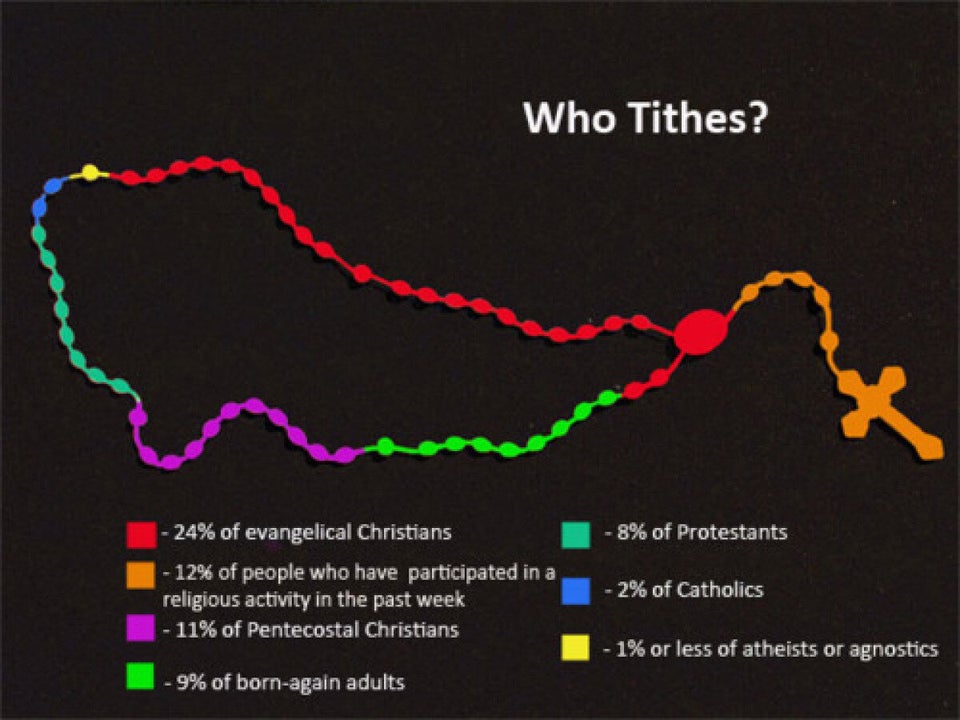 Tithing In Canada
Prang, who also lives with a disability, experienced a crisis of faith after obeying the law of tithing for many years.
"I took the bus everywhere [and] I wore clothes from the clothing bank because I could not afford them," he said. "After paying tithe, rent, utilities and disabled monthly bus fare, I had less than $40 to live on for the whole month, but I still tithed."
Prang said he was told that if he tithed "faithfully," God would turn his finances around. He was instructed to make tithing his top financial priority in order to be considered "righteous" enough for his life to improve.
"I tithed and I tithed, but I didn't get any financial blessings," he said. "I did not get off government assistance. I did not get a job, a car, or a better apartment." It was not until Prang discovered that his head pastor owned 50 houses that his crisis of faith began.
"I realized that he earns more in a week than I did in a whole year — how was I supposed to tithe to him?"
Only about four per cent of Americans actually tithe, down from seven per cent the previous year. In Canada, The Canadian Revenue Agency found that, from 2009 to 2010, religious donations dropped to $4 billion from $6.04 billion.
Russell Kelly, a 67-year-old retired theologian, runs a popular anti-tithing website. He is a conservative evangelical dispensational Baptist, but became opposed to tithing after his father was fired from his Sunday school teaching job for not paying the full 10 per cent.
"I hope the economic depression leads people to question," he said. "If you get a paycheque and you can't buy your groceries or your medical bills or pay for your housing, and … your church says 'Oh you got to give us the first 10 per cent' — that is not Biblical."
Kelly and others promote "sacrificial giving," where Christians give in proportion to their income.
"Ten per cent may not mean anything to someone who is really rich, but it will mean a lot to a person without a job. The person who has more should give more."
Hanna also stressed that it's "absolutely acceptable" to tithe less than 10 per cent in some cases, particularly if the parishioner is in debt.
"What is important is not the amount, but the faithfulness. God doesn't care about the amount."
For Prang, who is still a devout Christian, his faith lead him to his final decision on the tithing question.
"I stopped tithing because I finally studied the Bible and … asked God what it means," he said. "I started going to God because following the pastor's teachings, and letting him tell me what God wants, wasn't getting me anywhere."