 Fresh on the heels of the UN bid, the Palestinian Authority (PA) unveiled its new logo this week. Marking Fatah's 48th anniversary, the logo features a golden key and replaces all of Israel with a Palestinian Keffiyah (as reported by Palestinian Media Watch). In erasing Israel from the map, this official PA logo has a similar objective to that of the Hamas: the "liberation" of present-day Israel.
Indeed, Palestinian president Mahmood Abbas wishes to reconcile with Hamas. This led to a 10,000-strong Hamas rally in the West Bank where Fatah Revolutionary Council member Amin Maqboul lauded the Hamas for its just cause and "blessed hands." The huge crowds are a reminder of last years' West Bank celebrations honouring Palestinian terrorists pre-maturely released by Israel, in exchange for the Israeli hostage Gilad Shalit. Some of the most heinous terrorist criminals were feted in a manner normally reserved for kings and senior government officials. In stark contrast, Abbas' triumphant return from "saving the two-state solution" at the UN was anything but triumphant. Comparatively few came out to celebrate. As journalist Khaled Abu Toameh noted, many were civil servants who are on the payroll of the Palestinian Authority government.
Abbas has painted himself into a corner. Years of official Palestinian Authority incitement against Israel has made any support for a two-state solution unpopular in the West Bank. Indeed, erasing Israel from maps and naming schools after "martyrs" like Dalal Mugrabi -- the terrorist who hijacked a schoolbus in 1978 and murdered 37 Israelis -- ensures that Palestinian children, weaned on terror, are unprepared for peace. Had the Palestinian Authority honoured its Oslo commitments to refrain from incitement, today's generation of Palestinians may have rejected the Hamas rally in favour of supporting a two-state solution.
Instead, an Israel Project poll revealed a majority of Palestinians support a two-state solution only as a precursor to a one-state solution, no doubt inspired by the example set by the Palestinian Authority. And today, the Times of Israel published the results of a new poll: 88 per cent of Palestinians believe "armed struggle" is the best way to achieve independence, and 42 per cent of West Bank Palestinians favour the "approach of Hamas," which is to say, terrorism.
Which brings us to media coverage of the peace process. Official Palestinian incitement against Israel has been minimized or altogether ignored in the mainstream media. Instead, moral indignation and media condemnation has consistently been reserved for "settlements," the building of homes to accommodate an expanding Jewish population in Israel. In this weighted treatment of media coverage of Israel, in which opprobrium is selectively leveraged against Israel, Israel continues to be treated to double standards. Nowhere was this more evident than in the media condemnation which accompanied Israeli Prime Minister Netanyahu's zoning announcement of the E1 corridor.
Whatever one's opinion about the wisdom of building in disputed areas, the Oslo Accords do not prohibit Israel from building homes or "settlements." According to international law, the status of the settlements is "disputed," though the media routinely defines it as "occupied Palestinian territory." Abbas recently acknowledged the disputed status when he admitted going the UN route was meant to transform the Palestinian territories from the status of disputed lands to a state under occupation. Abbas has also acknowledged that settlements take up approximately 1.1 per cent of the pre-1967 West Bank territory. Yet, as Abbas flagrantly violated the Oslo Accords with his UN bid, the media reinforced the fable that settlements "eat away at land meant for a future Palestinian state."
The firestorm over building in the E1 corridor is particularly instructive of the double standard applied to Israel. E1 is in Area C which, by virtue of the Oslo Accords, allows Israel to retain full control of the area. This includes zoning and planning. Even so, E1 construction plans include a new Palestinian bypass road which would actually decrease, rather than impede, the driving time in the north-south direction. Apart from Israel's lawful right to build in E1, connecting Maaleh Adumim to Jerusalem is strategically vital for controlling the Jerusalem-Jericho road which is paramount in times of war. In other words, without E1, Israel's own contiguity would be compromised. But double standards don't end there. Building in E1 affects Palestinian contiguity in the West Bank to the same extent that an Israeli withdrawal to pre-1967 borders would affect Israeli contiguity. Yet, reducing Israel to a nine-mile wide diameter (with no buffer) clearly does not elicit international opprobrium. Curiously, it elicits an international consensus.
One cannot ignore that the continued media misrepresentations of settlements as obstacles to peace obfuscate the real issue: the Palestinian's unpreparedness for peace. One has only to read what Abbas writes on his Facebook page or visit a monument in Ramallah dedicated to the "achievement" of Palestinian terrorists. But since the media is unwilling to report it, expect to continue reading all about how building homes in 1.1 per cent of the West Bank puts a wrench to all hope of peace.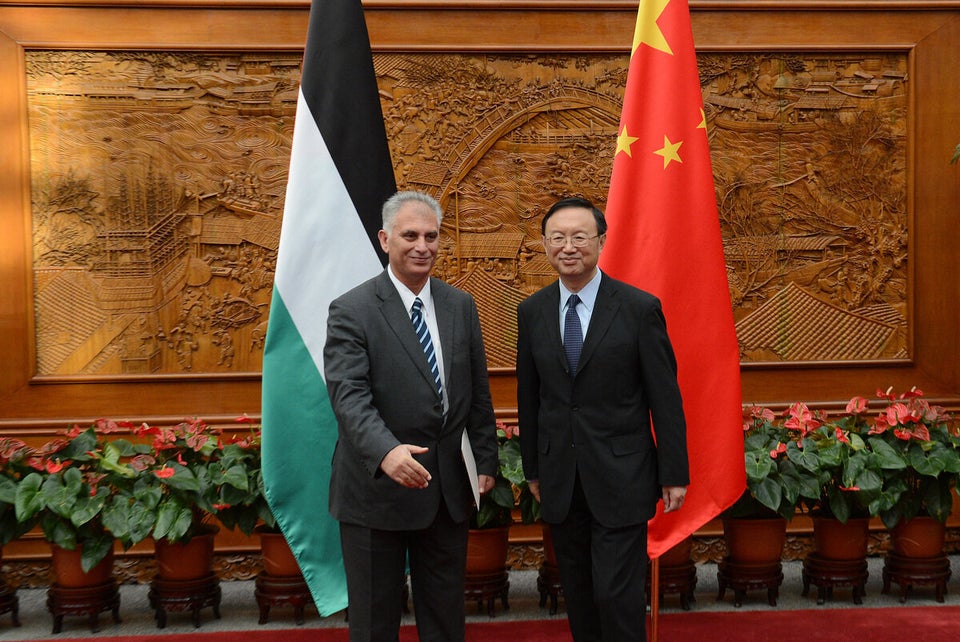 Palestinian Statehood Bid
Popular in the Community