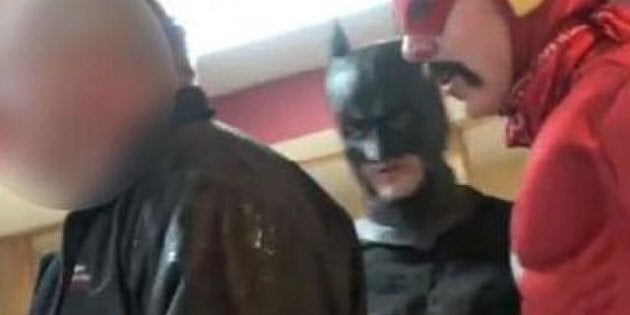 It's Kick-Ass the movie and a little Dateline NBC come to life, Canada-style.
Three teens from Chilliwack, B.C., have been posing as young girls online, luring men to clandestine meetings, and confronting the alleged predators while wearing superhero suits.
The confrontations, modeled on NBC's popular To Catch A Predator TV show, were videotaped and posted to YouTube under the banner 'To Troll a Predator.'
But now the Mounties have stepped in, opening an investigation into the teens' campaign and warning of the dangers of vigilante justice.
RCMP Cpl. Tammy Hollingsworth said the serious crimes unit is on the case and is conducting interviews with the three boys, aged 17 and 18.
She said police intervened because they were concerned about the teens' safety. Hollingsworth said police have not identified any of the men in the videos and are not considering charges against the teens at this point.
"I don't think they really realized the scope of this and what the consequences could have been," said Hollingsworth.
One video features what the boys describe as a 44-year-old male who was seeking to perform oral sex on a 15-year-old girl. The video shows screen grabs of the online chat, dated Nov. 5, and the agreement to meet at a Tim Hortons. The video then cuts too footage of a man dressed as Batman, speaking in a Cookie Monster-esque voice, claiming to be with the "Chilliwack police department." "We have caught you talking to a 15-year-old girl online," the caped crusader says to the nervous-sounding man.
"This man's a pedophile… he brought marijuana for a 15-year-old girl. He's here to have sex with her," The Flash says. "We lured him here."
With a file from The Canadian Press
Popular in the Community