 In Hollywood, they take away stars' Grammy Awards and jeer them off stage if they're caught lip syncing. But ever since the dawn of Bollywood talkies, lip syncing has been music to movie goers' ears.
When you watch a Hindi movie -- it's not Shah Rukh Khan or Katrina Kaif actually crooning to their on-screen lovers. It's the so-called "playback singers," the ones with the pipes American Idol wannabes can only dream about. If dancing is a Bollywood talent actors must perfect, then so is lip-dubbing.
You would think this might create a resentful sub-class of singers toiling in anonymity -- but not so. From Asha Bhosle to Sonu Nigam and perhaps most famously A.R. Rahman, playback singers are stars in their own right, touring the world and singing to their own dedicated fan bases.
So it was Thursday night, at the first of two concerts for the Times of India Film Awards (TOIFA) in Vancouver. Dubbed a "Musical Extravaganza" at the Pacific Coliseum, headliners included Kavita Seth, Sunidhi Chauhan, Mohit Chauhan, Hard Kaur (yes that's a play on words) and Shalmali Kholgade.
Not exactly household names in the west, but known among the South Asian diaspora for their dulcet tones on the silver screen.
Of course, as with all things TOIFA, there is an undercurrent of politics. The B.C. premier cut a cheque for $11 million of taxpayers' dollars to bring the awards show and musical acts to Vancouver, with the promise it would all come back -- plus more -- into provincial coffers through economic development and tourism spinoffs. Indeed, the show's MC, Neha Dhupia, mentioned audiences in India were watching the broadcast back home. But the first test came down to how well tickets sales had gone here.
The event was hyped as being "virtually" sold out. About 10 minutes before the show was about to start, seats were only half full. Things kicked off with singer and dance master Shiamak Davar just after 8:30 pm.
When the lights went down, and the volume came up, audiences got serious about listening. I am no expert head-counter, but I would estimate that an hour after the show began, about 80 per cent of bums were in seats. Not a sellout after all. But not the disaster political critics were predicting. Still, when taxpayer money is on the line, scrutiny is rightly intense.
So onto the music, the maasti, the dance and the song. I have to say, Vancouver is a tough crowd to impress, but the artists delivered. Shalmali Kholgade brought dancers in three-inch heels to strike their poses on chairs. No one fell off. Mohit Chauhan played guitar and sang the audience love songs. Hard Kaur brought bhangra-hip hop fusion -- and pyrotechnics. Because, well, who doesn't like that?
There were a few audio and feedback issues: I personally found the volume amped too loud at times (yes, yes, it's a concert I know). I felt bad for the three-month-old baby crying in front of me. She probably found it too loud too.
But in the first half of the show, no one hit any bum notes -- and by the end of the night, most bums were still in their seats.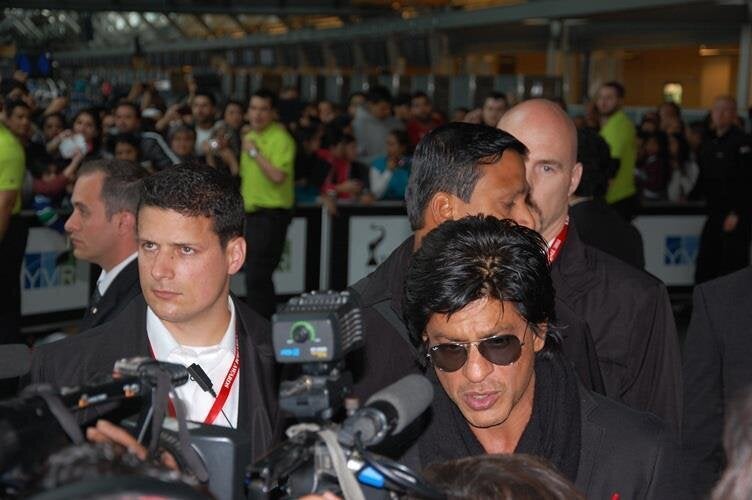 TOIFA Vancouver: Bollywood Stars Arrive