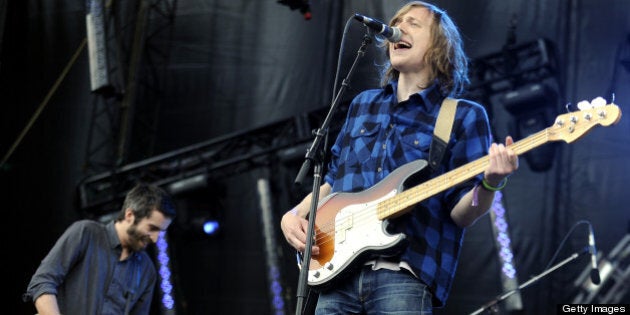 Tokyo Police Club have been hard at work in the studio, excitedly wrapping up recording their new LP, but they've been playing the odd show whenever possible. They were recently asked to take part in Red Bull Tour Bus, where bands like the New Pornographers, Shout Out Out Out Out and The Sheepdogs play free-to-the-public gigs in their respective hometowns on a giant luxury bus that turns itself into a full-fledged concert stage.
This bus/stage robot has been rolling across Canada, and when Tokyo Police Club keyboardist Graham Wright heard it was heading to Toronto, he knew fate would get his band on board.
"I think our whole career has been leading to this moment really," Wright jokes, looking ahead to their 3 p.m. show at Toronto's Sugar Beach on June 2.
"You may remember robots were a recurring motif in our music back in 2006 so it's a logical conclusion.
"Have you seen pictures of this bus?" he then asks, his voice rising with excitement.
"It's vaguely robotic but it's also very insect-like in a strange way. The way the speakers go up, it looks like it has enormous antennae. So, it's gotta be one of the evil Transformers that turns into a freaky bug."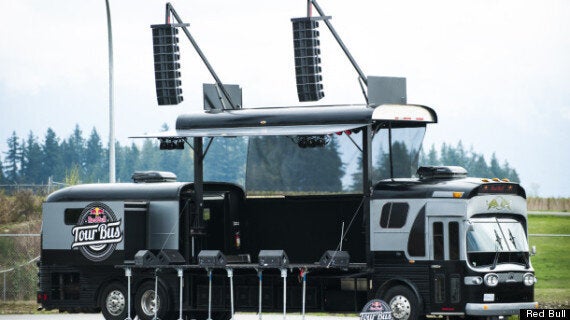 Wright says that any time Red Bull comes by with an offer to do something, his band pays attention. They've had some great experiences working with them in the past, including a covers project, which found them recording an album (2011's "Ten Songs, Ten Years, Ten Days") in Red Bull's Los Angeles studio.
There was also Red Bull Soundclash, a concert experience where two dissimilar artists set up on stages facing each other and battle it out, tournament-style, interpreting each other's songs. Whomever gets the biggest crowd reaction wins and, in the case of Tokyo Police Club, they did indie rock interpretations of songs by rapper Wale and held their own. Well, sort of.
"Wale won the first one and we won the second one, although the statute of limitations has expired now and I can say that we maybe didn't earn our points totally honestly," Wright admits. "Our manager traced the source of the microphone for the noise-o-meter, and brought it to our fans."
While Wright's voice drips with guilt, he goes on to say that both Red Bull initiatives took the band out of their musical comfort zone, conjuring a "creative oasis" that enabled them to mess around in their own work a lot more.
"It was worth it," he says, referring to their deceitful victory.
Speaking of dodgy behaviour, Tokyo Police Club is playing this Red Bull show in Toronto just as the city's musically inspiring mayor Rob Ford has been shaken by crack cocaine smoking allegations.
"It's a nuanced situation," Wright offers diplomatically. "I'm not the biggest fan of Rob Ford but there's something a little distasteful about the glee with which people are anticipating his potentially drug-related downfall."
Wright articulates a wave of (very Canadian) sympathy for Ford who, even among his detractors, is eliciting concern, as the purported crack tape is the latest in a long series of incidents connecting him to substance abuse.
"It's always when you dump somebody that you, all of a sudden, feel bad about doing it," Wright continues. "Once the power balance shifts and the result is inevitable and in your favour, the kindness and empathy leak out because you can afford to be merciful. People are sensing that the wheels are falling off and are easing up a bit."
Even with all this noise surrounding them and their work in Toronto, Wright says fans shouldn't expect it to inform lyrics on their new songs ("We're not really a political band"). Instead, he suggests that Tokyo Police Club is embracing more simplicity and directness for a slicker pop sound and they can barely contain their excitement about it.
"Every time we try to make songs more 'pop,' we like it more," Wright says. "Never before in Tokyo Police Club have their been so many days where the four of us leave the rehearsal space, beaming. Not quite patting each other on the back and high-fiving, but not far from it.
"This was the first record where, going into it, I said 'We're gonna write pop songs,'" Wright says. "We all bought into that and doubled down on it. We're stoked. I've never been this excited about anything I've put my name on. It's such a nice feeling to be so proud and excited. We're weeks away from being done and are so excited to have it out into the world."
Popular in the Community