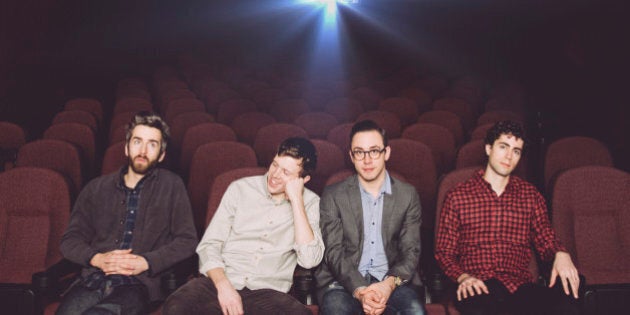 Deciding what to do next after a critically acclaimed album can be a difficult task for a band, especially these days. For Tokyo Police Club, whose breakthrough album "Champ" dropped back in 2010, the process took nearly three years. In a time when the musical climate has never been more fickle, there are few bands that would risk the wait,
But the members of Tokyo Police Club had some sound advice to go on during the making of "Forcefield," their recently-released third full-length album: "there is no good time to put out a bad record and no bad time to put out a good record, either."
"It sounds so redundant to say, but the music industry is getting tougher and tougher the longer we're in it," says frontman and bassist David Monks. "It's not supposed to take three years to record an album, typically you get 18 months, but we just knew that if we took the normal approach, we'd end up with material that would lead us to the same place again."
"There was something about letting go of that pressure by sort of knowing we were taking to long but doing it anyways," adds keyboardist Graham Wright. "We did it and dealt with it because even though it wasn't what we were 'supposed' to do, it just felt right."
Following-up the success of a breakthrough record is not only a high-pressure moment in a band's career but an equally critical one; a sort of proverbial crossroads where fans stand eagerly awaiting more and critics are ready to trip you in the doorway. Despite the ever-present fear of becoming yet another indie rock casualty, Tokyo Police Club stuck it out, finding their legs again in the process.
"Music has changed a lot since we first came out," says Wright. "While it's a bit of a cliché for a band to say they don't want interference from the label and I think it's often foolish not to avail yourself of those experts whose job it is to get people to listen to your music, at the same time, if you accept all input, you don't know what it is you are doing. When you have people in your ear saying things like 'you know what's popular right now? Duets. You should do one of those.' Or 'why don't you add some banjo?' It's hard to know where you're aiming. There was definitely a point where we had to just shut the doors so that the four of us could really rediscover and reassert our ownership over what it was that we were doing."
So what was it like living inside the process of creating an album over the course of three separate years? Well, it was at times as perplexing as it was appealing. "I think for anyone in their mid-twenties, whose post-college pre- their 'real gig,' you hit that turning point where you realize you want to do this thing and secure it for your future and don't want to have to bail and get an IT job ten years down the line," laughs Monks. "But, then it can get pretty weird on those days when you're not physically working on something or recording or you didn't write a song that day, and you start to wonder, 'what am doing with my time?' Or 'should I be doing something else?'"
When it came down to choosing the nine songs that eventually came together to form "Forcefield," Monks describes the writing process as a gradual progression that not only saw the band drawing from their previous repertoire as well as testing new waters, but finding out that simple, honest songwriting has a tendency to speak the loudest of all.
"We wrote 50 songs for this record and while I think it's really good to experiment cause that's what music's all about, you can get into to some stuff where you're really forcing things that don't come naturally for your band. We did that until about song 25 and then we said 'okay wait, there were a few good experimental sounding ones and few good "Champ" sounding ones, what are in common about those?' The thing that was in common was that they were just real, honest songs that we wrote when we weren't thinking about how to sound like whatever."
When asked if the finished product came with a sense of relief, Wright had this to say: "There was a moment, after we had finished rehearsing, and we all went back to my apartment and played the masters, start to finish, for the first time. I remember being like 'yes!' It was something like being a kid graduating from college, all of the crazy hopes and big talk, everything paid off in that moment and it was all there and it sounded like it sounded in my head. I think after that I just let it go. That forty minutes of listening really made those three years worthwhile."
But it really is treacherous out there, even for a band that has already found critical and commercial success. These days, bands really have one of two choices; decide to give 'em what they want or go in for the long haul and give 'em what they don't yet know they need.
"Will our decision to take so long on the record pay off? We'll have to see. But I do think we made an album that is going to sound great in 10 years. I think we made something that was worthwhile," says Monks contemplatively. "Should we have just come up with some tunes and been like 'whatever, that's what we've got right now, it's been 18-months and we need to get back on Pitchfork?' I don't know. Maybe that would have sold more records but we're really pretty sure this one's going to hold up for us."