It seems that one Canadian movie critic had a tough time processing the idea of an action movie featuring so many women in its cast.
"Mad Max: Fury Road" has been generating excellent reviews from critics, and much of the praise has centered around the central role that women play in the story.
In the film, Charlize Theron plays Imperator Furiosa, a fuel truck driver who enlists Max Rockatansky's (Tom Hardy) help to transport a group of women to a safe haven known as the "green place."
The movie played to strong reviews at the Cannes Film Festival ... and at least one question from The Toronto Star that fell very flat.
At a press conference, Star movie writer Peter Howell asked Hardy whether he was surprised to find that there were so many women in a "man's movie."
We could tell you Hardy's perfect response. But we think this meme sums it up better than we could say it.
The question has been criticized as sexist by numerous social media users:
You can see video of the question yourself above, at the 9:45 mark.
UPDATE: May 28 --Peter Howell responded to the controversy in a statement to BuzzFeed, saying that his question was intended as the "opposite of sexism."
Action flicks, by the way, are in no way just men's movies.
There have been plenty of female action stars, from Ellen Ripley in the "Alien" movies, to Sandra Bullock's character in "Speed" and Lara Croft in the "Tomb Raider" films.
It seems no one is more surprised to find women in "Mad Max: Fury Road" than the Star's movie writer.
Here's how the exchange went down:
Peter Howell: "Congratulations on making not only a great 'Mad Max' movie but I guess a great Mad Maxine over here, over here. I have a question for Tom Hardy, Tom, I'll preface my remarks by saying that I have five sisters, a wife, a daughter and a mother, so I know what it's like to be outgunned by estrogen. I just wanted to ask you, as you were reading the script, did you ever think, why are all these women in here? I thought this was supposed to be a man's movie."

(pause)

Tom Hardy: "No. Not for one minute."

Audience member: "Good for you."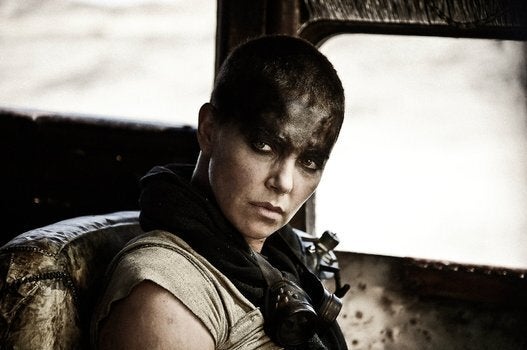 Cannes, "Mad Max: Fury Road"