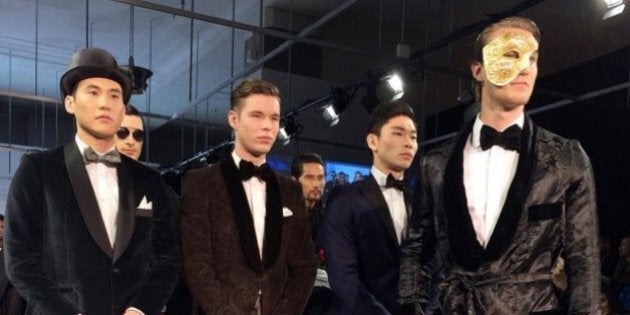 The fashion industry is notorious for strict physical requirements when it comes to models: along with specific measurements, females typically must be at least 5'9", while males must be 5'11" or taller.
A lot of this, it is said, has to do with fitting designers' sample sizes. It allows designers and producers to hire models who are roughly the same size and build, so they can slip in and out of the garments with ease.
"Fit is absolutely critical. It can make or break an outfit," Canadian menswear designer Christopher Bates explained to HuffPost Canada Style in an email. "I make all of my samples in specific sizes and specifically cast models that fit and suit them."
But with the fashion industry slowly becoming more inclusive, models who don't fit this traditional criteria are starting to hit the runway: plus-size and petite models, as well as models with physical disabilities. Designers seem to — gradually — be trying to cater to more people than just the sample size, from the runway to the stores.
Designer Christopher Bates fitting model Paul Mason.
However, Toronto Men's Fashion Week (TOM*FW), which opened Feb. 22 and runs to March 1, opted to stick with traditional guidelines this season, to the apparent exclusion of models they've worked with in the past.
"TOM* is a professional event and we follow industry standards in the casting of models which is 5'9" to 5'10" for women and 6'0" to 6'2" for men," said a statement from the organization to HuffPost Canada Style.
When asked if there were any exceptions made to this rule — for example, if designers wanted certain models, regardless of height, to walk — TOM* said, "At this time, these are guidelines the TOM* organization is following."
The guidelines proved frustrating for models who previously appeared at TOM*, as well as the designers who wanted them to walk in their shows.
Vincent la Kuach is a 5'10" model who walked the TOM* runway in previous seasons. This year, la Kuach was told he couldn't appear in Just Ta by Alan Ta's show at TOM*, despite having modelled previously for the same event — and being the designer's inspiration for the past few years.
"I really don't take it personally, being a model doesn't entitled (sic) me for anything, but I was surprised by their closed mind," la Kuach, who is from Modeles LCP, told HuffPost Canada Style via email.
"It's the first time I have been denied to walk [in] a fashion show," he said. "I have walked for Alan about 3-4 times, I became his muse about 2 yrs (sic) ago, I walked for him at TOM last summer."
la Kuach says he has worked the runways at FAT (Fashion Art Toronto), Ottawa Fashion Week, Montreal Fashion Week and Festival Mode Design Montreal without issue.
Vincent la Kuach walking for Just Ta by Alan Ta spring/summer 2016 at TOM*FW in August 2015.
Chris Cecile, model at Lang models and founder of HiM, faced similar issues this year. He told HuffPost Canada Style that even though he was pre-cast by Ivan Lehec, designer of Finezza au nom de l'homme, to walk in the brand's show at TOM* this season, he was told by the organization that he was "too short" to walk.
He was informed by Lehec that TOM* wouldn't "accept" him as he is 5'10 ½".
"I think it is totally crazy that I can walk in 2 previous shows for multiple designers and do TOM's pre-launch Audi campaign and... shoot a look book for the designer.... only to be told that TOM's 'rules' override the designers for model selection," Cecile wrote in an email. "No one watching the show would ever know."
"I would have nothing but praise for TOM, except for this height nonsense."

— Chris Cecile
Cecile does say, however, that his overall experience with TOM* has been "great."
"The models, stylists and designers are incredible to work with. I would have nothing but praise for TOM, except for this height nonsense," he says.
Lehec told HuffPost Canada in an email that respecting TOM*'s rules is part of the contract. "Our work is to offer a wonderful show for this amazing platform and touch our clientele," he wrote.
While there are some models the designer likes who don't meet the 6' requirements, Lehec says it's possible to alter clothing samples prior to shows to accommodate the selection of taller models.
When asked why certain models were unable to walk this year due to the enforcement of the height requirements, despite already being cast by designers, TOM* provided an email statement:
"As TOM* continues to evolve as a brand showcasing men's fashion to a global audience, our goal is to focus on giving Canadian menswear designers a platform no different than that of international platforms, including using models that meet professional industry standards."
TOM* also cited those standards in answering questions about weight restrictions, the reason for the strict reinforcements and how these guidelines would benefit TOM* or the attendees.
So how strict are the guidelines for models at other fashion weeks across Canada? Most are open to exceptions to the rule, generally to keep the designer's vision alive.
"We usually receive such requests from designers ahead of castings and make the selection depending on specific requirements. For example, petite, plus size, etc.," Marika Mousseau, Vancouver Fashion Week's head of global PR told HuffPost Canada Style via email. "We want to make sure designers have the models they need for their show."
Designer Haley Elsaesser and models backstage at her spring 2016 fashion show at Toronto Fashion Week.
Sandra Sing Fernandes, creative director of Western Canada Fashion Week said in an email that in most cases, they do not post requirements for models.
"We do have more and more international designers showcasing at WCFW, so some formulas are growing and changing to also accommodate for their needs," she wrote.
"The thing about runway is that there are limitations to everything and exceptions to every rule," says model Stephen Tracey, who walked the Finezza show at TOM* this season. "There's usually a specific height requirement, but then a designer may want to break the boundary on these 'established' rules. All you can do is present yourself and be adaptable and not take things personally."
The only show allowed these "exceptions" for Toronto Men's Fashion Week is the charity show, Mensfashion4hope. A TOM* rep told HuffPost Canada Style this show features "Canada's most iconic men who are of varying heights walking the runway for charity."
And indeed, at Thursday night's Mensfashion4hope show, there were men of all shapes, sizes and abilities walking the runway, including Toronto councillor Norm Kelly and Paralympic swimmer Andrew Haley.
However, the charity show was just one of 19 presentations showcased at TOM* this season, some of which featured a few racially and ethnically diverse models. At the end of the shows, TOM* founder and executive director Jeff Rustia praised the organization for promoting racial diversity, and for featuring its first-ever First Nations model on the runway, but did not make mention of promoting body diversity.
TOM*'s height restrictions do not reflect the average Canadian man, who measures 5'9".
"These guys have been ignored by the apparel industry," designer Peter Manning told Men's Fitness. "Everything has to be reproportioned. It's not just shortening hems and sleeves — it's narrowing arms, moving pockets, and scaling details."
Should a designer choose a shorter model to walk his/her show, many feel that choice should be respected.
"With the reality of fashion shows across the world, you have celebrities, plus size, short ... casting, walking all over the world," says la Kuach.
"It also helps to see the clothing on bodies and people who feel really confident and wear clothing really well, but it's not about a singular ideal of body type," designer Zoe Latta of Eckhaus Latta told Vogue about casting models and "nodels" (non-models") in her runway shows.
"It really goes back to the wearer and what they bring to each look."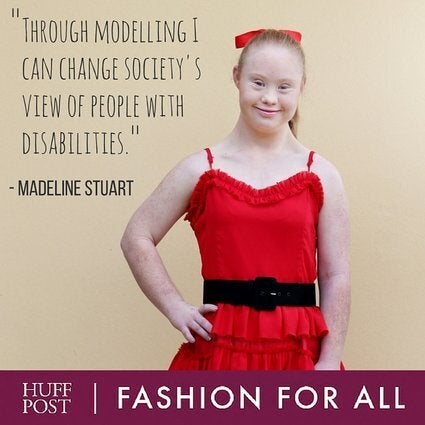 Quotes On Why Diversity In Fashion And Beauty Matters