And then, as 207 nations paraded across a stadium and a world of onlookers watched from their television sets across the globe, one glistening, oiled-up man emerged.
He kept walking with the Tonga flag gently blowing in the wind.
He wore his country's traditional tupenu... and was notably shirtless.
And then it happened. With one look into the camera, he smiled. He smiled at us all. Our hearts stopped.
Performing his flag bearer duties incredibly well,Pita Nikolas Taufatofua, who is competing in taekwondo, literally won the Olympic Games before they even began.
And that's when Twitter lost all chill and became one big fan girl:
Honestly, we get it. The dude has, like, an eight-pack. Of course the Internet would fall madly in love.
And if you were a fan of Pita before his shirtless entrance — we're guessing you didn't even know where Tonga was on the map, let alone know the athlete — you knew he had something cheeky up his sleeve.
The Internet's new husband took to Facebook on Friday morning saying he would have a "little surprise" for us all during the ceremonies.
And a surprise it was. A surprise that many deemed as the moment of the night.
BTW, he's an Uggs model when he's not an Olympic athlete. Very chill.
He also is very good at Snapchatting.
BRB, moving to Tonga. Forever. With oil packed in our bags.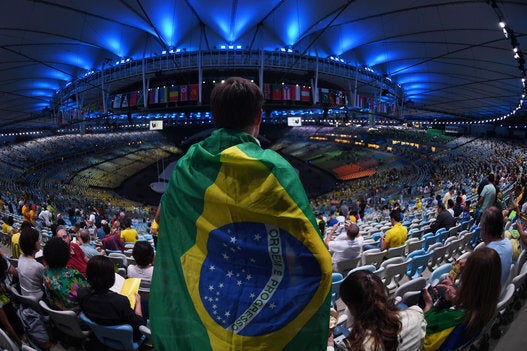 Rio Olympics 2016 Opening Ceremony