OTTAWA — Former cabinet minister Tony Clement will announce Tuesday he is entering the Conservative leadership race.
The four-time Tory MP for Parry Sound—Muskoka invited friends on Facebook last week to a "special announcement" at the Royal Canadian Legion's Streetsville branch in Mississauga Tuesday evening.
Clement told The Huffington Post Canada on Sunday that he is "very" excited.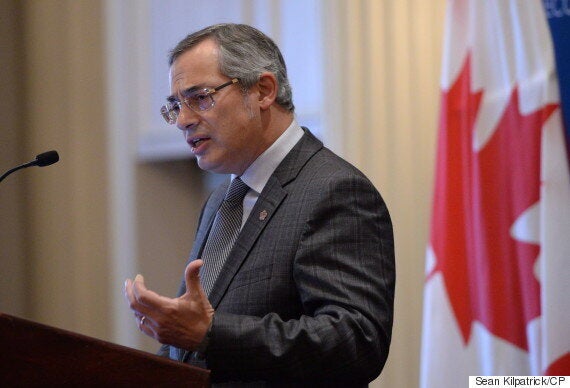 Treasury Board President Tony Clement delivers a speech to the Economic Club of Canada in Ottawa on Thursday, October 9, 2014. (Photo: Sean Kilpatrick/CP)
Clement is the biggest name to join the Tory race so far. Official candidates include: former labour minister Kellie Leitch, Ontario MP Michael Chong, and former small business, industry, and foreign affairs minister Maxime Bernier.
MPs Lisa Raitt, Andrew Scheer, Brad Trost and Deepak Obhrai are also mulling leadership bids, as are TV personality Kevin O'Leary and, the likely front-runner — should he chose to join — former cabinet minister Peter MacKay. MacKay stepped down from politics last year citing the need to spend more time with his family. He is now working for a Toronto law firm.
First elected to Parliament in 2006, Clement served as health minister, industry minister, and Treasury Board president under prime minister Stephen Harper.
Last February, he told a gathering of like-minded Conservatives that the party had failed to put forward an effective counter-argument during the election to challenge the push for change, and he sided with grassroots members who'd voiced similar concerns.
"It's time we listen and learn from our members, many of whom have more election experience and plain common sense than the central campaign exhibited," Clement told the Manning Centre Conference's panel "If I run, here's how I'd do it" series.
Conservatives needed to re-evaluate and adapt to the shifting Canadian political landscape, he said.
That doesn't mean revisiting the Tories' stance on limited government, affordable taxes, a strong military, and support for the private choices of individuals and markets to generate growth, Clement said. But it means something to say on climate change, on poverty reduction, and on ensuring individual privacy rights against big government creep online, he said.
Called for scrapping CBC subsidy
"Conservatism must be broader and deeper in these issues in the future…to appeal to city dwellers, millennial, and to new arrivals."
Clement's biggest applause — from the mostly white and mostly male crowd — came when he called for the scrapping of CBC's billion-dollar subsidy.
"It is out-dated policy that should be replaced," he said, in what can be perceived as his first campaign pledge.
Clement trumpeted his experience in reducing government spending and helping balance the books. He also noted his past as a party organizer, someone who'd led renewal efforts with the Progressive Conservative party in Ontario and on the federal scene, as the founding president of the Canadian Alliance.
The Conservative party lost its advantage in the last election, Clement said, because it did not devote enough attention to training, candidate support, communications, advertising, social media, and the leader's tour.
"Frankly our message and campaign were MIA using many of the modern techniques," Clement said, as he volunteered himself to lead a social media initiative to crowdsource good ideas. He promised he would launch an "online feature app" soon.
A new look ahead of launching bid
Clement is very active on social media, on Instagram especially, but increasingly also on Snapchat. He took to Facebook to get public opinion on his choice of new specs, he told The Hill Times.
In an interview published last week, he said he refreshed his look to prepare for his leadership bid by getting a new glasses, a new hair-do, and new clothes.
"I'd be lying to you if I said it was completely irrelevant," he is quoted saying. "I think it is relevant, because people see themselves in their politicians now. So it's who they want to project onto, their political choices."
Before running for office federally, Clement spent eight years at Queen's Park and held various cabinet portfolios with Mike Harris' government.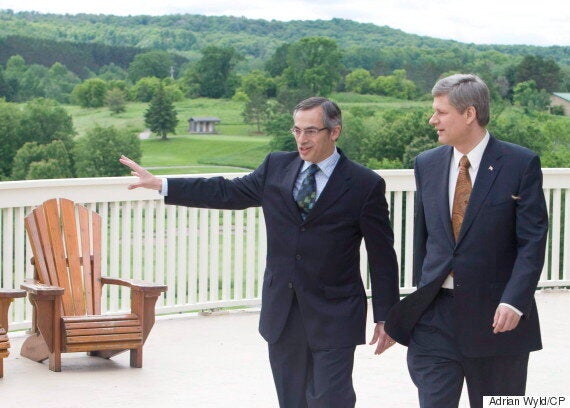 Tony Clement is shown walking with former prime minister Stephen Harper in Huntsville, Ont. in June 2008. (Photo: Adrian Wyld/CP)
He ran unsuccessfully to replace Harris in the PC leadership race in 2002, coming in third. He lost his provincial seat a year after. In 2003, Clement ran for the leadership of the newly formed Conservative Party of Canada. He came in third. He then lost a 2004 bid for a federal seat in Brampton, the area he had represented provincially.
Colleagues often quip that there isn't a race Clement doesn't want to join. But he is described by those who have worked with him as authentic, earnest and very capable.
His biggest controversy occurred in 2011 when Auditor General Sheila Fraser found the government had misled Parliament and diverted about $50 million in border infrastructure funding — cash to ease up congestion — to Clement's riding for a G8 Legacy Infrastructure Fund.
More than $45 million was spent on a community complex and various street improvement projects, such as park upgrades, new lights, picnic shelters, outdoor furniture, and a gazebo, in communities that were often far away from the actual site of the G8 gathering.
Fraser also found that the departments were not involved in the review process and could not explain how funding decisions had been made.
Clement's riding is some 330 kilometres away from the closest border with the United States.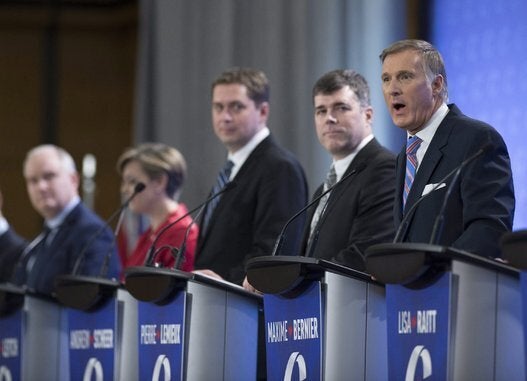 Conservative Leadership Candidates