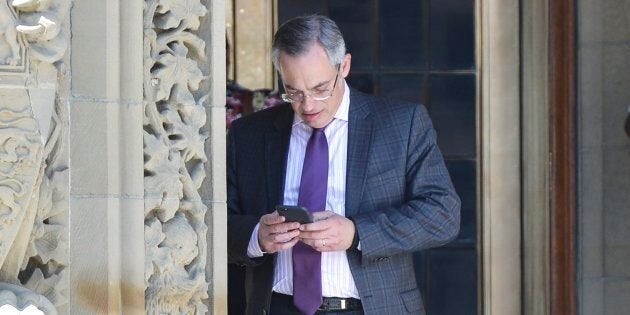 OTTAWA — When news broke Tuesday evening about Conservative MP Tony Clement's sexting, Claire McWatt wasn't surprised.
She told HuffPost Canada her first interaction with Clement was in 2014 when the Parry Sound-Muskoka MP, who is married and has three children, followed her on Twitter and slipped into her direct messages after midnight.
It was a time when late Toronto Mayor Rob Ford's illicit drug use dominated headlines. McWatt was 23 and then-chair of the Toronto Youth Cabinet, which was reflected in her Twitter bio. Clement messaged her with a desire to talk municipal politics.
McWatt felt he crossed a line.
"He knew how young I was. That's creepy," she explained.
McWatt, a current municipal political staffer, said she ended the early-morning conversation by making a dig at Clement, mocking the $100,000 taxpayer-funded gazebo built in his riding during the G8 and G20 summits. Despite the brazen display of "totally inappropriate" behaviour for an MP, she said, he followed her on Instagram years later.
"He went back through my timeline and liked pictures. But he always liked pictures of women, women with other women," said McWatt. Clement's social media habits earned him a reputation of being "weird on Instagram" — which was known among young political staffers across party lines, she said.
Financial extortion claim
The longtime Tory MP revealed in a statement Tuesday that he was "targeted" after sharing "sexually explicit images and a video" with someone he thought was a consenting female. He said the images, sent over the last three weeks, were then used for the "purpose of financial extortion" when the recipient demanded money in exchange for not releasing them to the public.
"I recognize now that I have gone down a wrong path and have exercised very poor judgment," he said, adding he would resign from his justice critic and committee roles.
On Thursday, Clement published a letter to constituents, admitting "poor decisions" in his personal and private life had led to "acts of infidelity." He also acknowledged that his social media behaviour may have unnerved people.
"I apologize to the women with whom the exchanges occurred, and I also apologize to anyone else who felt in any way that I crossed online boundaries that made them feel uncomfortable, even without my knowing," he wrote. "I am deeply sorry."
The RCMP are investigating the alleged extortion, which Global News reports was a demand for 50,000 euros.
But the issue isn't just about an alleged extortion, McWatt said. "The common denominator here is young women," explaining that's what moved her to say something, hoping it would help others come forward.
Another woman, from Parry Sound, Ont., told HuffPost about her experience with Clement, who began following and and liking her posts on Instagram.
In a detailed Twitter post that has since been deleted, she claimed the messages from the MP were "harmless" at first, but turned intimate after months of built trust and friendship.
"He sent me sexual messages, pictures/videos. Flirting with me. Told me he missed me, told me how amazing I was," she wrote. She also said she rejected invitations for coffee and to visit his Port Sydney home.
"He always reassured me I was the only woman he's talking to, always told me this had to be discreet (now I know why)."
She claimed she learned two months ago that Clement was allegedly flirty with other women. "He told me that someone was coming after him but he didn't know why."
She asked for her name to be withheld because she said she fears attacks on her reputation, but stands by the contents of her deleted post.
I recognize now that I have gone down a wrong path and have exercised very poor judgment.Tony Clement
The former Conservative cabinet minister has kept a low profile this week, but offered a statement to The Globe and Mail saying he has liked "all sorts" of Instagram pictures, but "never sent unsolicited harassing messages, ever."
Conservative Leader Andrew Scheer repeatedly told reporters Wednesday morning about his disappointment in Clement's "extremely poor judgement." Scheer said he learned about the alleged extortion attempt last week and that he and Clement met in person to talk about it on Monday.
"It's a terrible lapse of judgement that we're all disappointed in so Tony's now going to focus on his family, his marriage, and we certainly do wish him all the best," Scheer said. He sidestepped questions about Clement's future with the party heading into next year's election.
Watch: Tory Leader Andrew Scheer responds to Tony Clement's sexting scandal
But hours later, as social media posts like those of McWatt and others gained visibility and traction, Scheer's position shifted.
"I took him at his word that this was an isolated incident. Since then, there have been numerous reports of other incidents, allegations, so in that respect I've asked Tony to resign from caucus so that he can respond to these allegations."
Clement was an Ontario MPP prior to winning a seat in the House of Commons in 2006. He was president of the Treasury Board under the previous Conservative government and was one of a small group of MPs and senators who have top-level security clearance as part of the new National Security and Intelligence Committee of Parliamentarians — a role he has now left.
Public Safety Minister Ralph Goodale told reporters after a caucus meeting that he doesn't think Clement was targeted because of his membership on the committee.
"I do not believe that to be the case, but I am – I am not in a position to comment in any way, shape, or form with respect to that," he said.
Clement will sit as an Independent when he returns to the House of Commons.
Popular in the Community