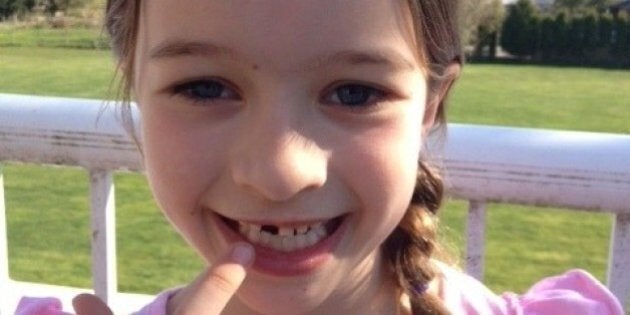 Many adults would have dismissed a Grade 3 girl's desperation over losing her tooth in the school playground. But her principal took it seriously, writing a letter to the tooth fairy with the school's official letterhead.
Avery Patchett's loose tooth popped out last week while she was in class at James Hill Elementary School in Langley, B.C. Her teacher got her a "tooth chest necklace" to keep it safe so she could take it home, said principal Chris Wejr in an email to The Huffington Post B.C.
But Avery fell during recess and knocked the tooth onto the ground. She and her two friends searched for several minutes but couldn't find it, leaving Avery very upset that she wouldn't be able to show it to the tooth fairy, said Wejr.
The principal reassured her that he had a plan, one that he had used for another student who lost a tooth at school. Wejr sent Avery home with this official letter: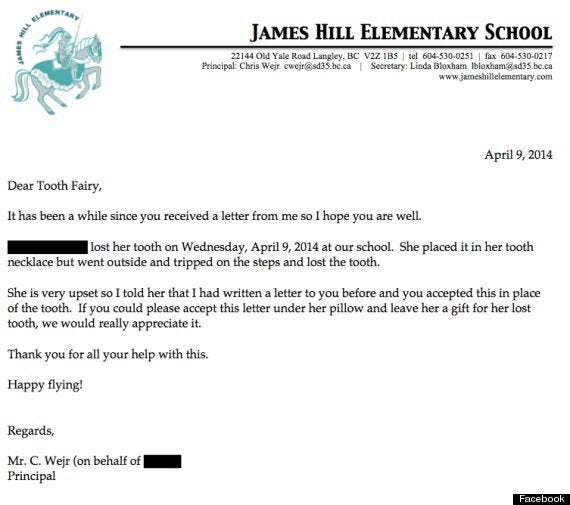 The letter reads:

Dear Tooth Fairy,

It has been a while since you received a letter from me so I hope you are well.

Avery lost her tooth on Wednesday, April 9, 2014 at our school. She placed it in her tooth necklace but went outside and tripped on the steps and lost the tooth.

She is very upset so I told her that I had written a letter to you before and you accepted this in place of the tooth. If you could please accept this letter under her pillow and leave her a gift for her lost tooth, we would really appreciate it.

Thank you for all your help with this.

Happy flying!

Regards,

Mr. C. Wejr (on behalf of Avery)

Principal
Avery's mother, Debbie Patchett, told HuffPost B.C. she was deeply touched by the principal's "kind and compassionate gesture" to turn "what could have been a sad memory into such a wonderful memory for our little girl."
The tooth fairy left Avery $5.
"What is small to us may be huge to a child so it is important to stay in the moment and give children the care they need," explained Wejr. "We need to model kindness and show them they matter."
The tooth fairy letter is being shared on social media, which Wejr says is a useful way for parents and the community to see the positive things that teachers do in schools every day.
Like this article? Follow our Facebook page

Or follow us on Twitter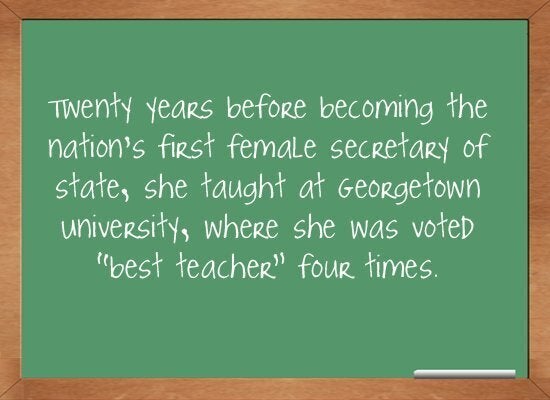 Quiz: Celebrities Who Were Teachers