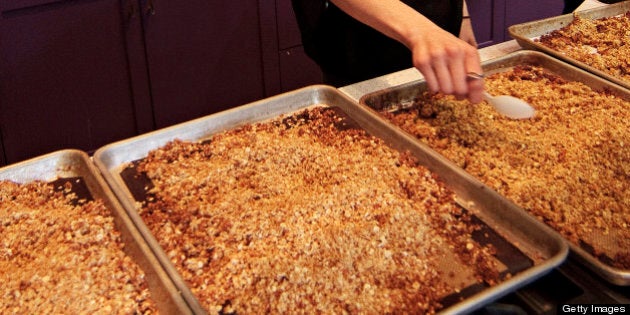 Dining out and gluten-intolerant? A tricky combination. Like a maze loaded with wheat-filled landmines, the city is a hotbed of restaurants claiming to be celiac-friendly. You have to be extremely careful in deciphering the safe zones from the dangerous spots. Don't stress, gluten-free foodies! We have a condensed Toronto survival guide of the best spots to dine in a wheat-filled city. These top picks are sure to have your stomach satisfied (and safe!) after enjoying.
This quaint spot plays host to all kinds of folks who are craving a great celiac-safe meal or snack in a comfortable, welcoming atmosphere. The sandwiches, soups, breakfasts and bakes goods offered are all vegetarian or vegan and mostly gluten free. Gluten-sensitive foodies frequent Teatree for the cozy atmosphere and return as regulars again and again for the gluten free food that tastes like home.
At long last, Asian Fusion has joined the realm of celiac-friendly dining options. Riz offers an entire menu of gluten free meals for lunch and dinner, as well as a highly-recommended 'all you can taste' menu. Try the crispy calamari, Thai fish cakes and mango soft rolls. You'll never go back to commonplace pan Asian cuisine!
Nestled amongst the bustling shops of Kensington market, Kensington Cornerstone has become renowned for its awesomely relaxed vibe and completely gluten free menu. Offering home style food that no one would ever suspect was gluten free, this quaint restaurant with its sun-drenched patio is a definite favorite amongst locals and visitors from neat and far.
For the crepe-lover, Hibiscus is the place to go. For the celiac-sufferer, it's a saving grace. Honestly, for any foodie, this restaurant should be on the revolving roster of hidden café gems in the city. Specializing in crepes that defy the gluten free stereotype with a deliciously light and flavorful taste, Hibiscus is a staple in Toronto's gluten free eating scene with unpretentious service and great prices to match.
Wholesome food that makes you leave feeling you've done your body some good. That's the best way to describe Camros, a Persian-inspired and completely gluten free restaurant that serves delicious, organic ingredients in a buffet-style restaurant. The food is so fresh and flavors so pronounced that it's the type of food you crave over calorie packed fast food. Our summer bodies will cheers to that!
Raw, vegan, gluten-free and delicious. Does that last adjective seem out of place? Not when describing Live Organic Food Bar, the health sensation that doesn't compromise taste when considering health. With dishes like zucchini lasagna smothered with basil pesto, ricotta, kalamata olives and sun dried tomatoes, we're definitely not missing (or even noticing) the lack of wheat.
Pizza lovers who struggle with celiac no longer have to suffer. Rejoice! Magic Oven offers gluten free pizza (that alternatively come dairy free and vegan) that boasts even better taste than their wheat-filled counterparts. Our recommendation? The Good 'n Green Magic pizza comes loaded with tomato pesto sauce, zucchini, spinach, broccoli and crumbled chunks of feta for all your green goddess goodness. Guilt free pizza? What a dream.
At Starving Artist, waffles take center stage. The owner clearly REALLY loves waffles and incorporates them into every single dish on the menu. The meals are diverse and creative in a way rarely seen in the world of gastronomy, where odd ingredients are combined to create surprisingly crave-worthy results. Though getting your gluten free waffle fill costs extra, the unique taste and memorable experience of this artistic café tends to attract locals with flavor sensations that keep people coming back for more. Try the Tex-Mex Chicken sandwich (held together by two seasoned waffles, of course) followed by the pineapple banana crunch for a decadent yet perfectly gluten free feast.
Popular in the Community