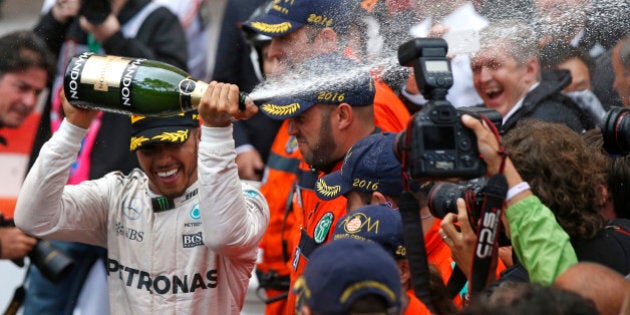 If after a long winter of coddling your adorable infant, ahem, you just need -- need -- to get your champagne on, Grand Prix weekend in Montreal IS the time to finally do it. Events across the city are running from June 9-12. The actual race is June 10-12 on Circuit Gilles Villeneuve.
True, the most luxurious Grand Prix parties involve dropping over $400 smackers (!!) for just a few hours of celebrating, um, fast cars, which you might have zero intention of actually watching zoom down the track. And it will definitely mean figuring out that confusing order of operations for your facial, blow-out, manicure, and spray tan appointments (ah, problems!). But you will surely get to don your favorite sexy summer outfit and have opportunity galore to take some stellar selfies, possibly with hockey players and other celebrities in the background.
And just think: With all that glitz, one Grand Prix style soiree equals, like, four to five "normal" nights on the town, so you'll be back to flipping burgers on the BBQ in no time, feeling far more sparkly than if had you just stayed at home.
So, dearest homebodies, I present to you my top five list of place to party F1 weekend. Incidentally, most "official" F1 parties you have to be invited to. All listed (below) are open for reservations, and in one case, for a stroll by.
1.Soirée Grand Prix at The Ritz.
In the past, Canadiens hockey players, Hollywood celebrities, along with the who's who of Montreal have attended. This year's top F1-related event is sponsored by Pfaff McLaren and will feature a Moët & Chandon welcome bar, scrumptious food stations, luxurious gift bags, cellist and musical collaborator of C2 conference on creativity and commerce Philip Sheppard, and all around glam. $325-$700, Friday June 10, 7 p.m. Bar closes at 2 a.m. Reservations essential, many tickets levels sold-out. Buy at eventbrite.ca.
2.Angels & Drivers at Auberge St-Gabriel.
Guy Laliberté's F1 after-party at his home was formerly the coveted unofficial F1 party to attend. Now, the historic L'Auberge St-Gabriel in Old Montreal where Laliberté is a co-owner, is among the "official nightlife venues" of the Grand Prix. There are events starting Thursday with the Red Carpet BBQ ($45 cover, June 9, 5p.m.-7 p.m.), but the most talked about is Sunday night's closing event called Angels & Drivers ($60 cover, June 12, 7 p.m. to 10 p.m.). It will feature Victoria Secret "Angel" and ZCD supermodel Devon Windsor "and some of her squad." Drivers are expected as well. Main Sponsors include Dom Pérignon and Romeo's Gin. Reservation necessary. abge.ca.
3.Red Carpet Party at Le Richmond.
Since opening a few years ago, Le Richmond has managed to become a Grand Prix scene staple with its large, partially exposed terrasse and niche Griffintown location. The recently opened adjacent Le Richmond Marché Italien is also a new brunch hotspot. Saturday's Red Carpet Party at Le Richmond, $200-$400, June 11, from 7 p.m. to 3 a.m., is sponsored by Rémy Martin and Grey Goose and will boast oysters, champagne, a cocktail dinatoire, and DJ Joe Marella. There are also events at Le Richmond running from Thursday night to Sunday brunch. By reservation only. lerichmond.com/en/upcoming
4.Pedestrian fun in Old Montreal.
FYI to those who haven't gone Grand Prix gallivanting since St. Laurent Blvd. became a vacant wasteland -- though Buenanotte is still holding strong -- Old Montreal is now THE sidewalk party for pedestrians to strut their stuff. Of course, there is still Crescent St. too, with a line-up of racecars and their official F1 Budweiser-sponsored stages (there will be U2 and Madonna cover bands) and Peel St., with the lovely Le Jardin Belvedere Vodka, across from Harry Rosen.
But back to Old Montreal: Stilettos and cobblestone certainly make strange bedfellows, so grab your partner, stick to the sidewalks, and make a reservation at your favorite resto, because spots are going fast. Pit Stop venue Wunderbar at the W Hotel will feature nightly events too, including Tay James on Friday, 10 June at 10 p.m. eventbrite.ca.
5.Restaurant Beatrice, formerly known as Bice.
So hard to pick the last place on this list! But Beatrice features Grand Prix style swank all year round, has a lovely outdoor terrasse, and is a terrific choice for those looking for a slightly more low-key night. There are no specific events, just general "Grand Prix fever". Limited tables are still available, but the restaurant is closed on Friday night for a private event. Please call. ristorantebeatrice.com
Follow HuffPost Canada Blogs on Facebook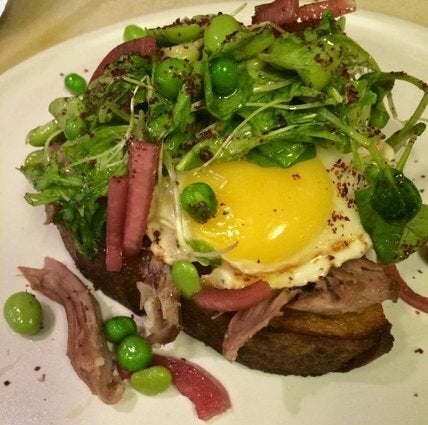 Where To Eat Breakfast In Montreal
Popular in the Community