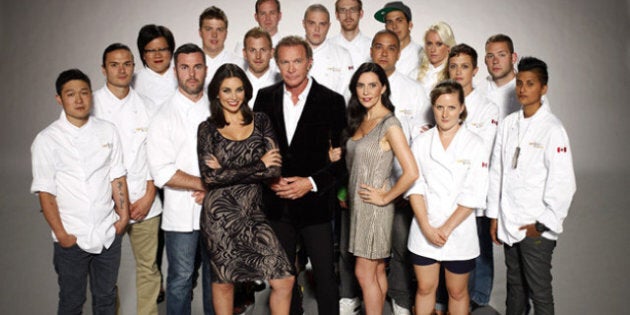 It looks as though there will be no more cooks in the "Top Chef Canada" (GE Monogram) kitchen. It's been an exhausting week as the Canadian networks revealed their plans for the upcoming 2014-15 season, but during Shaw's upfront on Wednesday, there was no mention of a Season 5 of the acclaimed series.
HuffPost Canada TV just received this statement from Christine Shipton, Shaw Media's VP of Original Content, about the "Top Chef Canada" cancellation:
"'Top Chef Canada' was a huge series for Food Network and ushered in a new level of Canadian production we hadn't previously done for the channel.

We watch audience trends very closely and, after four years, our audiences are telling us they're hungry for new programs. We are in a world where the audience demand and choices are the key to our continued success. We need to stay ahead of the trends, be where their preferences are heading.

Fans can still get their 'Top Chef' fill – Food Network will continue to air the 'Top Chef' format on the station, including 'Top Chef Duels' this fall."
The "Top Chef" franchise is a busy one, what with "Masters," "Just Desserts," "Junior" and "Duels" also existing in the food competition world, but Canada's version was fascinating because it was eye-opening knowing our country boasted such extraordinary culinary talents. And the contestants from seasons past proved that just being part of the show was enough, as many of them have gone on to open their own restaurants and become coveted cooks -- all without the "TCC" title.
That doesn't mean that the show and its cast, host Lisa Ray and judges Mark McEwan and Shereen Arazm, won't be missed. The challenges were always nail-biting, edge-of-your-seat fare, the style and production of the show was top-notch and the contestants -- and their dishes -- were always a treat. OK, almost always.
As for what the network is touting, Food is banking on "Carnival Eats," "Food Truck Face Off" and "Farmhouse Rules," along with an array of "Chopped" spinoffs, as well as the returns of "Chopped Canada," "You Gotta Eat Here!" and "Donut Showdown," among many other acquired series from the U.S.
It sounds like a full plate but without "Top Chef Canada," the table is definitely missing something.
Popular in the Community