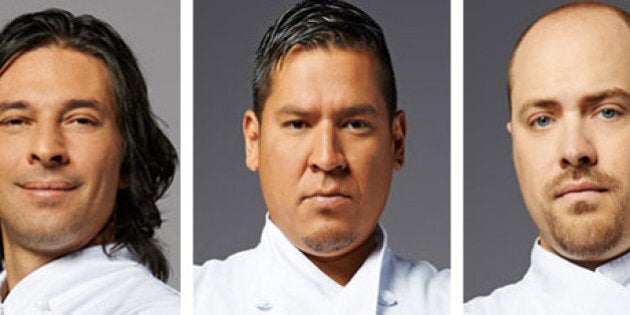 It all came down to mealworms, and in the end, it was Rene Rodriguez who was victorious.
In the finale of Top Chef Canada, which aired Monday, the chef from Ottawa was named the winner of season four of the series, serving a surprising dish to earn his title, along with $100,000.
Francis, who is the first chef from one of Canada's territories to compete on the show, impressed judges throughout the season with his modern Aboriginal cuisine. The owner of Aboriginal Culinary Concepts managed to take disparate ingredients and form them into tasty dishes, but the widespread feeling was that the finale was his worst night on the show.
Salmond, who has worked with chefs like Susur Lee (who coincidentally judged the show twice this season), is currently the executive chef at the Walper Hotel in Kitchener, ON. Used to catering to big crowds, the self-taught chef showed serious skills with a diverse number of ingredients throughout the competition, and seemed to be the fan favourite on Twitter.
But it was Rodriguez who rose above in the finale, which took place in Muskoka. With a restaurant, Navarra, that's already known as one of the best in Ottawa, he relied heavily on his Spanish background throughout the competition, infusing his dishes with both European and Mexican flavours.
After Rodriguez won a fish-oriented campfire Quickfire challenge at the start of the episode, he had the advantage of assigning the sous chefs (returning contestants Vittorio Colacitti, Pierre Lamielle and Evelynn Takoff), claiming Colacitti as his own.
For his $100,000 meal, Rodriguez served roasted poblano bisque, as well as a lamb shank black mole with mealworms in front of guest judge Ruth Reichl, head judge Mark McEwan, judge Shereen Arazm and host Lisa Ray at a challenge that took place in Muskoka, north of Toronto.
Although this season of the series was set up as a male vs. female competition, with even numbers of each gender competing at first, that changed as the last woman (the aforementioned Takoff, of Kelowna, BC) exited the show two episodes ago, leaving five men still to battle it out.
Previous winners of Top Chef Canada include Dale Mackay, who will be opening a new restaurant in Saskatoon shortly, Carl Heinrich, owner of Toronto's beloved Richmond Station, and Matthew Stowe, who appeared on this season as a guest judge.