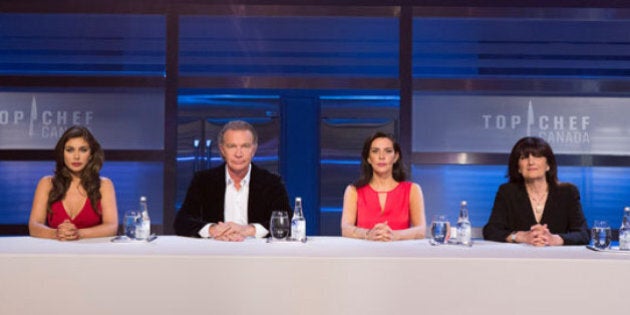 Rene Rodriguez, owner of Navarra, earned the title and the $100,000 prize in a cookoff that came down to serving dishes from the competing chefs' roots. For Rodriguez, whose father was from the Basque region of Spain and mother was Mexican, Latin cooking had gotten him to the finale and well past the finish line.
"I always bring some of my heritage, a Latin flair to my food," he tells the Huffington Post Canada. "I think that gave me a bit of an edge, bringing something to the table that's a little different and a little new. That gave me a bit of an advantage."
On last night's finale, Rodriguez served a meal consisting of a steak tartare with blue corn tortillas, coriander-crusted tuna with mushroom ragout and pickled chayote (a Spanish fruit), a roasted poblano pepper bisque, as well as a lamb shank black mole with mealworms, a choice the judges called "gutsy." For his dessert, Rodriguez made the first sweet dish he'd learned, a dark chocolate mousse with frozen lemon curd and fresh Ontario berries, which did not go over quite as well.
Despite that, he came out victorious, and watched the finale alongside supporters, as well as his little boy and his partner, at a friend's house.
"I wanted to have a finale party at the restaurant," he says, "but then people would know I had won. It was really hard to keep it from everybody all these months."
Among the toughest challenges of the competition for Rodriguez was the firefighter episode, in which contestants had to serve a buffet under a blazing hot sun, as well as the second-last episode, which required the remaining five chefs to use only molecular gastronomy equipment to create their meals. And of course, there was the personal aspect.
"The most difficult challenge was to leave home, to leave your family and restaurant for seven weeks," he says. "You're away from the thing you love to do and the people that surround you."
He did, however, bond with fellow competitor Vittorio Colacitti, saying he was his favourite contestant, which was evidenced by his choice of him as a sous chef for the finale. Rodriguez says he also has taken lessons given to him by head judge Chef Mark McEwan to heart.
"He taught me sometimes you have to restrain a little bit, that on a plate, sometimes less is more. Sometimes you need to focus on the main ingredient and make it simple and good."
He notes the quality of ingredients in Canada is how we can define our food, as well as the many cultures that make up our citizenship.
"Great mushrooms, great dairy, great seafood, great beef ... we have a lot to be proud of in Canada," says Rodriguez. "We have so many ethnic communities and different backgrounds — there's a diversity of different countries because it's all Canadian cuisine, it's all here in front of us."
Right now, Rodriguez is happy running Navarra (where, rumour has it, you can't get a reservation for the next month), but can see himself opening another restaurant within a year.
"Something a little more close to my roots," he says, "A Mexican restaurant that's 20 seats, a little smaller."