By: Sonia Bell and Wayne Karl
In the inaugural issue of Canadian Property Investor, we identified the Top 50 Places to Invest in Canada. Now it's time to dig a little deeper -- to present, by province, which areas represent sound investment opportunities.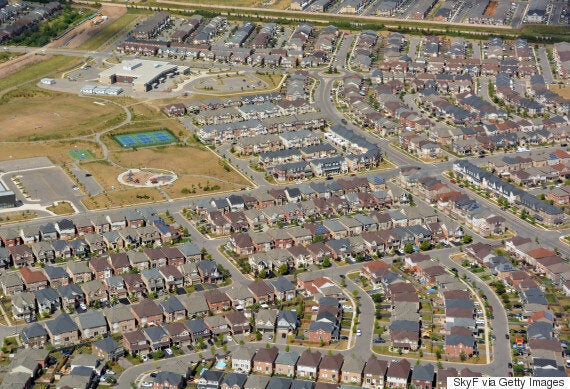 First up, Ontario -- and the top places to invest in the province, primarily using the investment strategy known as "buy, hold and rent."
We examined vacancy and rental rates (two-bedroom) from Canada Mortgage and Housing Corp., and validated these findings with the latest data on population, employment and wage growth.
For context, we've also included average home prices -- with data provided exclusively by Royal LePage and Brookfield RPS.
Our research was further guided by insight from investors and other experts.
It's important to note that, since we completed our research, the provincial government released the Fair Housing Plan, which some sources say could negatively affect property investors in Ontario.
Keep this possibility in mind as you review our list of the top seven places to invest in Ontario.
Milton has witnessed incredible growth in recent years, earning the title as one of Canada's fastest-growing cities, and our number-one pick for places to invest in Ontario. Alex Ocsai, broker and owner, Royal LePage Meadowtowne, explains that "Milton is near major highways, rail and air transportation, and within commuting distance of major GTA employers, making it an attractive option for purchasers looking for affordable property."
With its growing population, however, Milton's infrastructure seems to be playing catch up. Busy schools and congested roads are just a couple of the challenges. "The town and region have an aggressive infrastructure plan in place to improve transportation services and employment areas along Hwy. 401 and James Snow Parkway for residents to be able to live and work in their own community." These improvements will likely draw more people in, which will bode well for investors.

Guelph boasts a healthy local economy, with growing agriculture, education, health-care and manufacturing sectors that continue to attract a skilled labour force. As the Toronto real-estate market remains out of reach for many prospective homebuyers, Guelph has become a common location for those willing driving farther from the Greater Toronto Area until they land on a home they can afford. While homes are experiencing nearly double-digit price growth, investors can still purchase at a reasonable price, which aids in relieving the pressure of remaining cash-flow positive.
Investors also have access to the University of Guelph's student population. As a result, vacancies are diminishing quickly, hence the rising rental rates. Jeff Morley, broker, Royal LePage Royal City Realty, stated, "With Guelph's record unemployment rate and recent growth, our vacancy rate is one of the lowest in the country, making this city an attractive place to invest. As the city continues to grow and expand, so do jobs and the economy, allowing more graduates to stay within the region."

High population and employment growth have resulted in one of the lowest vacancy rates in Ontario. New transit projects on the horizon will continue to attract new residents -- for example, the 23-kilometre Hurontario line, which will increase the city's connectivity. Additionally, Ryerson (in partnership with Sheridan College) has applied to expand its campus to Brampton. If this comes to fruition, investors can benefit from even more students renters coming to the area.
However, like many other Toronto suburbs, prices are rising rapidly, up nearly 16 per cent from 2015 to 2016. According to Nirmal Brar, broker and manager, Royal LePage Flower City Realty, "More investors are coming to Brampton, which should put even more pressure on pricing within the region. This will hinder first-time buyers' ability to purchase detached property and create more demand for condos, rentals and townhomes."

Cities outside of Toronto are experiencing high price growth, and Oshawa is at the forefront. Oshawa is experiencing double-digit price growth -- about eight per cent more than Toronto from 2015 to 2016. What makes this area so popular? It still boils down to price. Although prices are increasing (and fast), average prices are reasonable compared to Toronto standards. In addition to value appreciation, diminishing vacancy rates and rising population make the area a playground for investors; one recent report stated that Oshawa saw the biggest demand from investors over the past four years; in 2012, less than one per cent of properties were purchased by investors, and by 2016 the figure had grown to 9.6 per cent.

Similar to most waterfront communities, Barrie has become a hot real-estate commodity. Located on Lake Simcoe, 90 kilometres north of Toronto, the area is experiencing the highest price appreciation in the province, up 17 per cent from 2015 to 2016. The city's growth strategy will result in an increased population of 210,000 and 100,000 jobs by 2031. Not only is Barrie attracting a student population, its proximity to the Greater Toronto Area, as well as improving access to GO Transit, has attracted more workers commuting to and from Toronto.

Honourable mentions: Toronto and Oakville
Both Toronto and Oakville embody the economic fundamentals required for a sound investment location -- low vacancy rates, high rents, growing population and investment in infrastructure. However, their main downfall is significant -- exorbitant house prices that continue to witness double-digital growth. As a result, investors will not only need more capital to get into these markets, but it becomes increasingly difficult to cash-flow positive.
According to Blair Mackey, sales representative, Royal LePage Real Estate Services, "You aren't going to become rich on monthly rental cash flow. The typical rental property model doesn't apply in markets like Toronto or Oakville. To be successful, investors have to bank on longer-term property appreciation, so it's important that they buy the right location." If you're looking for a short-term hold, Mackey advises to "find an agent that can bring you pre-market opportunities in up-and-coming area."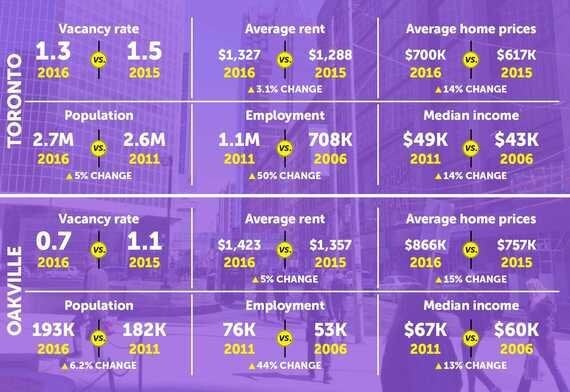 Follow HuffPost Canada Blogs on Facebook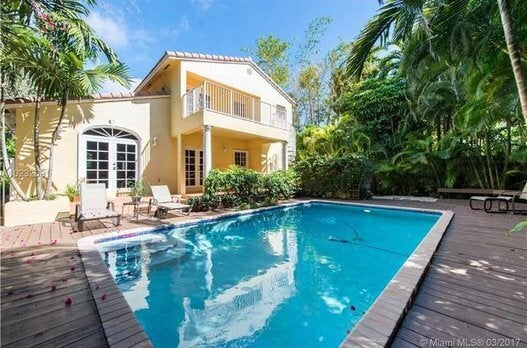 What Toronto's Average House Price Will Buy You (April 2017)
Popular in the Community