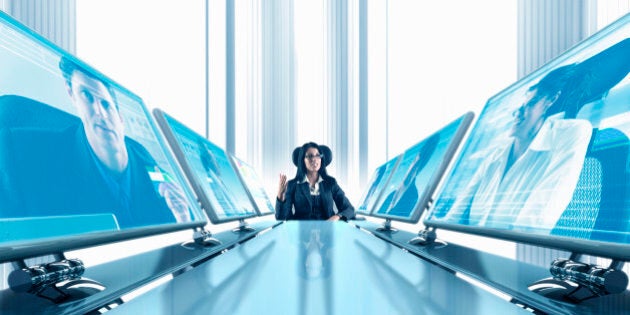 Here is another interesting statistic about sales and videos, 64 percent of consumers are more likely to buy a product after watching a video about it.
I am probably one of the biggest believers in video. I create video content for a living. But also, I can see that video is going to increasingly become the method of choice for how we share information online.
I am creating a series of blogs on the topic. This series will explain how you can create engaging video content for social media and your website, and much more. So keep an eye on my blog for the next installment in this series.
Recently, I was fortunate enough to speak with Jennifer Kaiser, Communications Manager, YouTube Canada. Jennifer shared the top tips and information any small business owner should know about videos for their business.
Why are videos important now for small business?
With thirty percent of Canadians reporting watching online video daily according to the Consumer Barometer, online video consumption has gone from primetime to all-the-time! Online video isn't just a form of entertainment - it also helps influence purchase decisions.
When consumers look for answers, discover new things, or make decisions, they're often turning to a device for help. At Google, we call these micro-moments, and they can happen in search, on your brand's website, in an app, and--increasingly--they're happening on YouTube.
These moments of intent are redefining the purchase journey; people want the right information right away. Small businesses opportunities to connect with consumers through video has exploded into millions of these moments.
What are the key benefits of videos?
According to the Consumer Barometer, one in ten Canadians who have who have watched online video in the past week, say they watched the video "to find out information about a product, service or shop." That's a great opportunity for a business of any size to connect with a consumer at a relevant and meaningful moment.
Small businesses can ensure they're relevant and useful by understanding their consumer's intent on YouTube. For example, that might mean expanding your focus from just who consumers are (for example, 18-34-year-old women) to what they want ("spring fashion trends").
Will videos continue to be a key part of the internet and social media?
The number of hours people spend watching videos (aka watch time) on YouTube is up 60% year-over-year - the fastest growth we've seen in 2 years - and the number of people watching YouTube per day is up 40% year-over-year since March 2014.
I think most businesses already know why they should be prioritizing online video: because consumers are. Canadians turn to devices in all kinds of moments; they're flipping to YouTube to help them feel entertained, complete tasks, and make purchase decisions.
What are the top tips to make an engaging video? That people will watch and share..
Identify the micro-moments where your audience's goals and your brand's goals intersect. People come to YouTube millions of times each day, looking for videos that meet their needs, wants, and interests. Reimagine your consumer's journey and think about his or her needs and questions, and when they happen. Once you've mapped out your consumer's journey, understand your place on the map and how you can participate with video.
Provide useful content that answers their needs. Once you understand your map, you can build a plan to be there when people are looking. The first step is creating relevant, useful YouTube content that adds value in those key micro-moments. The second is making sure your brand shows up when they need you, with organic or paid search, for example, or with shopping ads on YouTube.
Measure to learn what works. Analytics is your channel's pulse. It helps uncover key channel insights based on real viewer data and the content they engage with most. Youtube Analytics provide actionable insights for you to make better videos, implement and measure optimizations, and develop strategic programming.
Analytics gives you a glimpse into your audience and understanding your repeat viewers enables you to more confidently create content they'll love and come back for time and time again. Does the current age, gender, and location of your viewers match up with your ideal target audience? If not, you may consider recrafting your content and promotion strategies to attract the audiences you want most.
Any other tips on how to get started with videos?
Here's the hard truth: There's no way a brand or business can create all the content needed to feed consumers' voracious appetite for video, especially on mobile devices. There isn't enough time, money, or resources. The trick is to create content gradually and build an engaging library over time.
Video does not need to be an expensive, splashy production. Regular, quality content can outweigh production value. It's easy to do a one-minute video each week to keep your customers up to date on the latest news/events/sales. Most of the time, the barrier to creating video content is all in your head.
Stay tuned for the next instalment in my blog series. I will discuss the basic equipment you need to do effective videos and the top tips on how to get started!
I love all these helpful video tips and will use them as I continue to work on my blog and small business.
Your suggestions are always welcome, as I continue on my journey to live life to the fullest. Let's have the very best 2016!
Follow HuffPost Canada Blogs on Facebook
Popular in the Community