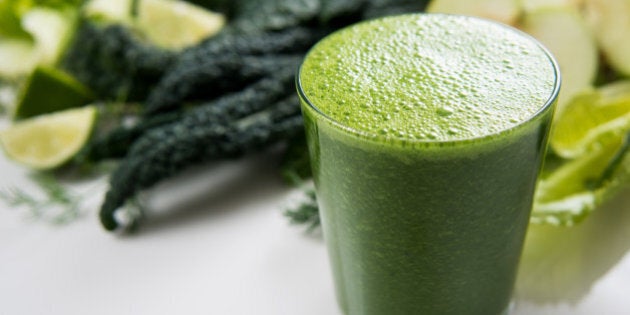 It's no secret, I love smoothies. Two reasons why I love them so much are that you can make them to taste similar to ice cream and they pack a great nutritional punch! You can pack a lot of veggies into one smoothie.
To be honest, when I first started to make smoothies, I thought there is no way I am going to put kale into a smoothie and it will taste good.
But it does. It actually adds a nice texture and creates a filling drink.
Curious to find out the latest for smoothies this summer, I spoke with Lisa Gardin is a Team Leader at Whole Foods Market's West Vancouver store. Lisa share with me her top tips and insider secrets on making a super smoothie!
How to make a smoothie that is satisfying (keep you full longer)?
I love food too much to consider a smoothie a meal but if you are on the run, adding a good tablespoon of almond or peanut butter thickens up a banana-based smoothie nicely-- try adding a little cocoa and some raspberries for a healthy treat!
We also recommend hemp protein, chia seeds or flax seeds for a good source of Omega 3's. The fiber will help you stay fuller longer!
How to make a smoothie that is flavourful?
Summer is perfect smoothie season. Every time I buy pints of fresh berries, I freeze any that get too ripe or a little mushy. I recommend a balance of a creamier fruit- -- banana or mango paired with a tart, fuller flavoured fruit like pineapple or raspberries.
I also like to get my greens in -- kale, spinach and parsley. Fresh herbs are also a refreshing twist -- basil or cilantro in a pineapple smoothie, or mint with orange juice and strawberries. A small thumbnail size of ginger also really boosts up the flavour!
What is in season now that can be added to a smoothie?
I recommend a light, hydrating smoothie after a good workout or afternoon in the sun. A base of coconut water is a great source of electrolytes, adding in celery and cucumber with a fresh squeeze of lemon or lime and some mint. Add in some crushed ice for a frozen slushy texture.
If you are trying to get more veggies in, chopping up some carrots or beets and adding them to a fruit smoothie is something we are often asked to do at the juice bar. Carrots go well with a citrus smoothie, and beets pair perfectly with mixed berries.
I also spoke with Emma Andrews, registered holistic nutritionist, certified plant-based culinary professional, and national educator at Vega. Emma shared with me her top tip for a super healthy smoothie!
Simply add chlorella to your next smoothie. A super food from Japan for centuries, it is water green algae, with complete protein, an antioxidant and known as the ultimate green super food supplement.
Last tip, I spoke with Corinna Odorico, Breville senior category manager , food preparation and cooking, and Corinna suggested when looking for a blender for your smoothies, try to find one with enough power to blend your items to smaller particles than traditional blending, in order to create a super fine, smooth texture. Yum!
Your suggestions are always welcome, as I continue on my journey to enjoy life to the fullest. Let's have the very best 2015!