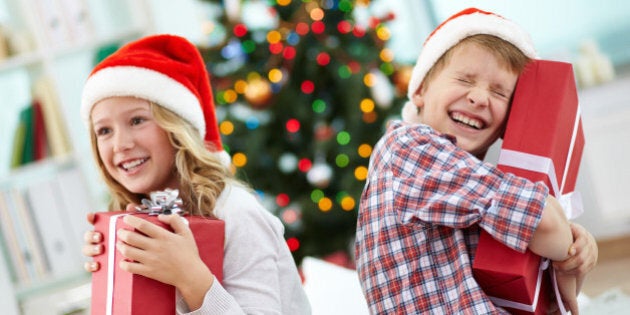 The average gamer age in 2013 is now 30 years old, a fact thirtysomething gamers like to spout at any given opportunity. But we pretty much all began gaming as kids, and while most gaming coverage centres around massively popular mature-rated games like "Grand Theft Auto V" and "Call of Duty: Ghosts," there are a ton of games specifically developed for little ones.
The best of the bunch are games moms and dads can play with their children, and actually enjoy too. Here's a selection of G-rated family-friendly games you might want to consider as holiday gifts this season.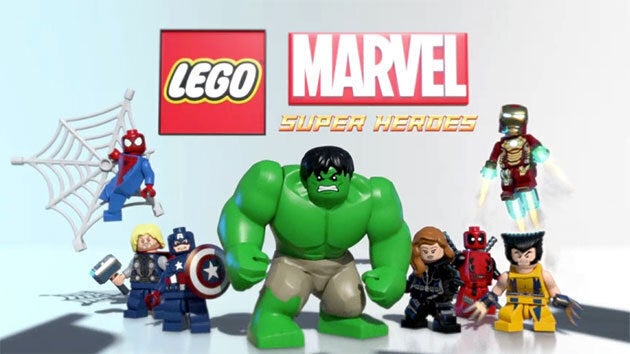 1. Marvel Lego Super Heroes
TT Games / Warner Bros Interactive; Multiplatform; Rating E10+
TT Games first leveraged Lego's popular "Star Wars" line into a warmly parodic take on the two trilogies a decade ago. They've since expanded into other film franchise licenses like "Indiana Jones," "Harry Potter" and "Lord of the Rings," but they really found their voice in the superhero realm. Freed from the constraints of popular movie plots but still populated with characters familiar to young gamers, "Lego Marvel Super Heroes" is the spiritual sequel to their second "Batman" game, which boasted an ambitious open world structure, as well as a sprawling roster of DC super friends.
This new Marvel game ups the fanservice ante even further with 155 (!) playable characters, ranging from the mainstream heroes of the Avengers, X-Men and Fantastic Four to cult faves like Silver Surfer, Iron Fist, MODOK and Kraven the Hunter to civilians like Spidey's Aunt May and cameo-happy creator Stan Lee.
As a grown-up comic geek, its depth and respect for the source material made it a real pleasure to play — but it was even better playing co-op with my four-year-old superhero-obsessed son. The violence is strictly cartoonish, the puzzles are clever but not too challenging and, well, there's nothing quite like the grin your kid will get while yelling "Hulk Smash!" as he makes the green goliath pound New York City into Lego bricks.
2. Ni no Kuni: Wrath of the White Witch
Level 5 and Studio Ghibli / Namco Bandai; PS3; Rating E10+
Hayao Miyazaki is known as the Japanese Walt Disney, and his Studio Ghibli has amassed a similarly beloved catalogue of classic animated films. "Ni No Kuni" is their first foray into gaming, and the result is the most gorgeous game of the year. It may lack the hyperrealism of the new next-gen consoles, but it literally feels like you're playing a hand-drawn Miyazaki film — and the epic musical score by Tokyo Philharmonic Orchestra certainly amplifies that cinematic feeling. The art direction, character design, and world building show an almost unparalleled imagination in gaming.
The story is rather melancholy — the mother of the lead character, a young boy named Oliver, dies at the beginning and his tears lead him into a fantasy realm ("Ni no Kuni" translates to "another world") where he hopes to find out how to bring her back to life. The gameplay is a turn-based Japanese RPG, making the combat slower and more strategic than just mashing buttons and has some features reminiscent of the popular Pokemon series. Just like Ghibli films, the game is epic yet intimate, and unrolls at a leisurely pace, confident that its quality will carry you along.
Avalanche Software/ Disney Interactive; Multiplatform; Rating E10+
It was only a matter of time until Disney jumped aboard Activision's "Skylanders" bandwagon — after all, that wagon is padded with dollars. Both cash-cow franchises split the difference between game and toy by having separately purchased collectible characters open up new parts of the game. But the real difference the House of Mouse offers is the mixing of its disparate Disney worlds and characters, as well as something called a Toy Box mode.
The play sets and individual characters all come with traditional story games of varying length — roaming around Monsters University, for instance, or sailing the Caribbean with pirates. But the real treasure is the toy box, which rips a page from "Minecraft" and "LittleBigPlanet" by allowing kids to build and share their own unique worlds — and design games within them — that could even send your kid on her or his way to becoming a game developer when they grow up.
And while the physical characters are expensive, downloading the works of others, many of whom seem to have an incredible amount of skill (and time), is free and continual, giving Disney a credible claim to putting infinity in the title. (Also, while rated 10+, it's been a lot of fun for my four-year-old to just roam around these familiar worlds as his favourite characters, even if he can't "play" the game, per se.)
Nintendo; Wii U; Rating: E
If you have a little kid, chances are you grew up on Super Mario, so this follow-up to the Italian plumber's first foray into 3D gaming from the Super Nintendo days — as well as a direct sequel to 2011's "Super Mario 3D Land" on 3DS — should tickle your nostalgia bone even as it wows you with its gorgeous graphics and clever combination of free-roaming and side-scrolling gameplay.
But ultimately, the reason it works now is the same reason it worked back in 1991— it is an ingeniously designed virtual playground that focuses on fun above all other things. Not only is the new game a worthy successor, but it is perfect for families, because it's built to be a four-player co-op game for everyone can play together.
But even if you play solo, the multiplayer aspect means that you can pick and choose from Mario, Luigi, Toad and Princess Peach. The latter is the real boon here, as the damsel in distress trope is easily the worst part of the Super Mario series, and it's a pleasure to play as said damsel finally kicking Koopa Troopa butt.
Media Molecule / Sony Computer Entertainment; PS Vita; Rating: E
British studio Media Molecule first made their name with the award-winning "LittleBigPlanet," a side-scrolling platformer rooted in a handmade arts and crafts aesthetic. For their first excursion outside that acclaimed franchise, their signature style has evolved from textiles to the equally beguiling and whimsical world of papercraft. Each and every single thing on screen appears as if were constructed out of paper.
Innovatively, they've taken advantage of the Vita's touchscreen, rear touchpad and two cameras to bring the player (adorably referred to as "the You") directly into the game's meta narrative — your face appears as the sun and when you touch the back of handheld system, virtual versions of your fingers pop through into the game itself. You're basically God, holding a pocket universe in your hands. (You'll also be able to use the touchscreen to design your own in-game papercraft objects.)
They've upgraded from LBP's 2D sidescroller to Tearaway's 3D world, dramatically opening up the gameplay, but if you want to play in three dimensions, you can take in-game photos of certain objects that will unlock printable instructions on how to build these paper models in the real world. It's a charming, gorgeous, creative, non-violent (your weapon is an accordion!) and utterly unique slab of digital art that should win over gamers of any and all ages.
Japan Studio/Sony Computer Entertainment; PS4; Rating E10+
Sony's new PS4 launched mostly with titles for older, harder core gamers like "Killzone," but the next-gen console's lead architect Mark Cerny made sure that families weren't left out by helming this throwback platformer. While it takes advantage of the new tech's power as far as Pixar-inspired graphics and other design details, the game itself plays like a familiar 3D platformer like "Crash Bandicoot."
There is combat, albeit of the cartoonish sort, as humans are beset by a race of militaristic goblins and it's up to Knack, a sentient being comprised of mysterious relics who can grow from three feet tall into a giant, to save the day. There's a great twist, as well, about humanity being its own worst enemy when the robots, built to also battle the goblins, turn against their creators forcing Knack to fight them, too.
The level design is linear and the gameplay is relatively simple, making it accessible for younger gamers on the easy setting (though parents may want to up the difficulty level after their kids go to bed). It also has a collaborative co-op option, so a parent or sibling can join in and protect the main player if your kid's having difficulty.
Nintendo; Wii U; Rating: E10+
Nintendo mastermind Shigeru Miyamoto has always used himself as inspiration for his games — his explorations of the Japanese countryside as a child led to "The Legend of Zelda," for instance — and his love of gardening provided the initial impetus for "Pikmin," a strategy game revolving around controlling up to a hundred tiny alien creatures in a pastoral planet. (Appealing to girl gamers was also a motivating factor.)
You play a trio of astronauts who crash land on the pikmin planet while searching for a food source for your starving homeworld and have to enlist swarms of these creatures to solve puzzles, secure seeds and send yourselves back. Mind you, it goes beyond multi-tasking — it's a bit of a bug-eat-bug world out there, so might be a bit intense for some younger kids, regardless of how adorable it looks.
This first high-definition edition doesn't build significantly on the gameplay established back in 2001, but it doesn't have to do much more than refine, since the basics still hold up. Oh, and if your kid is more into caped crusaders, consider "The Wonderful 101," a Wii U game in which you control hordes of superheroes.
8. Animal Crossing: New Leaf
Rob Ford may have given mayors a bad name, but the latest version of Nintendo's beloved village sim should restore at least some of the job's credibility as you arrive in a small town and are immediately made their leader. (In past games you were but one of the regular plebes.)
As addictive as ever despite its lack of action (unless you consider fishing, catching bugs and decorating your house "action"), you help the village develop while trying to keep the villagers happy. You can even collect taxes to build public works like bridges and police stations, as well as passing laws to help shape behaviour like planting flowers or determining when shops open and close.
It also encourages short, albeit frequent, play sessions, as it's tied to the real-world clock; play late at night and the shops are closed, play in the winter and virtual snow will cover the ground.
If your kids' friends also have the game (not unreasonable considering it has sold over six million copies), they can visit each other's villages. It also appeals to parents — just ask my wife, if you can get her off the damn game at night.
9. Scribblenauts Unmasked: A DC Comics Adventure
5th Cell /Warner Brothers Interactive; Wii U, 3DS, PC; Rating E10+
The award-winning, imagination-fueled "Scribblenauts" makes its first foray into licensed gaming, and if your kid is even close to as superhero obsessed as mine, it's a welcome move.
You once again control Maxwell, a kid with a magic notepad that can bring pretty much anything you can think of into the game. This time, however, you can also enlist help beating these brainteasers by bringing any superhero or supervillain you can think of, and many you'd likely have to look up. In fact, this fanservice game reportedly contains 2000 (yes, that's three zeros) DC Comics characters, so you'll be going well beyond Batman and Robin — or even Zantana and Red Tornado — as you traipse through various comic-famous locals like Superman's Fortress of Solitude, Aquaman's underwater Atlantis and Green Lantern Corps' HQ planet Oa.
Yes, it's a DC fan's dream, but it's a dream for parents, too, as the game's purpose is to encourage creative puzzle solving through the magic of vocabulary.
10. Sly Cooper: Thieves in Time
PS3 / PS Vita; Sanzaru Games / Sony Computer Entertainment; Rating E10+
It's a given that kids love cartoons, and though they may not feel the same way about those nocturnal nuisances that are constantly getting into your green bin, they'll likely love this playable cel-shaded cartoon starring Sly Cooper, the legendary raccoon thief.
This fourth entry of the "Sly" series, and first by Sanzaru after the original creators moved onto the older-skewing superhero games "inFamous," stays true to its stealth-platforming roots.
But what they've added is the time-travel wrinkle, which allows the game to jump around from present-day Paris to feudal Japan (where one of Sly's ancestors was a ninja who invented sushi!) and the Wild West to Ali Baba and the Forty Thieves-era Arabia and the prehistoric Ice Age. (Note: if you buy for PS3, you get a free downloadable Vita version as part of their cross-play program.)
Frontier Developments / Microsoft Studios; Xbox One; Rating: E
The Xbox One is, so far, fueled by the sort of violent mature-rated games ("Ryse: Son of Rome", "Call of Duty: Ghosts") that appeal to the hardcore gamers who pre-order new consoles. But it does boast a download-only family game that makes use of the next-gen machine's technological prowess to render hyper-realistic zoo animals.
Created by the good folks behind "Rollercoaster Tycoon," their Zoo spinoff follows the same basic structure of a strategy-based simulator. So you can design your own zoos and exhibits, keep your animals happy by feeding, bathing and entertaining them while also ensuring the zoogoers are happy, too, since their entry tickets fund your expansions.
There are 100 different animals, and the game uses the Kinect camera so they'll actually recognize your kid and react to their voice, physical movements and even facial expressions — they can use their hands to feed an elephant an apple or make funny faces at a monkey who will mimic them right back. Oh, and the best part? It's also educational, with a ton of information about animals on hand in the zoopedia.