TORONTO — The Conservatives' first convention without Stephen Harper as leader is gearing up to be a settling of old scores and rancorous disputes over same-sex marriage and abortion.
A proposal to scrap the party's belief in marriage as the union of one man and one woman may lead to contentious debate on the convention floor in Vancouver this week.
Those in favour believe the party needs to get on side with the majority of public opinion, and respect court rulings and a law passed in Parliament more than a decade ago.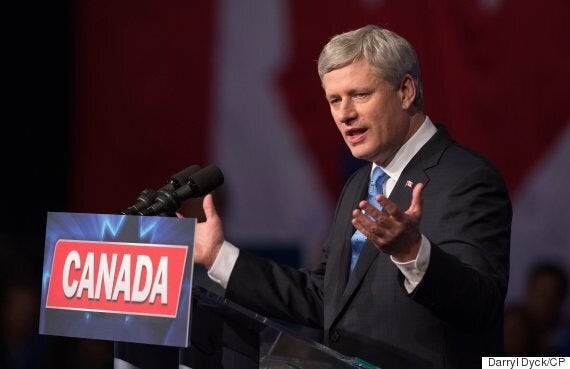 Conservative Leader Stephen Harper addresses supporters at an election night gathering in Calgary on Oct. 19, 2015. (Photo: Darryl Dyck/CP)
"A lot of people have realized that we need this to be electable going forward," said 24-year-old Natalie Pon, one of the backers of the resolution.
"We recognize that if the Conservatives form government in 2019, this isn't something that is going to be repealed. We are going to have same-sex marriage going forward."
Pon stressed that she and the resolution's backers, including the group LGBTory, are not proposing a new definition of marriage but only deleting its "limiting definition." They want to be inclusive of all views, she added, by also upholding the rights of religious organizations not to perform same-sex marriage ceremonies.
Social conservatives want to be heard
Social conservatives, however, see this as the latest affront to their values that augurs their diminishing place in the Conservative party.
Already silenced from introducing anti-abortion motions in the Commons during the Tories' majority government, Campaign Life Coalition believes the party is further alienating social conservatives, telling them they are unwanted and their views are unwelcome.
"If you delete the policy on marriage, you'll end up gutting the Conservative Party and driving away its very large social conservative base," Jack Fonseca, Campaign Life Coalition's senior political strategist, told The Huffington Post Canada.
"They won't see themselves or their values reflected in the party anymore, and their support will end," he added. "Many will stop voting and just stay home on election day. They'll stop donating. They'll stop volunteering. They'll stop asking their friends to vote. Gutting the party of these core supporters, activists and donors spells only one thing: a permanent Liberal majority for the foreseeable future."
Three policy proposals mentioning, or indirectly referring to, abortion may also be debated in Vancouver.
"Gutting the party of these core supporters, activists and donors spells only one thing: a permanent Liberal majority for the foreseeable future."

— Jack Fonseca, Campaign Life Coalition
The riding association of Calgary Nose Hill — popular MP Michelle Rempel's riding — wants to add to the party's constitution "a belief in the value and dignity of all human life."
"It is the deepest held belief of our Canadian society that all people, regardless of life situation or age, have intrinsic value and worth and therefore deserve dignity," the riding association writes in explaining their resolution.
If the motion ends up reopening the abortion debate. Fonseca said, so be it.
"Pro-life, pro-family, pro-religious freedom" proposals, he said, will only help the party grow by reflecting the values and attracting support from new immigrants, who tend to come from more socially conservative areas, such as China, India, the Middle East, Africa and Latin America.
Other policy proposals include one that allows doctors and nurses to refuse to perform, or even to refer patients seeking abortions or assisted suicides, and another that condemns discrimination against girls through gender selection abortions.
Alise Mills, a Conservative commentator and communications consultant, told HuffPost she believes the overwhelming majority of party delegates will "shutter" the anti-abortion, anti-same sex marriage group.
"They are very loud, but they are small," she said.
Pointing to the same-sex marriage resolution, Mills said she believes the convention is a chance for the party to decide whether it moves backwards or forwards.
"I think in previous conventions everybody went, 'They are a dying breed, but they are here,' and I think this time around with leadership on the forefront, a change in national executive, an understanding of where our weaknesses were during the last election, it can't just be, 'Yes, we have a solid economic record,' we also need to move forward with a modern approach on social issues."
Most Conservatives — aside from social conservatives, Mills said — are rooted in libertarianism.
"That is the majority of the party," she said. "I respect their religious beliefs, but there is no place for that on the floor."
The theme of this year's convention is "look forward" — but many policy proposals are reflective of past debates, past controversies and few forward-looking resolutions.
Some resolutions champion tax reform. One calls for a referendum before any changes to the electoral system are made. Another wants more airline competition and suggests that the federal government allow cabotage — foreign airlines' carrying passengers between domestic airports — on a trial basis.
Many resolutions, however, are focused on the grassroots' trying to claim more control over the party and fixing problems that emerged during Harper's last term in office.
There is a resolution, supported by two B.C. riding associations, to limit the party leader to serving "no more than eight continuous years after being appointed prime minister."
Four riding associations are calling for frequent leadership reviews. Harper, who served as prime minister for nine years, faced no reviews during his time in office.
Story continues after slideshow: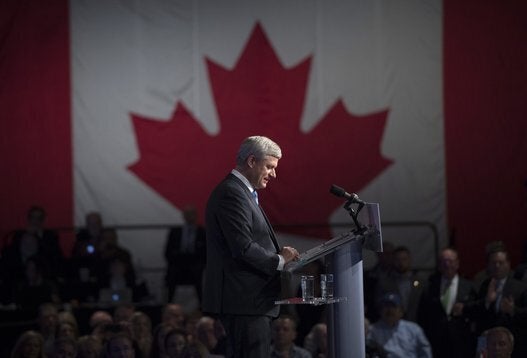 Harper's Legacy: Top Achievements, Failures, According To Poll
"Based on past experience, it would be valuable for the grassroots to evaluate the leader of the party on a more regular basis," the riding of Esquimault–Saanich–Sooke says of its suggestion that the leader should face biennial reviews and retain a minimum of 80 per cent support in order to stay on.
"The grassroots have an ear to the ground and can provide an objective view of the greater majority — the public," they write. "Limiting the length in which a leader can be the leader of the party enables the party to sever ties with an incumbent leader who may have passed his or her prime."
Harper obtained 84 per cent during a leadership review in 2005, a year before the Tories won a minority government.
The riding of South Surrey–White Rock points to the party's policy supporting the care of wounded and disabled soldiers and notes that, despite the wishes of the membership, the Conservative government fought a class-action lawsuit brought forward by injured Afghan veterans.
A mandatory leadership review at each national convention would encourage the leader to "respect the wishes and direction of the membership," it says.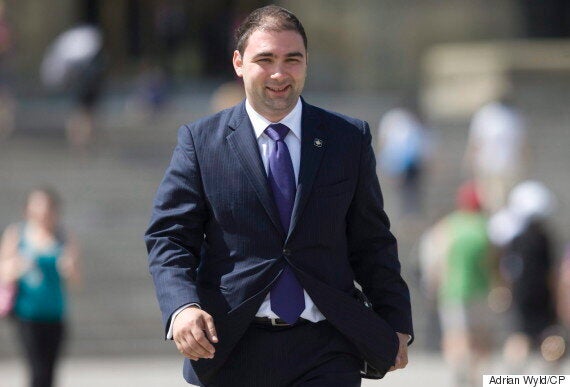 Dimitri Soudas leaves Parliament Hill in Ottawa on June 1, 2011. (Photo: Adrian Wyld/CP)
One resolution from the ridings of Kitchener–Conestoga and Edmonton Griesbach notes that Harper hand-picked controversial former aide Dimitri Soudas as executive director of the party. They propose that the national council, not the leader, appoint the day-to-day party manager.
"We all know how wonderful an executive director Dimitri Soudas turned out to be, and the leader's pick for executive director was an absolute disaster!," they wrote.
Soudas was forced to resign from his position after interfering in a contested nomination race involving his then-girlfriend and Conservative MP Eve Adams. She abandoned that contest and later joined the Liberals, but failed to win a nomination race.
The ridings of Kitchener–Conestoga and Edmonton Griesbach also want "better monitoring" of the Conservative Fund Canada, the fund that Nigel Wright, Harper's former chief of staff, said he and Tory Senator Irving Gerstein were planning to use to pay senator Mike Duffy's contested expenses. Instead of having the leader nominate the fund's directors, the ridings want MPs and national council members to do it, to ensure "better and more transparent oversight."
No longer the 'Stephen Harper show'
They also propose an information technology oversight committee to ensure better oversight of efforts to update the Conservatives' national membership database. Between $7 and $9 million was wasted on a new database, known as C-Vote, with no oversight by the national council, they wrote. "Setting up an IT oversight would have prevented the needless waste of [the] Party's money."
A handful of resolutions also seek to help the party grow. They range from lowering the cost of the membership fee, to setting up a youth wing, to creating committees in Montreal, Toronto and Vancouver to help enhance the party's chances in urban areas where the Tories were completely shut out.
While some resolutions clearly express the grassroots' frustrations, Tim Powers, the vice-chairman of Summa Strategies and a frequent Tory commentator, told HuffPost several proposals also recognize that in order to win, the party needs to grow.
For 12 years, Powers said, it's been "the Stephen Harper show, and I think people want to say through resolutions and through appearance at convention … that what worked for Stephen Harper was good. But it didn't work in the end, and we [the grassroots] need to be part and parcel of any process going forward, if we are all going to succeed."
Some resolutions are coming forward now because Harper no longer controls the machinery of the party and there is no permanent leader, he said.
Party 'paranoid' about supporter class category
But Powers expressed surprise that the Conservatives' grassroots had not proposed a further opening up of the party — something akin to the Liberals' supporter-class category, which is credited with bringing tens of thousands of new people and new donors to the Grits.
Some members' remain "paranoid," he said, that the Tories will get hijacked by interest groups, but at a time when people are less interested in partisan politics and everybody is competing for attention and time, he believes the party "can't be afraid to experiment."
The Liberals, who are also holding a convention this weekend, will be debating in Winnipeg whether the party should do away completely with membership in order to attract a larger base.
What some observers fear will happen in Vancouver, however, is hijacking of a different sort — a return to the old battles of the conservative movement, the Progressive Conservatives versus the Reform parts of the party.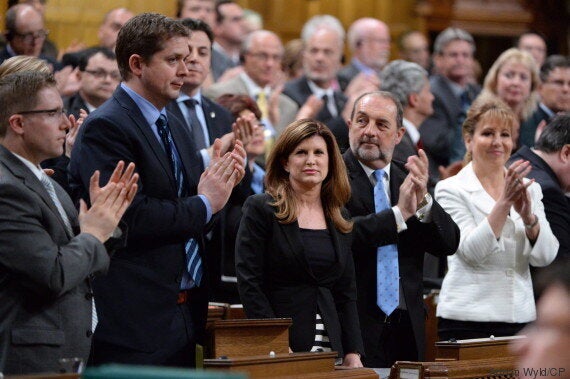 Interim Tory leader Rona Ambrose, seen here in the House of Commons on May 18, 2016, has been the subject of a 'Draft Rona' campaign. (Photo: Adrian Wyld/CP)
One resolution that embodies that divide is a review of the way future leaders are selected, the current weighted point system that gives every riding — regardless of the size of its party membership — equal weight or whether, as proposed, the party should adopt a one member, one vote system.
Mills, based in Vancouver, and Powers, who is from Newfoundland, embody that disagreement.
Who will carry the day will depend in great part in who shows up.
While Conservative party spokesman Cory Hann insists that some 3,000 delegates are expected this weekend, some insiders believe the figure will be closer to a thousand. Many MPs have complained publicly about the $940 attendance fee and the expense of flying and staying in Vancouver, which makes it a near impossibility for many members.
A large crowd is expected to show up Thursday evening, however, when festivities kick off and Harper addresses the party faithful — for the first time in public since election night on Oct. 19.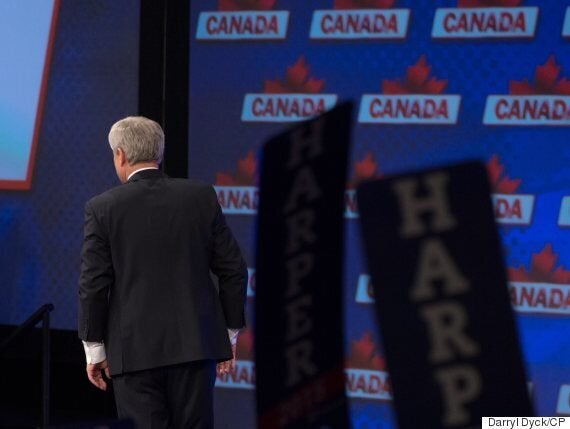 Stephen Harper leaves the stage after addressing supporters at an election night gathering in Calgary on Oct. 19, 2015. (Photo: Darryl Dyck/CP)
Harper is expected to deliver a short speech. A source close to him said he wants to focus on his Conservative government's accomplishments and the need to keep the party united.
"Is he going to be graceful and not give us a forward vision that can be affixed to him, or will he look to give a big epistle on the state of the country as he sees it?," Powers asked. "Harper signalled that he is prepared not to be the face and focus of the Conservative party, and for now that's a good thing, and I think if he sends a message in that vein, it sends a message to the membership that they too need to look forward and not back — and I think that's absolutely crucial."
Like many conventions, however, much of the action will happen behind the scenes, in hospitality suites and convention corridors. The water cooler chat will focus on who the next party leader should — or will — be.
So far, only MPs Michael Chong, Kellie Leitch and Maxime Bernier have officially declared their candidacy. Bigger names such as businessman and television personality Kevin O'Leary, MPs Jason Kenney, Lisa Raitt, Tony Clement, and former speaker Andrew Scheer, as well as former MP Peter MacKay are staying on the sidelines for now though a few will have speaking roles at the convention.
"Harper signalled that he is prepared not to be the face and focus of the Conservative party, and for now that's a good thing."

— Tim Powers
Interim party leader Rona Ambrose, who is expected to sit down and take the stage with the official candidates on Friday afternoon, has been the subject of a "draft Rona" campaign, although she has said she has no interest in the permanent job.
It is still possible a motion could be brought forward at convention that could allow her to run for the leadership should she change her mind.
The party's constitution currently prevents the interim leader from becoming a candidate in the leadership selection process.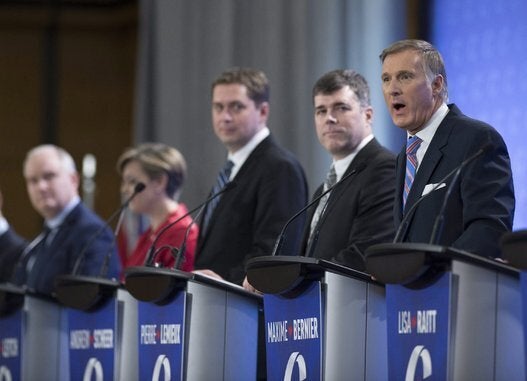 Conservative Leadership Candidates
Popular in the Community