OTTAWA — Nine Conservative MPs could find themselves having to pay back thousands of dollars for partisan mailings — if their Tory colleagues decide to fine them.
Last month, public servants working for the Board of Internal Economy recommended their political masters direct them to dig deeper to find out if even more MPs had broken the rules about partisan mailings, specifically the use of QR codes — square-like barcodes that store information such as URLs and can be read by smartphones — and out-of-riding bulk mailings.
The board is a secretive committee run by three Conservative MPs, two NDP members, one Liberal and a Conservative chair, the Speaker of the Commons Andrew Scheer.
Staff flagged 10 Conservative members for breaking the rules by sending pamphlets with QR codes directing readers to a French or English Conservative party website to take part in a survey. "These Web sites do not comply with the Board's Web site policies," the briefing note obtained by The Huffington Post Canada states.
Staff said that, in their opinion, one MP — Conservative whip and board member John Duncan — sent his mailing when the rules were unclear, so they left him off the list.
The others are: Rob Anders, Colin Carrie, Jacques Gourde, Transport Minister Lisa Raitt, Andrew Saxton, Brad Trost, Government House Leader Peter Van Loan, Mike Wallace and Wai Young.
The amount each could owe ranges between $1,169.30 for Young and $5,563.42 for Anders.
On Twitter, mailings by at least two other Conservative MPs, Paul Calandra and Harold Albrecht, have also been flagged for using QR codes directing constituents to the Conservative Party website, but this briefing note made no mention of them.
While there are no specific bylaws prohibiting the use of QR codes, the MP rule book states that only a designated and compliant MP website can be used in promotional items and advertisements, such as householders and pamphlets sent to ten percent of the riding. MPs are not allowed to use Commons resources to support their political party, although they can make partisan statements and use their party's logo on their mailings.
One Conservative source argued the use of the Tories' QR code doesn't break the rules because it directed people to a website (now defunct) that included the same survey as what was published on the flyer.
The board of internal economy, which met Tuesday, agreed to look into the matter further.
Staff have also flagged the possibility that 12 other Tories and one former Liberal, retired MP Bob Rae, might have broken the rules by sending mass mailings outside their ridings. The Tory MPs are: James Bezan, Candice Bergen, Rod Bruinooge, Blaine Calkins, Steven Fletcher, Shelly Glover, Ryan Leef, Joy Smith, Robert Sopuck, Lawrence Toet, Vic Toews (now also retired) and Merv Tweed.
The House Administration found that none of the MPs had asked the Commons printing service to print or mail their flyers, making it "impossible to determine if House resources (paper, envelopes, franking) were used to produce the material." Staff suggested that the MPs on the board direct them to enquire further about those mailings.
The NDP complained to the board on June 11 about some of these Conservative mailings. That day, the board ruled that mailings by NDP MPs had been prepared by and for the benefit of the New Democratic Party and served to advance its electoral purposes. It directed the House administration to start recovering costs from 23 MPs. The board said they owed $36,309 for envelopes and said it would ask Canada Post to chase down the $1.13 million it believed the NDP owed for sending mail that featured the party's website to 26 different ridings.
At the time, Raitt, the minister responsible for Canada Post, issued a statement saying: "Rest assured, every single penny that was misspent by the NDP will be paid back to hard-working Canadian taxpayers." Now, she could find herself fined by her own colleagues for breaking the rules governing MPs' resources.
For almost a year now, the NDP has argued that it is being unfairly targeted by its political enemies in a "vendetta" and is being judged by a "kangaroo court."
Two weeks ago, on Feb. 6, 68 current and former NDP MPs also began receiving invoices totaling $2.75 million after the board ruled last year that they had inappropriately used their office budgets to hire staff who worked in party offices outside Ottawa.
The Commons bylaw states that MPs are "personally responsible for paying expenditures that that do not conform" to the rules.
The NDP has decided to take the matter to federal court.
Duncan, a spokesman for the board, said in a statement that the NDP was attempting to distract from their own "misuse of millions of dollars of Parliamentary resources" by pointing fingers at the Tories.
He said the Conservatives' mailings were all submitted to, approved and printed by the House of Commons. Staff, however, noted in their briefing note that "for a time, enforcement by the House Administration was not consistent."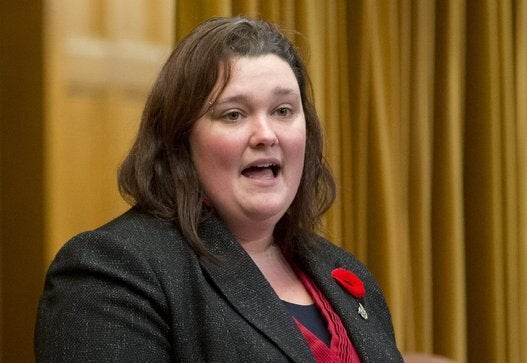 New Democrats Who Owe Most For Satellite Office Costs